______________________________________________________________________________________________________


______________________________________________________________________________________________________

______________________________________________________________________________________________________


______________________________________________________________________________________________________


______________________________________________________________________________________________________

______________________________________________________________________________________________________


______________________________________________________________________________________________________

______________________________________________________________________________________________________


______________________________________________________________________________________________________

______________________________________________________________________________________________________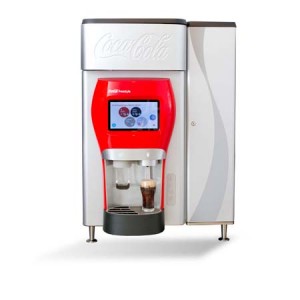 Coca-Cola Launches New Countertop Versions Of Innovative Coca-Cola Freestyle
The Coca-Cola Company's innovative fountain dispensing platform, Coca-Cola Freestyle, welcomes three new dispensers that will significantly expand the number of customer locations suited for the technology. The new units offer the same elements that have made Coca-Cola Freestyle popular with consumers and valuable to customers – unparalleled beverage choice including more low- and no-calorie options, high-quality, connectivity and an engaging experience – in designs that fit on countertops. The new Coca-Cola Freestyle dispensers will be piloted by the end of the year. The expanded line up of Coca-Cola Freestyle dispensers will now include two designed for medium volume locations that are able to dispense 80 different beverage choices. The third unit is designed for locations such as work break rooms or cafes and provides more than 35 drink options. The same engaging touch-screen interface is part of all the new dispensers. All three are designed as countertop units and will be available to customers globally. (Web Site) www.coca-colafreestyle.com
______________________________________________________________________________________________________

Pepsi Spire Fountain Beverage Displays Create Personalized Beverage Variations
Pepsi Spire is a portfolio of innovative fountain beverage dispensers that allow consumers to create more than 1,000 customized beverages with the touch of a button, while giving foodservice operators a choice of flexible and cost-effective equipment to pick from to best meet their needs. Pepsi Spire is now available in select U.S. locations and will continue to roll out through 2014. The Pepsi Spire portfolio currently consists of three state-of-the-art touchscreen fountain unit models that allow consumers to easily create their own personalized beverages in a fun and engaging environment. The Pepsi Spire lineup currently includes three models, each designed to meet a specific set of foodservice customer needs: Pepsi Spire 1.1 is a countertop self-service unit that allows consumers to create up to 40 beverage combinations using a 10-inch touchscreen.
Pepsi Spire 2.0 is a countertop self-service unit that allows consumers to create up to 500 beverage combinations using a 15-inch touchscreen. Pepsi Spire 5.0 allows consumers to create more than 1,000 beverage combinations using a 32-inch touchscreen. This equipment will be available as both a self-service countertop or as a free-standing unit. Pepsi Spire pours a wide range of brands from PepsiCo's diverse portfolio of carbonated and non-carbonated beverages, including Pepsi, Mountain Dew, Sierra Mist, Brisk Iced Tea and SoBe Lifewater, as well as an assortment of zero-calorie flavor shots, including cherry, lemon, vanilla, strawberry, raspberry and lime. Brad Jakeman, president, PepsiCo Global Beverages Group, said, "What better way to empower consumers to make their own personalized drinks than by giving them the chance to create more than 1,000 beverage combinations with one simple touch of our sleek, engaging, modern Pepsi Spire."
______________________________________________________________________________________________________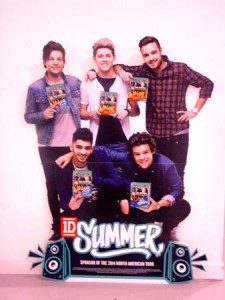 In-Store Standees Star One Direction
Mondelez is promoting a contest to win a VIP experience with the band One Direction. The packaging and supporting in-store material such as merchandisers, which hold product, and large standees of the band have been produced. Proprint Services, a Toronto, Canada-based manufacturer of point-of-sale materials, manufactured the standee cut out of the band on its large format digital high speed Inca S-40 flat bed press. The ink was printed directly onto the corrugate and then it was die cut on our in-house Kongsberg cutter. An easel was applied to the backside. They were then packaged and sent out across the country. The standee allows tweens and teenagers to take a picture with the band and post it on their social media in order to create more buzz about the event and prizes to be won. The four grand prizes comprise tickets to the band's sold-out Toronto show in August, a meet and greet with One Direction, hotel and travel accommodations and $1,000 spending cash. (Web Site) www.proprintservices.com
______________________________________________________________________________________________________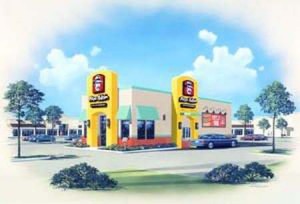 Pizza Patron Develops New Freestanding Prototype
Pizza Patrón is unveiling its new freestanding prototype. The new freestanding prototype is being developed as part of a comprehensive effort to increase awareness of the 28-year-old brand in every market where it has an established presence, according to Antonio Swad, Pizza Patrón's founder. The 1200 square foot building will feature Pizza Patron's iconic yellow arched facade and color scheme. The building will have two service points including a colorful lobby and a convenient drive up window. The clear span interior and simple shell exterior will allow for evolution of the model, including any future equipment changes. The company expects to grow its store presence by 30 percent this year, mostly in its existing Texas markets of Dallas/Ft. Worth, Houston, Austin, San Antonio and the Rio Grande Valley. "This new store model is a giant leap in the development of the Pizza Patron brand," said Swad. "We are not just moving along, but moving ahead and capitalizing on the momentum we have going."
______________________________________________________________________________________________________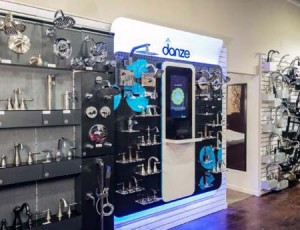 Smart Shelf Streamlines Entire Danze Product Line With Hands-On Display
Danze knew it had to be inventive when it landed the opportunity to display its products in Ferguson Bath, Kitchen & Lighting galleries-the nation's largest wholesale plumbing products distributor. Danze collaborated with InReality, one of the country's fastest growing CX strategy and design firms, to create a first-in-the-industry, digitally augmented in-store experience to help customers more easily navigate the product line and make shopping for the right product more of an experience. "What we wanted to do was create an engaging, hands-on display that was high tech and high touch," said Michael Werner, president and chief executive officer of Danze. "It had to stand out in the sea of sameness found in the showroom."
The chief challenge InReality faced was fitting an entire product line of Danze faucets in a finite wall space. The solution is the Smart Shelf, a playful, interactive experience that seamlessly blends real-world product interaction with an intuitive digital interface into a six-foot linear wall space. InReality affixed a selection of faucets to custom-designed acrylic display pods and tagged each pod with radio-frequency identification (RFID) technology. To trigger interactive on-screen content specific to a particular faucet, shoppers move a pod from the wall and place it on the Smart Shelf, which reads the RFID tag. The touchscreen display-with a digital archive of thousands of Danze products-then provides detailed product information quickly and easily. "The decision to incorporate RFID technology was based on the opportunity it provided for rich customer interaction and for layering additional digital elements that would put a world of information at the customer's fingertips," said Chris Livaudais, an associate creative director at InReality and lead designer on the project. (Web Site) www.inreality.com
______________________________________________________________________________________________________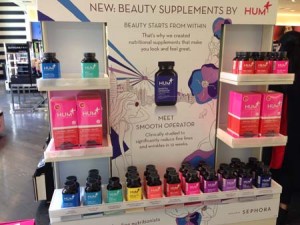 HUM Nutrition Debuts All-Natural, Gluten-Free Supplements At Sephora
HUM Nutrition, the LA-based nutrition company and an innovator in beauty, is introducing its vibrant lineup of supplements at Sephora stores. With 12 products designed around skin, body and lifestyle, HUM offers consumers beauty solutions that start from within. HUM's gluten-free, all-natural formulations are scientifically researched and formulated by top nutritionists across the globe. Brightly packaged with clever names, the brand brings confidence, positivity and happiness to the hands of every consumer. From "Red Carpet," which promotes glowing skin and fuller, shinier hair, to "Killer Nails" to "Uber Energy" for well… energy, to "Chill Pill" and "Moody Bird" for PMS. "Sephora has done a phenomenal job in innovating beauty with forward thinking brands," said Walter Faulstroh, CEO HUM Nutrition. "We created HUM to complement these great products by going beyond the surface to boost results. With our brand, beauty starts from within, making it possible for consumers to nurture their internal and external needs at the same time." "We are very excited to be the exclusive retailer partner for HUM, giving our Sephora clients a new innovative approach to their beauty regimen," said Margarita Arriagada, SEPHORA Chief Merchant. (Web Site) www.HumNutrition.com
______________________________________________________________________________________________________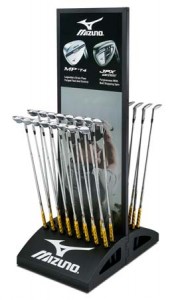 Mizuno Debuts Golf Wedge Display
Frank Mayer and Associates has teamed up with Mizuno in the design and production of the latest Golf Wedge display as part of the expanding line of Mizuno sporting goods merchandisers. Placed in sporting goods retailers nationwide, the point-of-purchase display includes a modular construction which allows for both single and double-sided fixture configurations in store. Designed to fit in a variety of environments, the branded display has the ability to hold up to 32 wedges within a molded base along a customizable graphics area. The Mizuno sporting goods team of displays, produced by Frank Mayer and Associates, also feature golf clubs, baseball bats and running shoes. (Web Site) www.frankmayer.com
______________________________________________________________________________________________________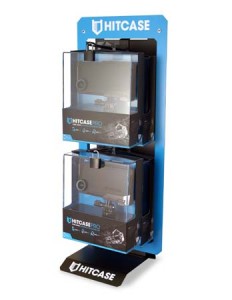 HitCase iPhone Enclosures Featured On Countertop Displays
Vancouver, Canada-based HitCase is using two countertop displays for its nearly indestructible iPhone enclosures. As consumers find more and more ways to use their iPhones, protecting them has become increasingly important. Hitcase makes a nearly indestructible enclosure that allows the user to take advantage of the iPhone's hi-def camera and turns it into a rugged POV video device. HitCase turned to Concept Designs, Palo Alto, CA-based provider of innovative, custom point of purchase solutions, to present their cases at retail, first with a compact dispenser, then later with a more substantial video display. The simple dispenser is a compact countertop display that holds up to 4 Hitcase Pro cases. The display is powdercoated in Hitcase's signature blue and is strongly branded. The product is secured by small padlocks attached to the looped product hooks. The display can also mount to slatwall with an included wall adaptor bracket. The countertop video display is also fashioned from powdercoated steel and MDF and incorporates a hi-def 15″ monitor with integrated SD card playback. Up to 4 packaged products are merchandised below. Concept Designs also provided a wall-mountable shelf to allow the display to function on a display wall. (Web Site) www.popconcepts.com
______________________________________________________________________________________________________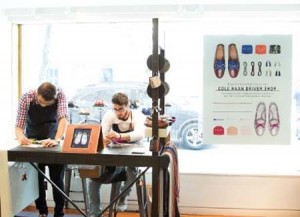 Cole Haan Debuts The Driver Shop In-Store, Driving Shoe Customization
Cole Haan, the iconic American designer and retailer, opens The Driver Shop, allowing consumers to add their unique style to Cole Haan's Grant Driver for men and women. The first service of its kind, The Driver Shop rolls out in six retail locations, offering personalization of the driving moccasin with several accessories in dozens of colors. "In a world obsessed with purely digital customization, we took a unique analog approach to creating an experience for our customers to have some fun and create their very own personal driving shoes," said David Maddocks, Chief Marketing Officer of Cole Haan. In stores, accessories are available at stations where on-site "mechanics" will outfit Cole Haan Drivers to customer specifications by appointment or while customers wait-or they can return later to pick them up. Customization choices include leather and cord laces, kilties, tassels, knots and metal aglets. Leather laces come in a variety of colors, or for a sportier look consumers can choose cord. Laces can be left natural or finished with one of three options: barrel knots, tassels or metal aglets. For those who want to add a nod to their golfing origins, kilties are available in a colorful array. The Driver Shop is available online and the customization service is available at Cole Haan Flagship stores in New York, Boston, Chicago, and Atlanta as well as other select locations.
______________________________________________________________________________________________________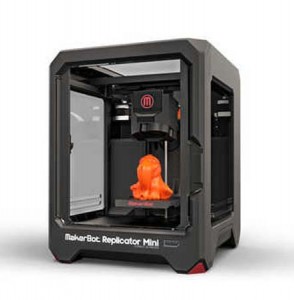 MakerBot To Bring Its First Licensed Brand, Sesame Street, To MakerBot Retail Stores
MakerBot® has announced Sesame Street as its first global licensed brand and will bring 3D printable Sesame Street licensed content to the MakerBot Digital Store and to MakerBot Retail Stores. Mr. Snuffleupagus becomes the first Sesame Street character to be available for download and 3D printing at makerbot.com/digitalstore. Additional characters will follow in the coming months and Sesame Street 3D printed models are expected to be available soon for purchase in MakerBot Retail Stores.
"We are really proud to launch our first branded and licensed 3D printed products for the MakerBot Digital Store and MakerBot Retail Stores with Sesame Street," said Bre Pettis, CEO of MakerBot. "Having the ability to 3D print a beloved character – or soon, an entire set of cherished characters — will be really fun and educational. 3D printing is like having an engineering education in a box, but with Sesame Street, it has a playful and familiar twist."
______________________________________________________________________________________________________
Buffalo Wild Wings Opens First PizzaRev 'Build-Your-Own' In Minnesota
Buffalo Wild Wings, known for its restaurants focused on wings, beer and sports, has opened its first PizzaRev franchise in Hopkins, Minn., in suburban Minneapolis. PizzaRev is a "build-your-own" fast-casual pizza concept that has reinvented the way America eats its favorite food. The new restaurant is the first outside of California for the build-your-own artisanal pizza concept, and the first of several PizzaRev locations that Buffalo Wild Wings plans to open throughout the Minneapolis/St. Paul market. Hopkins guests will "craft their own" 11″ artisanal-quality pizzas loaded with 30+ fresh, premium ingredients of their choosing, and served piping hot from a custom-built, 9,600 pound, open-flame, stone-bed oven in less than three minutes.
"Buffalo Wild Wings is all about bringing guests a unique experience at a good value, and we love how PizzaRev brings a fresh approach to the pizza industry – offering guests a truly interactive dining experience and premium offerings using only the highest quality ingredients," said Kathy Benning, executive vice president and chief strategy officer and business development of Buffalo Wild Wings. "We're excited to open our first PizzaRev location right here in our hometown, and we're confident that their unique take on pizza will thrive in Minnesota and across the country."
______________________________________________________________________________________________________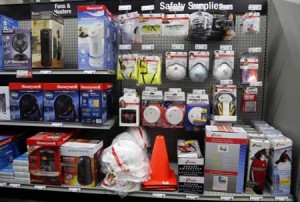 Staples' Dallas Stores First To Debut New Product Categories
Staples has debuted eight new product categories in its Dallas retail stores to help business customers Make More One-stop Shopping Happen. The product expansion is rolling out to more than 1,000 stores across the U.S. and hundreds more in Canada.
"We're helping small business customers get more done in one stop by providing every product their businesses need," said Mike Edwards, executive vice president, merchandising, Staples. "The new categories we've added to our stores build on our expanded Staples.com assortment and give customers more of what they want to Make More Happen whether it's in-store, online or via mobile." Staples is refreshing nearly 20 percent of products in its stores, adding about 1,600 items in categories beyond office supplies. At the same time the company is removing about 1,000 items, creating an assortment of office supply essentials. The new categories include: facilities and breakroom supplies (cleaning supplies, bottle water, soda, snacks), maintenance repair and operations items (safety cones, hard hats, bright safety vests); mail and ship expanded assortment (bubble wrap rolls, padded envelopes, boxes of all sizes), medical supplies (scrubs, bandages, anything for medical offices or nursing home), retail supplies for small businesses (mobile POS, bags, bows, signage); storage solutions (containers of all sizes); gifts and cards for office parties, early education toys and learning aids (items for childcare facility including early education toys, stickers and arts & crafts supplies) as well as organizational accessories from Poppin® brand. The items were added after extensive customer tests over the past year. In addition, every store will feature an updated Staples.com kiosk, providing customers with access to more items than ever on Staples.com.
______________________________________________________________________________________________________
YoCrunch And Kellogg's Team Up To Bring Cereal Topper To The Yogurt Aisle
YoCrunch, now part of #1 yogurt company Danone and known for its "topper" yogurt offerings, is partnering with Kellogg Company to introduce the most innovative topper yet, YoCrunch Cereal Bowl. It is the most significant innovation in the yogurt category since the introduction of Greek yogurt. The YoCrunch Cereal Bowl combines favorite Kellogg's cereals like Frosted Flakes, Froot Loops and Special K in a new dome-shaped top with YoCrunch's delicious yogurt. Consumers can combine the yogurt and cereal and shake to achieve a perfectly blended flavor combination.
"Nearly two-thirds of yogurt consumers are already adding toppings to their yogurt, with cereal and grains second in popularity only to fruit," said Elliot Shifrin, Senior Brand Manager, YoCrunch. "We are excited to partner with Kellogg's to bring its strong brands and great tasting cereals into the YoCrunch family, and expect that our consumers will be delighted with the 'shake and eat' container that delivers delicious flavor, convenience and the nutritious dose of fun they have come to expect from YoCrunch."
"It is increasingly common for our consumers to enjoy their favorite Kellogg's cereal with yogurt," said Noel Geoffroy, senior vice president, marketing and innovation for Kellogg Company's U.S. Morning Foods business. "Our collaboration on the YoCrunch Cereal Bowls is the perfect marriage between two breakfast favorites – in an easy, convenient package that makes it simple and fun for people to enjoy the protein and other nutrition benefits of yogurt and cereal for breakfast and snack occasions." "We are especially proud of this new partnership with Kellogg's and this breakthrough offering for the yogurt aisle. By creating an all-in-one food, we can drive usage occasions for both yogurt and cereal," said Steve Platt, Chief Marketing Officer, YoCrunch. "This powerful brand partnership and unique new design will drive further growth for our customers by expanding both categories."
______________________________________________________________________________________________________
Speedo USA And OrthoLite Partner To Feature OrthoLite Insoles In Speedo's New All Terrain Footwear
SPEEDO USA, the world's leading swimwear brand, has partnered with OrthoLite, the world's leading provider of comfort insoles. Through the partnership, OrthoLite insoles are a featured technology in Speedo USA's FST, a cutting-edge new all-terrain shoe specially engineered for triathlon, trail running, and any activity in and around the water; the centerpiece of Speedo USA's expanded Footwear collection for 2014 in stores now. The OrthoLite partnership with Speedo USA will span through 2015, with OrthoLite technology being a key feature of select styles within the 2015 Speedo Footwear Collection.
Understanding the need for footwear that combats the hybrid world of terrain environments, OrthoLite enhances the super lightweight, amphibious performance of the FST with long-term airy cushioning, along with a fully perforated insole that provides unique comfort and full drainage when the shoe encounters water. The FST is offered in men's and women's versions in a wide variety of bright, fashion-forward colors, with the men's shoe weighing in at 7.4 oz. and the women's version at 6.4 oz. "We are thrilled about the launch of the FST and, importantly, our partnership with OrthoLite," said Barry McGeough, Speedo USA's VP of Hardgoods. "Throughout its 85 year history, Speedo has driven innovation in swimming and aquatic sports gear, just as OrthoLite has done in the footwear industry. In collaboration with OrthoLite, the FST features the high-performance technology expected from the world's leading swim brand." "We're excited to partner with Speedo to expand into the aquatic footwear space," said Pamela Gelsomini, OrthoLite president. "Together, the OrthoLite insoles and the FST sole allow maximum comfort, high-level breathability and a unique moisture management system, ideal for training in and out of water for workouts such as triathlons, trail running, beach workouts or cross training in pools."
_____________________________________________________________________________________________________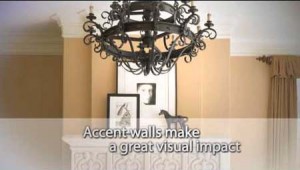 PPG Architectural Coatings Unveils U.S. Brand Strategy To Better Serve The Professional Customer
In an effort to maximize its position to serve the professional customer, PPG Industries' architectural coatings business announced a comprehensive pro brand strategy in the U.S. that will leverage its brand assets in three key channels of paint distribution. The strategy includes the rebranding of its U.S. company-owned paint stores, an expanded brand and product offering through independent paint dealers, and the expansion of a pro customer program at The Home Depot. With these initiatives, PPG underscores its unique position as the only company with a major presence in all three distribution channels capable of supplying to the professional contractor.
"The professional customer represents approximately 60 percent of the paint purchased and applied in the United States and is an extremely important part of our business," said Scott Sinetar, PPG vice president, architectural coatings, North America. "We pride ourselves on being the best in the industry at meeting the needs of the pro, and this clarified brand alignment helps us demonstrate that position. We want to effectively reach all types of professional customers regardless of where they live and where they want to buy their paint. With more than 600 PPG company-owned paint stores, 5,000 independent dealer locations and 2,000 home center outlets, PPG offers more distribution options for the professional across the United States than any other paint manufacturer."
PPG Company-Owned Stores – Leveraging the Power of the PPG Brand: All 600+ U.S. PPG company-owned stores currently operating under the PPG PITTSBURGH PAINTS®, PPG PORTER PAINTS® and GLIDDEN PROFESSIONAL® brands will be rebranded under a newly developed PPG® Paints brand by the fall of 2014. Independent Dealers – More Brands, More Products, and More Opportunities than Ever Before: The completely new PPG Pittsburgh Paints brand, which will launch in late 2014, will incorporate some of the best-known Devoe paint sub-brands under the PPG Pittsburgh Paints parent brand and be available to professional customers only through independent dealers. Home Center – Expanding Options for the Pro: PPG and The Home Depot will work more closely together to grow pro paint sales through the world's largest home center by leveraging the Glidden Professional brand. An expanded Glidden Professional product presence in stores will be supported with joint marketing and sales efforts to build the pro business with this key customer.
______________________________________________________________________________________________________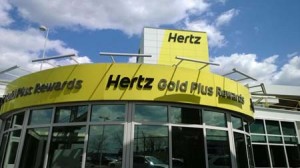 New Technology And Retail Stations Improved As Hertz Redefines Car Rental
As part of an ongoing reinvention of the car rental experience, The Hertz Corporation recently completed technological and logistical renovations at its Newark International Airport facility as part of a larger global effort. Making the rental experience the fastest, easiest and most valued in the industry, the newly renovated Newark location breaks the norm, bringing to life the integrated rental experience Hertz views as the future of travel. Hertz plans to replicate the experience throughout the year at Hertz's top 50 U.S. airport locations, representing 70% of U.S. airport travelers.
"Hertz strives to achieve the highest level of satisfaction and efficiency, both at our locations and in our vehicles while traveling," said Hertz Chairman and Chief Executive Officer, Mark Frissora. "Our team is always listening to our customers and working to surpass their needs and expectations, offering a top notch fleet of cars with superior technology such as NeverLost®, which is why we are continuing to expand across the globe. The feedback has been outstanding and we hope to build on that as part of our mission to offer the best rental experience."
Designed by Jackman, a creative management consulting and activation company focused on retail reinvention, the facility makeovers take into consideration the common road trip staples, tools and services typically desired by travelers, and offer the following to help enhance the travel experience: On-Site Retail: Customers can visit the on-site "Road Trip by Hertz" retail stations to stock up on food and drinks, and purchase essential road trip and travel supplies-everything from maps and sunscreen to charging cords and beach bags. The updated facilities also carry luggage, clothing and accessories to make their experience a one-stop-shop for both families and the business traveler.
On-Site Technology Tools: After a long flight, in addition to recharging themselves with a drink or snack, customers can also take a break recharge their electronic equipment. Additionally, they can interact independently with an iPad station set up to access the latest travel apps, entertain kids with games, and book a Hertz reservation, among other things. On-Site Business Tools: Customers can print on-site and access FedEx directly inside the store to send important documents and packages. Increased Visibility for Rental Options: A 'wall of cars' showcasing unique and exciting rentals – such as the Hertz Penske GT in the U.S. – that have been added to raise visibility of the company's expanding fleet options among customers, an further connect with car lovers. The facility transformations also adhere to the company's commitment to global sustainable practices, utilizing the best in sustainable design and construction, including achieving LEED certification, recycling and using solar panels to generate power.
______________________________________________________________________________________________________
Consumers Urged To Take A Fresh Look At Frozen Foods Via New National Education Effort
America's leading frozen food makers have launched a national effort to encourage consumers to take a fresh look at frozen foods through the "Frozen. How Fresh Stays Fresh." category education and promotion initiative. This first-of-its kind national dialogue is designed to inform and remind consumers that freezing simply pauses just-picked, just-baked and just-crafted foods, locking in their freshness, flavor and nutrients. Sponsored by the American Frozen Food Institute (AFFI), the "Frozen. How Fresh Stays Fresh." initiative will engage consumers where they live, work and shop through national television, digital and print advertising, online engagement and in-store and out-of-store promotion. "Keeping food fresh is what freezing is all about," said AFFI President and CEO Kraig R. Naasz. "Freezing is simply nature's pause button that keeps fresh foods at their peak of freshness. We are excited to talk with consumers about the many benefits of frozen food and encourage shoppers to visit the frozen food aisle and take a fresh look at frozen." The "Frozen. How Fresh Stays Fresh." consumer education initiative is being supported by leading frozen food makers who make some of America's most popular and beloved foods, including ConAgra Foods, General Mills, Heinz, Hillshire Brands, Jasper Wyman & Son, Kellogg's, Lakeside Foods, Nestle USA, Pinnacle Foods, Schwan's Foods and Seneca Foods. America's frozen food makers supporting the "Frozen. How Fresh Stays Fresh." initiative invite consumers to take a fresh look at the wide variety of tasty, healthy and easy-to-prepare products in the frozen food aisle.
______________________________________________________________________________________________________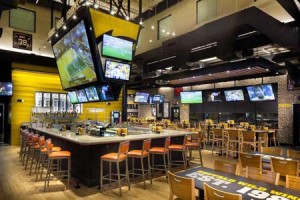 Buffalo Wild Wings Debuts Multi-Level Restaurant In NYC's Times Square
Buffalo Wild Wings®, has opened its multi-level, approximately 15,000 square foot restaurant in Times Square, bringing its passion of wings, beer and sports to Manhattan residents and visitors from around the world. "New Yorkers have always been Buffalo Wild Wings enthusiasts – especially since our Buffalo, NY-style chicken wings are part of their very roots, but now Manhattan residents and visitors to the Big Apple won't have to go far to enjoy our flavorful wings, icy beverages and ultimate sports-viewing atmosphere," said Sally Smith, president and CEO of Buffalo Wild Wings. "We're known as a gathering place for friends and family, so what better place to serve our Guests than at one of the biggest global gathering places of all! We're thrilled to add our Times Square opening to an already exciting year of milestones that have made the Buffalo Wild Wings experience even more accessible to our Guests in the U.S. and beyond."
The new Times Square Buffalo Wild Wings restaurant stands in a new, free-standing building that features multi-level dining spaces – including a private party room, a mezzanine level bar and patio and a rooftop patio that will open this summer. True to Buffalo Wild Wings' sports roots, the restaurant can accommodate approximately 550 Guests, and will feature many high-def, flat-screen TVs and a monster projection screen for catching game-day action, as well the new Stadia restaurant design that creates the feeling of being inside a stadium. The Buffalo Wild Wings casual dining experience also features a large menu including its award-winning Buffalo, NY-style chicken wings spun in one of 21 signature sauces and seasonings and a wide selection of premium, craft and domestic beers.
______________________________________________________________________________________________________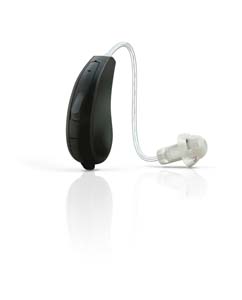 Beltone First Offers iPhone® Hearing Aids
Beltone, one of the world's largest manufacturers of hearing devices, recently announced the first-ever 'Made for iPhone' hearing aid – Beltone First. The ground-breaking device with iPhone capabilities allows consumers to receive clear, clean sound streamed directly from an iPhone, iPad or iPod touch. Because Beltone has turned an iPhone into a remote control for its hearing aid, wearers can tap into the iPhone's powerful features, from audio controls to talking to Siri. Beltone First hearing aids wirelessly communicate with each other to self-adjust as a person's surroundings change. The free Beltone HearPlus™ app recognizes the places an individual regularly visits and automatically applies the right settings. "Find My Hearing Aid" locates misplaced devices. They also provide unprecedented sound quality and connection between the iPhone and the hearing aid via Beltone's award-winning, third generation 2.4 GHz technology. "Our new Beltone First hearing aids are a game changer for a growing number of baby boomers who have been looking for a hearing aid that truly meets their on-the-go lifestyle needs," said Todd Murray, President of Beltone. "These new iPhone compatible hearing aids definitely add a 'cool factor' that hopefully encourages those who've avoided wearing hearing aids in the past to finally make the move!"
______________________________________________________________________________________________________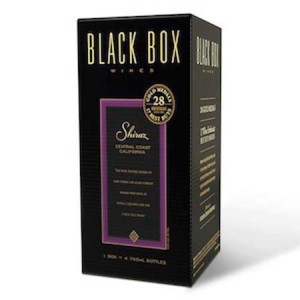 Black Box Wines Introduces California Pinot Noir
Black Box Wines, the leader in the premium 3L box wine category, welcomes the newest varietal to its wine portfolio, its 2013 California Pinot Noir. A lighter-bodied red that's perfect for any occasion, this new offering continues the Black Box philosophy of bringing consumers high-quality, award-winning wines at affordable prices. "We are very excited to finally add this varietal to our Black Box lineup," said Black Box Wines Director of Marketing, Kim Moore. "Pinot Noir is growing in demand, becoming the third largest red varietal in table wine and growing at a double-digit rate. It's been our mission to satisfy our consumers' palates and this fruit-expressive offering will add greater diversity to the Black Box portfolio."
______________________________________________________________________________________________________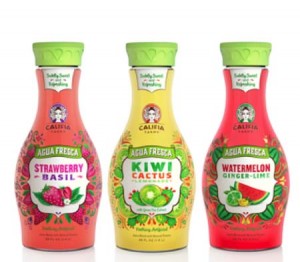 Califia Farms Introduces Aguas Frescas At Whole Foods Market Stores Nationwide
Califia Farms has launched three refreshing Aguas Frescas in Watermelon Ginger Lime, Strawberry Basil, and Kiwi Cactus, available at Whole Foods Market exclusively for the summer. The traditional recipe for Aguas Frescas, or "Fresh Waters," comprises of fresh fruits or flowers, blended with sugar and water to make light non-alcoholic beverages. Califia's take on the classic lightly-sweetened Agua is cause for a fiesta as the health-conscious brand's Aguas use less sugar and clock in at 90 or fewer calories per serving. All three flavors are Non-GMO Project Verified™, an important stamp the bright, festive labels bear proudly. Inspired by Mexican mural art and Día de los Muertos designs, the eye-catching packaging, will invite Whole Foods Market shoppers across the country to experience the sweet, refreshing drinks inspired by South of the Border, but made with a California twist at Califia's eco-friendly juice plant in the San Joaquin Valley.
______________________________________________________________________________________________________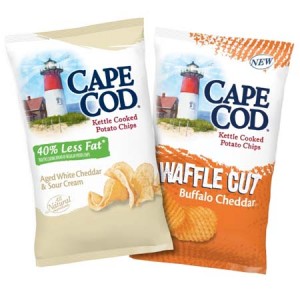 Cape Cod Potato Chips Launches Two Savory New Cheese Flavors
Cape Cod® Potato Chips, known for kettle-cooked potato chips, adds two savory new cheese varieties to the snack aisle with the launch of Buffalo Cheddar Waffle Cut and 40% Less Fat Aged White Cheddar & Sour Cream. The new products feature a bold, spicy option or a tasty health-conscious alternative. "At Cape Cod we're always looking for enticing new flavor combinations that complement the hearty texture of our kettle-cooked chips," said Faith Atwood, Marketing Manager, Cape Cod Potato Chips. "After listening to consumer feedback and evaluating food trends, we worked hard to develop new flavors that deliver the full taste and crunch that make our chips distinct, while continuing to deliver 'on trend' flavors in the ever-changing snack food category."
______________________________________________________________________________________________________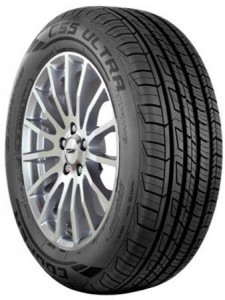 Cooper Introduces New CS5 Luxury Touring Tire
Cooper has introduced its latest new product, the innovative CS5 Touring tire. This premium tire delivers remarkable all-season performance targeted for drivers of modern sedans and SUVs. It includes an innovative new Wear Square™, which is a visual tread wear indicator that gives consumers a convenient way to gauge the amount of wear on the tread of the tire, giving an indication of when it is time to replace the tire. The exclusive Wear Square visual indicator allows drivers to quickly assess the approximate tread life remaining on their tires, giving drivers more confidence. As the tire wears, the Wear Square transitions between five stages, beginning with a full square on new tires and ending with an exclamation mark when the tread reaches 2/32s of an inch, indicating it is time to replace the tire. Located at three points of reference around the inside and outside of the tire, the Wear Square can also signal uneven tire wear and possible wheel alignment issues. "Cooper understands that consumers need an easy way to approximate the life remaining on their tires. Our new Wear Square is a convenience for drivers and underscores Cooper's commitment to safety. We think consumers will appreciate this new and easier way to check their tires' remaining tread life, which is a key part of overall vehicle maintenance and important to safe operation," said Scott Jamieson, Cooper's Director of Product Management.
______________________________________________________________________________________________________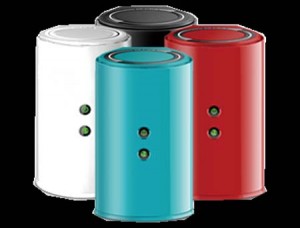 D-Link Introduces Color Routers
D-Link is now shipping a new line of AC750 Wi-Fi Routers, available in red, teal, black, and white. Featuring a sleek, cylinder shape, the routers deliver next generation 802.11ac wireless speeds and gigabit wired speeds. The new routers are perfect for any house looking for a reliable and strong home network ideal for HD video streaming, online gaming and multiple user activities with some desk appeal. "Wi-Fi routers have never had the reputation of being the most aesthetically pleasing products in the home, and we set out to change that with our color routers," said Daniel Kelley, vice president of marketing, D-Link Systems, Inc. "With the launch of our new line of AC750 Wi-Fi Routers, customers not only get a powerful home network capable of supporting the most demanding applications, they also have a stylish device they can proudly display on the desk rather than buried underneath it."
______________________________________________________________________________________________________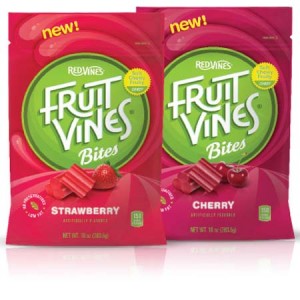 Fruit Vines Bites Candy Launches
Celebrating 100 years in the candy making business, American Licorice Company is tempting candy lovers with the launch of Fruit Vines® Bites – soft, chewy, bite size candies packed with delicious fruit flavor. Low fat and made with no preservatives, Fruit Vines® Bites are available in two fruit flavors – strawberry and cherry. "We wanted to develop a soft, chewy, fruity candy that would appeal to candy lovers everywhere," said Stephanie Louie, Red Vines Brand Manager. "The bite size pieces are perfect for a quick treat to help everyone bring a sweet celebration to their day."
______________________________________________________________________________________________________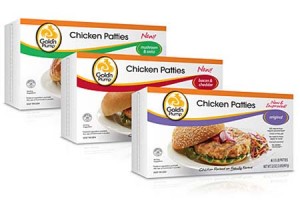 Gold'n Plump Expands Line Of Frozen Chicken Patties With New Flavors And Increased Size
Just in time for summer grilling, Gold'n Plump®, a brand of all natural chicken from the Midwest's largest chicken producer GNP Company™, expands its popular Frozen Chicken Patties line bringing two new flavors to its product lineup. The new Bacon & Cheddar and Mushroom & Swiss flavors will join the existing Original flavor of Chicken Patties. Gold'n Plump Chicken Patties bring more options for easy meal convenience and is available nationwide.
______________________________________________________________________________________________________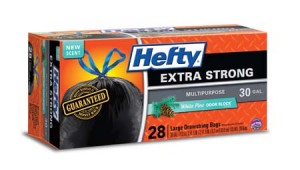 Hefty Introduces Extra Strong Large Black Trash Bags With White Pine Odor Block Technology
Reynolds Consumer Products is launching Hefty® Extra Strong Large Black Trash Bags with White Pine™ Odor Block® Technology. The new bag is the Hefty® brand's first odor-control, scented, large black trash bag and the only pine-scented bag on the market. These new bags help neutralize odors and feature a scent that is incredibly fresh and clean. The introduction of Hefty® Extra Strong with White Pine™ Odor Block® technology brings a new, unique scent to the market. "Consumers are looking for effective, odor controlling trash bags with fragrances that enhance their homes. Our pine scent was created to meet that need," said Jeff Wilkison, VP Marketing, Hefty® Brand Products.
______________________________________________________________________________________________________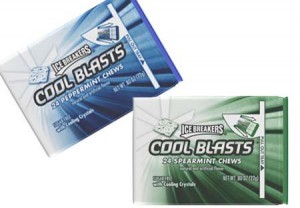 Hershey Debuts New Products
The Hershey Company has unveiled new products including Ice Breakers Cool Blasts Chews, Brookside Crunchy Clusters and Reese's Spreads. Ice Breakers Cool Blasts Chews is a first-of-its-kind mint and gum duo, providing an icy cool blast of freshness in a quickly dissolving chew. The new product is an evolution of the popular Ice Breakers brand and will be available in September 2014. New Brookside Crunchy Clusters are a textured twist on the beloved chocolate-covered, fruit-flavored snack. The product features clusters of crispy multigrain and soft fruit-flavored centers with sweetened cranberry bits, covered in smooth dark chocolate. In addition, following the success of the Hershey's Spreads launch is the addition of new Reese's Spreads. Reese's Spreads is the perfect combination of chocolate and peanut butter that Reese's Peanut Butter Cups fans love in spreadable form. Michael Wege, Senior Vice President, Chief Growth and Marketing Officer, The Hershey Company, said, "These new products are a direct result of a creative and innovative industry-changing pipeline that focuses on consumer trends. With more than 80 brands around the world, The Hershey Company responds to diverse consumer needs to create a robust portfolio of innovative chocolate and confection products."
______________________________________________________________________________________________________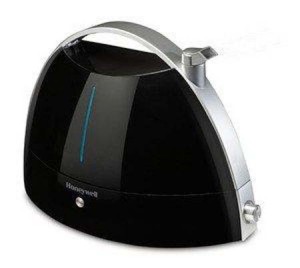 New Honeywell Designer Series Combats Dry Air Woes This Winter
Honeywell has introduced the new Honeywell Designer Series Cool Mist Humidifier to help temporarily relieve discomforts resulting from dry winter air by adding essential moisture to any room. The Honeywell Designer Series Cool Moisture Humidifier makes it easy for homeowners to integrate a humidifier into any household environment. The filter-free humidifier features a unique and modern "tea kettle" design that fits seamlessly with any decor and easily fits under a faucet for refilling. Ultrasonic technology provides a fine visible mist and variable moisture controls allow users to customize how much mist is being released into the air. The Designer Series will run continuously for up to 48 hours between fillings, making it ideal for medium to large rooms, and shuts off automatically when it's empty.
______________________________________________________________________________________________________

Jared The Galleria Of Jewelry Partners With Smithsonian For Earthly Treasures Smithsonian™ Collection
Jared® The Galleria Of Jewelry, the leading off-mall destination specialty retail jewelry chain in the U.S., has partnered with the Smithsonian, one of the world's most celebrated gemstone authorities, to introduce Earthly Treasures Smithsonian™. This new jewelry collection featuring highly treasured, richly colored, natural gemstones is now exclusively available at select Jared® The Galleria Of Jewelry stores. Earthly Treasures Smithsonian™ is a unique collection highlighting some of the world's most beautiful gemstones in intricately mounted settings, featured in a variety of gold and silver necklaces, bracelets, rings and earrings. Each piece also comes with its own certificate of authenticity.
______________________________________________________________________________________________________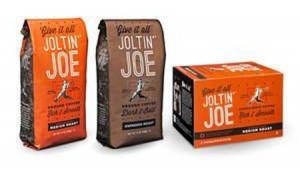 Joltin' Joe Launches Joltin' Joe Coffee
A new brand with an authentic American heritage, Joltin' Joe is introducing a new line of coffee aimed at raising the bar and inspiring consumers to do the same in their own lives.
Joltin' Joe is a new lifestyle brand with a unique American heritage managed and licensed by Joe DiMaggio, LLC. Joltin' Joe takes inspiration from its namesake, Joe DiMaggio, who inspired a nation with his record-breaking 56-game hitting streak by approaching each at-bat with a consistent, powerful focus on excellence and integrity. It is an accessible craft coffee made with a relentless focus on bean origins from select growers, small batch roasting, and an exclusive roasting process. Joltin' Joe coffee is meticulously crafted to set the new standard for what a cup of Joe should taste like. It gives coffee drinkers a consistent, smooth, balanced flavor with a hint of sweetness, providing an invigorating experience from cup to cup and brew to brew that can energize coffee drinkers all day, any time of day.
______________________________________________________________________________________________________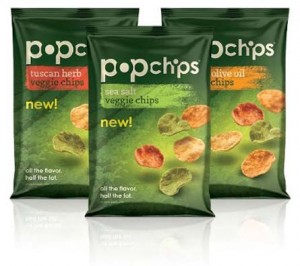 popchips Launches Line Of Popped veggie chips
popchips inc., has launched popchips veggie chips as the newest member to the popped snack brand. Veggie popchips blend nine popular vegetables – kale, spinach, tomato, pumpkin, potato, beet, bell pepper, navy bean, and chickpea – and tops them with delightfully zesty seasonings for three enjoyable flavors: sea salt, hint of olive oil and tuscan herb. popchips veggie chips are popped the same way as potato, tortilla, and corn popchips – using heat, pressure, and no oil in the popping process.
popchips ceo, paul davis, said, "We are thrilled to be expanding our portfolio to provide snackers with the next generation of our popchips family. Inspired by some of today's most popular vegetables, we are really excited about our tasty veggie chips and showing our continued commitment to bringing innovation to the snack aisle."
______________________________________________________________________________________________________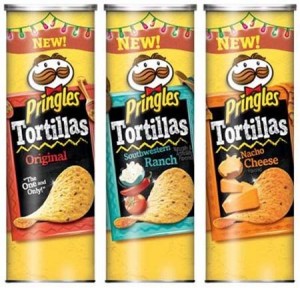 New Pringles™ Tortillas Give Partygoers Choice To 'Dip 'Em Or Don't'
Pringles™ is introducing its first-ever tortilla chip – new Pringles™ Tortillas – just in time for basketball tourney season. Loaded with taste bud-tingling ingredients, Pringles Tortillas satisfy practically any savory craving with three flavors: Original, Nacho Cheese and Southwestern Ranch. While retaining the iconic Pringles shape, Pringles Tortillas are thicker chips because they're made of corn, not potatoes. They're perfect for dipping, but their delicious flavors offer the true choice to either "dip 'em or don't." "Pringles Tortillas are the brand's first new product since Kellogg Company acquired it in 2012, and this launch represents the first time that Pringles is introducing a tortilla chip," said Raj Joshi, vice president of Savory Snacks at Kellogg. "Pringles Tortillas are a unique chip that can be dipped, but like original Pringles, are delicious on their own."
______________________________________________________________________________________________________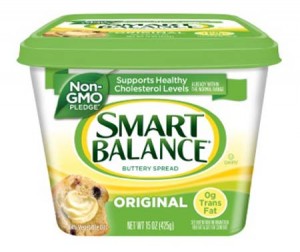 Smart Balance Is First Leading Spread To Transition To Non-GMO
Smart Balance, a Boulder Brands Company and the innovator of heart healthier buttery spreads, is transitioning its line of flagship butter spreads to non-GMO. Smart Balance is the first leading spread to make the transition to non-GMO. The new product will be available at retail stores nationwide by early summer. Non-GMO Smart Balance is made from expeller-pressed oils from non-GMO seeds. In addition, manufacturing facilities and production processes have been enhanced to reduce risk of contact with GMO-containing ingredients. The new product will bear a prominent "non-GMO" label and pledge, pointing consumers to additional product facts and information at www.SmartBalance.com/nonGMO.
______________________________________________________________________________________________________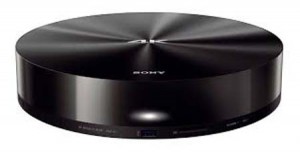 Sony Electronics Debuts 4K Ultra HD Media Player
Sony is introducing its new 4K Ultra HD Media Player (FMP-X10), giving consumers the ability to download, stream and store the latest 4K content in one box. The largest collection of 4K feature films and TV episodes for the home is now available on the new 4K Ultra HD Media Player. The 4K Ultra HD Media Player gives consumers the ability to download, stream and store the latest 4K content in one future-ready box. Users can download hundreds of titles from Video Unlimited™ 4K service, stream 4K content from Netflix® and playback everything on their Sony 4K Ultra HD TV. The Media Player offers 1 TB of built-in storage and also supports TRILUMINOS™ Color for rich and deep color. The Media Player is compatible with any Sony 4K Ultra HD TV or 4K Ultra HD projector, and is ideal for customers looking to upgrade their current 4K TVs or projectors to support the latest in 4K technologies. The 4K Media Player with Video Unlimited 4K will be available for purchase at Sony stores and other authorized dealers nationwide.
______________________________________________________________________________________________________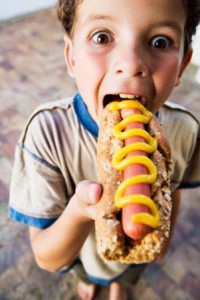 Tallgrass Beef Company Launches New Grass-Fed Healthy Hot Dog
Tallgrass Beef Company has launched the 100 percent grass-fed and grass-finished Tallgrass Beef Frank. Grass-fed and grass-finished beef contains significantly higher levels of Omega-3 and CLA (conjugated linoleic acid) along with several other health benefits. Tallgrass Beef Company's cattle are never administered hormones, sub-therapeutic antibiotics or confined to feed lots. They live their lives in open pastures and are never fed corn or grain. Their beef is guaranteed to be GMO and gluten-free.
______________________________________________________________________________________________________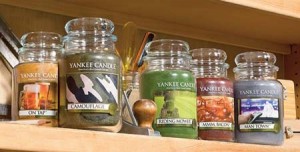 Yankee Candle Heads Outdoors With New Man Candles III Fragrances
The Yankee Candle Company, Inc., the world's largest manufacturer of premium scented candles, has launched two new fragrances and the return of three favorites in its popular limited edition Man Candles collection. Camouflage and On Tap™ join last year's introduction MMM, Bacon!™ and original Man Candles Man Town™ and Riding Mower™. The Man Candles collection, which was an instant hit when it debuted in 2012, was created uniquely for men to enjoy in their "man town," wherever that may be in the house. These limited edition fragrances are available at Yankee Candle's over 500 retail stores and select specialty retailers and gift shops.
______________________________________________________________________________________________________

New Wellness Divine Duos For Cats Offer Two-Layered, Protein-Packed Meals
WellPet launches Wellness® Divine Duos™, the first of its kind dual-layered natural wet cat food created with the picky eater in mind. Divine Duos offer cats a protein-rich meal that includes a layer of savory pate topped with tender cuts and hearty vegetables in delicious gravy. The six grain-free recipes do not contain artificial colors, flavors or preservatives.
"Wellness Divine Duos are truly an innovation in the pet food aisle. To serve the recipe you peel the lid, flip the cup onto the cat's plate and lift the cup off of the food to reveal the pate base topped with the layer of cuts and gravy. Divine Duos will appeal to even the pickiest of cats with texture, flavor and variety," said Chanda Leary-Coutu, Senior Marketing Manager for Wellness Natural Pet Food. "This natural wet cat food has no wheat, corn or soy making it a smart, healthy option for cat owners."
______________________________________________________________________________________________________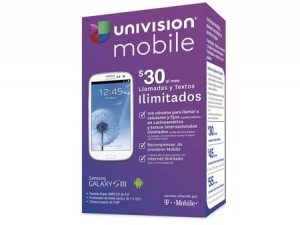 Univision & T-Mobile Launch 'Univision Mobile' Pioneering New Wireless Service Designed For Hispanic Americans
Univision Communications and T-Mobile US, are joining forces to launch Univision Mobile, a pioneering wireless service created specifically for Hispanic Americans. The new service combines the insights and programming content of Univision, the leading media company serving Hispanic America, with T-Mobile's wicked-fast network and Un-carrier™ wireless innovation and know-how. Univision Mobile, with service provided by T-Mobile, promises affordable, flexible wireless service developed from the ground up to meet the unique needs of today's Hispanic Americans. Anchored by the Univision Rewards program and portal, Univision Mobile also gives customers access to tailor-made content, events and apps – right out of the box, Univision Mobile customers are a click away from unique Univision content. As the exclusive national retailer, Walmart will offer Univision Mobile in approximately 1,800 of its stores throughout the country. The service will also be available at 6,000 independent dealer locations serving Hispanic communities throughout the country.
"Univision Mobile's services and features have been created to satisfy the needs of the U.S. Hispanic community," said Kevin Conroy, President, Digital & Enterprise Development, Univision Communications, Inc. "We're providing the best value, no annual contract wireless service plans specifically tailored to our audience's needs. This partnership further reinforces our commitment to serve our audience in every way possible and also clearly demonstrates how Univision is the gateway for any brand looking to connect with the influential and fast growing U.S. Hispanic community." "Hispanic Americans are among the largest, most important and most influential groups in the US today," said Mike Sievert, Chief Marketing Officer for T-Mobile, "And they deserve wireless tailored to their interests and needs. Univision Mobile is a completely unique wireless experience built to provide Hispanic Americans with both the content and mobile experience they crave from two brands they know and trust."
______________________________________________________________________________________________________
Spin Master Launches PAW Patrol Toy Line At Toys"R"Us
PAW Patrol,™ a line of toys based on the action-adventure preschool series, is launching at Toys"R"Us® stores nationwide. Developed by Spin Master Ltd., Canada's largest children's toy and entertainment company, PAW Patrol is the number-one rated preschool series and airs weekdays at 12 p.m. (ET/PT) on Nickelodeon. Through June, Toys"R"Us will be the only retailer to offer eager fans the opportunity to go on an action-packed rescue adventure with an all-new preschool line of plush, vehicles, figures and more based on the ratings hit. "We are thrilled to partner with Toys"R"Us to bring our beloved PAW Patrol pups to shelves, making it the first retail destination for fans," said Krista DiBerardino, Chief Marketing Officer, Spin Master. "Ever since PAW Patrol hit the airwaves last summer, preschoolers have fallen in love with the show's delightful characters and captivating storylines and have been eagerly awaiting the arrival of toys based on the hit series," said Jamie Uitdenhowen, Vice President, General Merchandising Manager, Toys"R"Us, U.S. "We worked closely with our partners at Spin Master to be the first retailer to bring this highly coveted line of toys to children who can't wait to experience all the excitement and adventures from the show during playtime."
______________________________________________________________________________________________________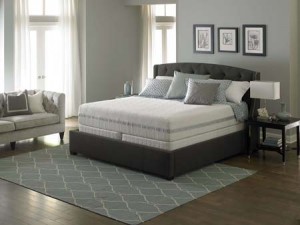 Serta Introduces All-New iComfort And iSeries Mattress Collections
Serta is introducing all-new iComfort and iSeries models for 2014 with more innovations designed to provide enhanced cooling comfort and targeted support for a rejuvenating sleep experience. All of these new mattress models feature Cool Action™ Dual Effects® gel memory foam – Serta's latest breakthrough in gel memory foam technology. This material combines two types of gel, giving consumers up to 25% more gel than the original formula, providing added support where it's needed most, and enhanced cooling comfort for a good night's sleep. Serta's new iComfort gel memory foam and iSeries hybrid mattresses are now available at Serta retailers across the United States.
______________________________________________________________________________________________________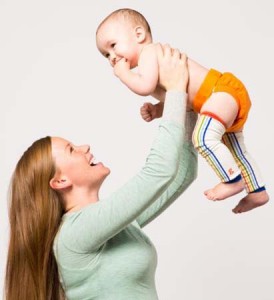 Preserve Brands Launches Stationery Brand
Leading a growing trend of design-driven specialty consumer good products, Preserve Brands has launched a sustainable paper goods collection into the gift and stationery markets. Partnering with top notch US retailers, Preserve is committed to providing upscale stationery and keepsake paper products to share, celebrate, and remember life's important milestones and memories. All products are rich in detail, feature distinctive textured handmade papers, vibrant color palettes, and modern designs. The product line includes "every day" and holiday gift packaging, wedding gifts and accessories, baby keepsake gifts, social stationery, writing journals, and a luxurious array of exquisite handmade papers. Preserve Brands products are sustainable paper goods, made from recycled virgin tee shirts, not trees. Its commitment to "Tees not Trees™" is heavily promoted to retailers and consumers and differentiates Preserve from some of the other fashionable, luxury products on the market today.
______________________________________________________________________________________________________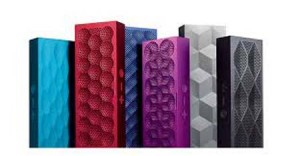 Jawbone Offers MINI JAMBOX Pocket-Sized Speaker With Multi Play
Jawbone® has introduced a suite of new features for MINI JAMBOX™, its pocket-sized speaker that brings rich, clear sound wherever you go. A free firmware update, available exclusively at Jawbone.com, enables Multi Play for MINI JAMBOX, which allows you to wirelessly connect two MINI JAMBOX speakers together, take turns playing from two Bluetooth devices, and separate the left and right channels to create beautiful stereo sound. "Our always-with-you, great-sounding MINI JAMBOX has become social and even more entertaining with Multi Play," said Travis Bogard, vice president of product management and strategy at Jawbone. "It's the only speaker that delivers this kind of sound quality for its size, letting you enjoy and share all of your favorite audio wherever you are. And now that you can connect your MINI JAMBOX with a friend's and each control the music from your own phones, it's the most versatile speaker on the market. Our free firmware update lets you take advantage of the latest functionality without having to buy an entirely new product."
______________________________________________________________________________________________________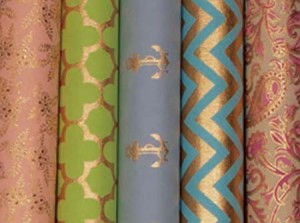 gDiapers Introduces New gPants With High Velocity Prints
gDiapers, the company redefining disposable diapers, has introduced two beautiful gPants and coordinating legwarmers just in time for summer fun. The go big gPants and legwarmers have sporty, retro stripes and are perfect for fun in the sun. The gamma stripe gPants and legwarmers boast cool blue, green and fuchsia zigzag designs that propel little ones into summer festivities in style. "Our summer styles are always some of gDiapers' most celebrated," said Kim Graham-Nye, Co-Founder and President of gDiapers. "The bright colors, retro surf-feel and stunning zigzags are perfectly on-trend and ideal for beach fun and summer love."
______________________________________________________________________________________________________

Bounce™ Delivers Outdoor Fresh Scent To Washer With New Bounce Bursts™
Procter & Gamble's Bounce™ brand is launching its first ever in-wash fabric care product, Bounce Bursts™, allowing consumers who appreciate the Outdoor Fresh scent of Bounce dryer sheets to enjoy it even more. Bounce Bursts comes in a convenient bead form that allows consumers to control the amount of Outdoor Fresh scent added to the wash. The time released freshness capsules transform your fabrics allowing them to release bursts of Outdoor Fresh scent throughout the day, making you forget you aren't outside. "Bounce understands that there are moments when we're unable to enjoy the scent of the great outdoors and has designed Bounce Bursts to give fabrics that extra boost of Outdoor Fresh scent throughout the day," said Vedran Miletic, Associate Marketing Director, Procter & Gamble. "For many, the scent of Bounce has been a recognizable staple in their laundry room for generations, and they've enjoyed the Bounce Outdoor Fresh scent from the dryer. Now, we're giving them more of what they love with an in-wash scent booster that gives your clothes freshens which will stay with them throughout the day."
______________________________________________________________________________________________________
Andrew Rees Named President Of Crocs Brand
Crocs Inc. has appointed consumer brand management expert Andrew Rees President of the Crocs brand. Rees joins Crocs from LEK Consulting, a global management consulting firm with offices across Europe, the Americas and Asia-Pacific. Rees has extensive experience in the branded footwear arena with many well-known global brands. Previously, he held senior leadership positions at Reebok International, where he served as vice president of strategic planning and vice president of retail operations.
______________________________________________________________________________________________________
Mattel Appoints Richard Dickson Chief Brands Officer
Mattel has created a new, unified marketing and creative division to span the company's global portfolio of consumer brands. To lead this new global brand team, Mattel has named Richard Dickson Chief Brands Officer, with oversight for worldwide brand strategy across the company's celebrated portfolio of iconic brands. Dickson, who brings to Mattel more than two decades of experience leading major consumer brands, will be responsible for growing and strengthening the company's portfolio of beloved brands including Barbie, Hot Wheels, Fisher-Price and Thomas & Friends. Dickson will oversee all aspects of marketing strategy, creative execution, product development and content creation across Mattel's legacy and new brands, and will be responsible for driving continued innovation throughout the portfolio.
______________________________________________________________________________________________________
Motown Records Appoints Myisha Brooks Vice President Of Creative Relations & Marketing
Myisha Brooks has been named Vice President of Creative Relations and Marketing for Motown Records. In this newly created position, Brooks' responsibilities will encompass marketing, artist development and public relations. Prior to joining Motown, she served as Vice President of Publicity at Republic Records.
______________________________________________________________________________________________________
TOMY Appoints Willie Wilkov CMO
TOMY International has promoted Willie Wilkov to Chief Marketing Officer. Wilkov joined the Company in 2009 as Vice President, Marketing Communications, rising to Senior Vice President, Marketing Communications and Branding in 2013. As CMO, Wilkov will be responsible for the company's corporate identity as well as working closely with key licensing partners of TOMY.
______________________________________________________________________________________________________
Big Red Rooster Hires New Associates
Multidimensional brand experience firm Big Red Rooster continued growth by adding 10 associates, including three senior leaders to support digital experience, strategy and creative direction. "Our new hires signify growth as Big Red Rooster continues to extend existing capabilities and deliver immersive, branded experiences for our clients," Big Red Rooster President and Co-CEO Aaron Spiess said. "We're passionate about creating holistic, consumer-centric brand experiences, and our new associates support our mission." Todd Haislip joins the Atlanta Office as creative director. Columbus, OH office: Elaine Murray Kleinschmidt joined Big Red Rooster as vice president of digital experience. Vice President of Strategy Tim Powell plans and develops brand strategies that foster change and drive business results. Jeff Arps joined Big Red Rooster as manager of business development. Visualization Designer Shomari Lambert provides design visualization expertise, translating and applying brand standards to offer consistent brand experiences. Jamie Lipps joined Big Red Rooster as a senior environments designer, creating compelling and impactful brand experiences for retail environments. Visualization Designer Curt Resh creates 3D models and designs for a leading service industry client. Project Manager Braden Schneider produces design documents for retail prototypes. Kayleigh Ladshaw joined Big Red Rooster's Atlanta office as an account coordinator.
______________________________________________________________________________________________________
D1 INK Expands To Los Angeles
D1 INK, a New York City based print production company specializing in large and small format out-of-home media and in-store point of sale printing, is expanding operations and opening an office in Los Angeles. Melissa Howell, currently serving as a national sales manager, will be relocating to head the office located in Santa Monica. "Over the last few years, we've seen our Los Angeles-based business increasing, so felt it was time to have a larger presence on the west coast," said Dave Stutz, chairman, D1 INK. "Melissa has been key in growing our east coast business since joining us two years ago, so she was the obvious choice to lead this new venture out west."
______________________________________________________________________________________________________
Shopper Marketing Agency Harvey & Daughters Changes Name To Harvey, Expands Services
Harvey & Daughters, a top brand activation agency, officially changed the firm's name to Harvey. The change is part of a planned evolution to respond to the shifting shopper marketing landscape. The new name honors the firm's legacy working with brands like COVERGIRL and McCormick while also opening new opportunities to engage with consumers who shop in a non-linear fashion. Over the past two years, Harvey more than doubled its staff to nearly 40 people. "Our three decade history in shopper marketing and the recent expansion of our team positions us well for a new reality where the consumer accesses a brand through multiple channels," said Kathy Harvey, president of Harvey. "We've always stayed one step ahead of the retail curve and it's incredibly exciting to see our category recognized as one of the biggest opportunities in building customer value."
______________________________________________________________________________________________________
IDL Worldwide Names Chris Anderson Creative Director
IDL Worldwide has appointed Chris Anderson Creative Director of its Portland, OR, office. Anderson joins IDL with over 18 years of creative management experience. Most recently, Anderson was Global Creative Director at Cycling Sports Group for both Cannondale Bicycles and GT Bicycles, where he directed all retail merchandising and POP build-outs. As Creative Director, Chris will be responsible for leading the design efforts for all of IDL's Nike accounts, including Brand Jordan.
______________________________________________________________________________________________________
RR Donnelley Acquires Signage Solutions Provider True Colours
R. R. Donnelley & Sons Company has acquired Vancouver-based True Colours, a well known and respected provider of wide format print solutions in Western Canada. The acquisition expands RR Donnelley's capabilities to support clients' signage requirements across North America. "The acquisition of True Colours aligns with our corporate strategy to focus on market-specific solutions that add value for our clients across multiple vertical markets, and it further broadens our In-Store Marketing (ISM) offering in Canada," stated Drew Sullivan, RR Donnelley's President, Canada.
______________________________________________________________________________________________________
Shelfbucks Taps Bill Martin Of ShopperTrak For Chairman Of The Board
Shelfbucks Inc., the leading iBeacon promotion platform for retail stores, has appointed retail industry veteran Bill Martin, founder of ShopperTrak, as chairman of its board of directors. Martin will draw on his extensive industry expertise to oversee Shelfbucks' growth in the retail sector, guiding the company's strategic planning, operations and marketing efforts. Having successfully brought traffic management and analytics to the forefront of the retail industry over the past three decades, he will now help retailers and brands gain maximum value from the next generation of physical store technology — beacon-based solutions. Shelfbucks uses unique beacon devices, installed on retailers' store shelves, to provide an enhanced shopping experience for customers. A shopper browsing a product area interacts with Shelfbucks beacons using a smartphone, and can immediately access expert content, promotional offers, ratings and reviews, and relevant data on nearby products. Shelfbucks helps eliminate the need for additional online research and showrooming, while saving shoppers time and delivering a superior shopping experience.
______________________________________________________________________________________________________
Speedpro Imaging Acquired
Speedpro Imaging has been acquired by Fairfield-Maxwell, Mountain Ridge Capital and Boris Katsnelson. Katsnelson will serve as president of the rapidly growing wide format imaging franchisor while Founder Blair Gran will become the chairman. Speedpro is the premier wide format imaging company nationwide with a network of over 100 locations operating across the United States. As the nation's leader in high-quality large format imagery, Speedpro's services include the printing of tradeshow displays/exhibits, retail signage, banners, and building and vehicle wraps.
______________________________________________________________________________________________________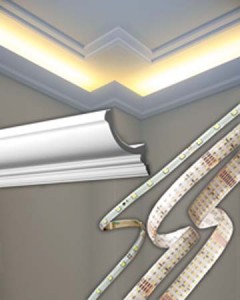 Outwater Introduces Premium LED Ribbon Flex Lighting
Recognized as the most versatile and thinnest LED Ribbon Lights on the market, Outwater's new series of 24-volt Single, Double, Triple and Single RGB Premium LED Ribbon Flex Lighting, with no fixtures to hide, can be easily mounted by means of incorporated 3M peel & stick double sided adhesive backing in all of those "hard to light" areas, or virtually anyplace that previously could not be lit, and is perfectly suited for illuminating furniture, in or under cabinets, wall units, showcases, displays, toe kicks, cove or cornice accents, or any type of indoor or outdoor application that warrants an almost nonexistent profile. The highly flexible, diminutive physical contour of Outwater's Single, Double, Triple and Single RGB Premium LED Ribbon Flex Lighting not only enables it to practically vanish within the décor of any environment, multiple lengths can be run off of a single power supply via supplied solder free, end-to-end plug-in, 100% usable connectors for continuous lighting. In addition, Outwater's ultra energy efficient Premium LED Ribbon Flex Lighting features fully integrated LED Diamond Light Technology to yield the highest color rendering indexes and tightest binning codes for the purest, brightest LED Lighting available, yet consumes only a few watts per field cuttable strip, with an approximate 30,000 to 50,000 hour bulb life, depending on the format chosen. With low heat emissions and no generated UV radiation, Outwater's Premium LED Ribbon Flex Lighting, has achieved IP65 Rating. Outwater's Single RGB LED Ribbon Flex Lighting and newly introduced, IP67 Rated 120-volt LED Ribbon Flex Lighting offer a full spectrum of colors that can be programmed to morph at variable speeds or to remain static as desired. Outwater can be contacted Toll Free at 1-800-631-8375 (For sales and product information in the USA & Canada) / 1-201-498-8750 (For sales and product information outside of the USA & Canada) or viewed online at, (Web Site) www.outwater.com
______________________________________________________________________________________________________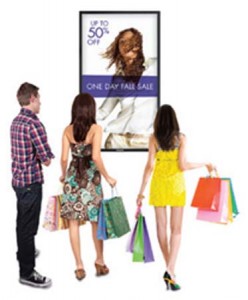 Videotel Introduces VP71 Media Player And Interplay Module
Videotel Inc. recently introduced a unique and simple solution to help retailers turn normal digital signage into an interactive experience their customers won't forget. Using a combination of Videotel's VP71 industrial media player and new interplay module (IPM), retailers can easily incorporate an interactive digital signage solution into their retail outlets. Whether it's used on video walls, digital signage kiosks, POS counters or HD televisions throughout the store, this combo solution allows customers to trigger specific video content with the touch of a button, use of a motion sensor or Videotel's wave-to-play device. The plug-and-play functionality of the IPM allows for easy integration of the VP71 digital media player with its RS232 ready port. The IPM control board allows for multiple size push buttons that can be illuminated and with custom text or with motion sensors. Videotel's VP71 is an hd industrial grade digital media player with a lifespan of six years, designed for looping content. With RS232 functionality, the VP71 allows other electronics to trigger specific content at certain times of the day. The VP71 automatically powers on, auto plays and auto loops seamless content without interaction. For more information on the VP71 and interplay module combo, visit. (Web Site) www.industrial-dvd.com
______________________________________________________________________________________________________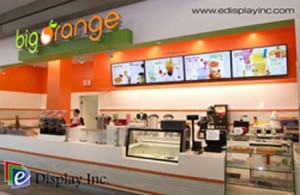 Big Orange Selects E Display For Its Digital Menu Boards
Big Orange, an innovative and rapidly expanding franchise chain whose growing products now include fresh fruit bubble teas, regular bubble teas, real milk bubble teas, ice cream bubble teas, waffles, and desserts, recently selected E Display to develop its digital menu boards. E Display assembled a custom turn-key solution for Big Orange based on their individual need. Four commercial grade 47″ LG High Definition LED displays were installed at this location. The displays were uniformly landscape mounted using commercial grade mounts in conformance with Big Orange's menu layout.
The screens were networked to state of the art Media Player PC's selected to offer quality and durability needed for mission critical commercial environments. The Media players are powered by E Display's SaaS (Signage-as-a-Service) platform. E display offers both self-managed and fully-managed service to its customer. Big Orange opted to go with the fully managed service which allows them to focus on their core business. E Display worked closely with Big Orange on their menu content for the digital medium. E Display re-designed the menu content and added motion graphics to make it more appealing and inviting while keeping in line with the client's brand image. Based on the positive results achieved from the digital menu board deployments by E Display at their store in Cambridge, Ontario, Big Orange is planning to implement the solution at their other stores across United States and Canada. (Web Site) www.edisplayinc.com
______________________________________________________________________________________________________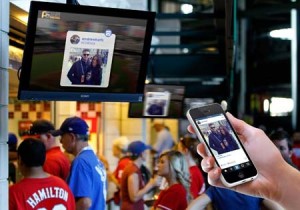 Access Sports Media And Blue Bite Partner To Bring Mobile Interactivity To Sports Venues Nationwide
Access Sports Media, a leading video advertising network operating with cross-platform solutions in sports venues nationally, has partnered with Blue Bite www.bluebite.com, the Mobile Standard in Out-of-Home™, to give sports enthusiasts the ability to interact with over 20,000 in-venue digital displays. Fans will have the ability to upload UGC (User Generated Content) from Twitter, Facebook and Instagram to screens via Blue Bite's social media platform, as well as obtain exclusive mobile content from the screens with over 80 MLB, NFL, NBA and NHL teams across the U.S. The synergetic partnership will create a strong communication channel with the target audience, connecting fans with their favorite sports teams and the brands that support them, on a more personal level. Blue Bite's Proprietary mTAG® platform will enable users to interact with Access Sports Media's in-venue digital displays via NFC (Near-Field Communication), QR (Quick Response), SMS, Geofencing and Social Media. Upon engaging with the screens, users will receive a variety of exclusive content, including behind-the-scenes access to teams and players, promotions and giveaways, and other contextually relevant information, delivered right to their mobile devices.
"We have been working very hard at Access Sports to become a true turn-key solution for brands targeting consumers at sports and entertainment events within our venues," explained Bill Meara, CEO of Access Sports Media. "This partnership with Blue Bite provides us with the capability to expand our tool box and uncover even greater value for our client base, and we are thrilled and excited to add this to our already highly integrated campaign packages." "We are extremely enthusiastic about our partnership and rollout with Access Sports in these targeted and highly sought-after environments, said Mikhail Damiani, CEO and Co-founder of Blue Bite. "As we strive to bring value to mobile users and our advertisers, this presents the perfect opportunity to connect teams and brands with a captive and engaging audience." (Web Site) www.accesssportsmedia.com
______________________________________________________________________________________________________
Heineken Launches 'Cities Of The World' Campaign
Heineken® has unveiled its latest global campaign, "Cities of the World," aimed to inspire people to get outside of their daily routines by unlocking the secrets of their cities. The fully integrated campaign includes a 60 second television ad and first of a kind, limited-edition Heineken bottles. The latest TV ad, "The City," is the seventh film in "The Legends" series, featuring Men of the World who are pushed to discover their limits and go beyond them, created by Heineken, in partnership with Wieden + Kennedy Amsterdam. "We know that while Heineken drinkers are familiar with many of the hot spots in their cities, they may not venture outside their usual routine on a daily basis to explore the unexpected," said Colin Westcott-Pitt, VP Marketing, Heineken. "With the 'Cities of the World' campaign, we're aiming to inspire them to move away from their usual habits this summer to discover and unlock the secrets of their own cities." To celebrate the launch Heineken has produced a set of specially designed limited-edition bottles, each featuring a print of one of six global cities: New York, Shanghai, Berlin, Amsterdam, London and Rio de Janeiro. From May 1st through July 4th, every Heineken lager pack featuring the City Bottle labels will feature an under-the-cap code, giving people 21 and over the chance to win daily prizes and unlock world adventures. (Web Site) www.heinekenusa.com
______________________________________________________________________________________________________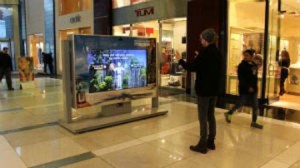 Philippines Tourism Board Launches 'It's More Fun In The Philippines' Kiosk Tour
Travelers will experience the thrills that await them in the Philippines when they pay a virtual visit to the exotic destination via an interactive immersive kiosk that offers a taste of the fun in the Philippines. The Philippines Tourism Board's "It's More Fun in the Philippines" kiosk is helping to send a message that the destination is back and ready for tourists. The kiosk invites travelers to the Philippines via interactive scuba diving and rock climbing experiences; it will also showcase lively streets, beaches, and towns. The kiosk will debut in Chicago at Water Tower Place where it kicks off a North American tour to five cities over three months. The branded kiosk, designed by Pearl Media, tells the story that "It's More Fun in the Philippines" through a series of interactive experiences of rock climbing and scuba diving activated by gesture-technology. Visitors who "travel" at the brightly branded kiosk will be entered into a sweepstakes to win an iPad, one per market. They'll also receive an action photo/postcard of their experience as a souvenir. The photo can be shared instantly on the visitor's social media profiles as well as on the Philippines Tourism board website. According to Josh Cohen, CEO, Pearl Media, "Immersive kiosks are an entertaining way to communicate the brand message that the Philippines is a destination worth considering. We designed this experience to provide potential travelers with the opportunity to explore unique attractions/destinations within the Philippines and create a memorable experience that could influence their vacation plans." (Web Site) www.itsmorefuninthephilippines.com
______________________________________________________________________________________________________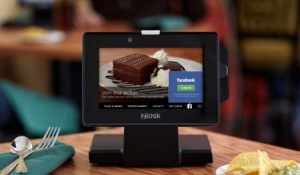 Ziosk Adds New Social Media Platform To Its Tabletop Tablet Functionality
Ziosk, makers of the world's first ordering, entertainment and pay-at-the table tablet, has introduced a new functionality on its tabletop tablet solution. The latest product unveil adds a social media platform for its restaurant partners, camera technology so guests can take pictures from their table and share via social media, and a more efficient payments experience for guests. "As the market leader, we continue to innovate to exceed the demands of the consumer and our restaurant partners, and are pleased to introduce the latest functionality that enhances the user experience," said Austen Mulinder, CEO of Ziosk. "Our tests have shown that today's consumer wants the ability to control their dining experience, whether that is to order additional menu items, play games, watch videos, view news and other entertainment, and now take photos and share their experience in real time with their friends as well as pay on demand in an improved fashion. The Ziosk platform provides exactly that."
Guests will be able to use the newly unveiled camera technology to snap photos of their group during their meal and share with their social network. This new feature provides an additional way for restaurant operators to leverage the social network of their guests as a marketing communications tool for their own brands. Ziosk has also added functionality to its payment application that will allow consumers to scan a coupon directly from the tablet's camera and add it to their check, as well as to pay with an e-gift card directly from the tablet, creating a faster guest experience that they can now control right from their table. (Web Site) www.ziosk.com
_____________________________________________________________________________________________________

Budweiser's Patriotic Packaging Returns On Store Shelves
Just in time for the Memorial Day holiday and summer barbecue season, the ever-popular, limited-edition red, white and blue Budweiser cans and bottles have arrived on shelves. This year marks an even larger commitment to helping military families-with Budweiser and its wholesaler family donating more than $3 million dollars to the Folds of Honor Foundation. Now through August 15, beer drinkers can enter a code contained inside specially marked packages of Budweiser on Budweiser.com/donate to trigger a $1 donation to Folds of Honor, accounting for up to $1 million combined with wholesaler contributions for a more than $3 million total donation to Folds of Honor in 2014. With each educational scholarship valued at $5,000, Budweiser and its wholesaler network's estimated more than $3 million donation will provide more than 600 scholarships to families of soldiers killed or disabled in action. "The most important thing we as Americans can do is let military families know we haven't forgotten the sacrifices they and their loved ones have made for our freedom," said Major Dan Rooney, founder, Folds of Honor Foundation. "Thanks to the longstanding commitment of Budweiser and its network of wholesalers, thousands of people have been able to pursue their dreams and recognize achievements that may have before seemed impossible." (Web Site) www.anheuser-busch.com
______________________________________________________________________________________________________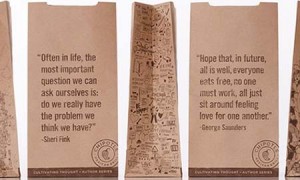 Chipotle Launches 'Cultivating Thought' Author Series On Cups And Bags
Chipotle Mexican Grill has launched the "Cultivating Thought" author series, a new program that features original essays written by influential thought-leaders, authors, actors and comedians on its restaurant packaging. Created in partnership with New York Times best-selling author Jonathan Safran Foer (Extremely Loud and Incredibly Close, Eating Animals, Everything is Illuminated), who curated the series, these stories are meant to entertain customers while exposing them to some of the most creative and influential people of our time. Chipotle has traditionally produced content that aims to change the way people think about and eat fast food. This author series serves as an extension of the company's mission to tell their unique story by engaging customers with thought-provoking ideas and cultural issues. The essays are accompanied by unique illustrations commissioned from a wide range of talented artists.
"Packaging in fast food restaurants is typically sold to advertisers, or used to promote new limited-time menu items, but we have never used our packaging that way," said Mark Crumpacker, chief marketing and development officer at Chipotle. "Instead, we have used it to entertain our customers using wit, humor and design. Following in that tradition, our new packaging allows customers to connect with a great selection of entertaining and thought-provoking authors they may not otherwise have encountered." (Web Site) www.chipotle.com
______________________________________________________________________________________________________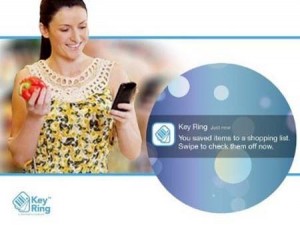 Gannett's Key Ring Joins inMarket Mobile To Mortar Platform
Key Ring, part of G/O Digital, a Gannett company that delivers leading mobile solutions, has become the first utility shopping app to add beacon in-store technology. Key Ring has joined the inMarket Mobile to Mortar™ (M2M) beacon platform that personalizes the in-store shopping experience for shoppers, retailers and brands. The addition of the beacon platform enhances Key Ring's position as the #1 mobile shopping app providing on-the-go, mobile access to interactive shopping list development and digital promotions from 160 retailers representing more than 2,000 loyalty programs in 27 retail categories. Together, Key Ring and inMarket offer an unparalleled combination of individualized promotional content delivered through mobile, driving real-time in-store engagement and action among shoppers. inMarket's Mobile to Mortar™ (M2M) beacon platform enables phones to recognize immediate surroundings in "smart locations" and awaken content when shoppers need it, adding concierge value to the retail experience. inMarket's beacons use proprietary, secure Bluetooth Low Energy and geofencing to provide apps with a new level of micro-location awareness. Combined with Key Ring's loyalty graph data that monitors millions of in-store transactions a month, this technology creates a cutting edge shopper marketing solution providing advertisers with unfettered access to shoppers in-store. For more information about Key Ring, visit www.inMarket.com or (Web Site) www.keyringapp.com
______________________________________________________________________________________________________
Cineplex Digital Media, Oxford Properties To Create First-Ever Place-Based Digital Ecosystem
Cineplex Digital Media and Oxford Properties Group (www.oxfordproperties.com) plan to create North America's first place-based digital ecosystem in 10 high-profile shopping centres across Canada. The cutting edge concept integrates architectural digital media, mobile technology, social media, experiential technologies, and digital media sales and analytics, providing a first-of-its-kind opportunity to inspire shoppers and influence purchasing decisions. From the moment the shopper enters the shopping centre, the system will provide valuable information about Oxford's properties, programs, and merchants, as well entertaining and relevant lifestyle content, and opportunities to engage through interactive media and in-mall activations. The digital ecosystem extends the retail experience outside store walls, bridging the growing divide between passive digital advertising and consumers' ever-increasing expectation for information and inspiration when, where and how they want to receive it. Cineplex Digital Media will take responsibility for deployment, exclusive media sales, and ongoing operation and maintenance of the network. Installation.
"Place-based digital ecosystems are the next evolution of digital interaction with customers," said Fab Stanghieri, General Manager, Cineplex Digital Media. "The system provides audiences a seamless, integrated experience and enables venues and brands to leverage the power of multi-channel marketing and advertising platforms to engage consumers and drive retail traffic. Cineplex is proud to partner with Oxford in developing this world-leading customer experience." "At Oxford, we are committed to delivering the best experience to our customers in every interaction, every day," said John Giddings, Vice President, Oxford Properties. "In our shopping malls, this commitment extends from our properties, to our retail selection, to our team members. With the introduction of the new place-based digital ecosystem, Oxford and Cineplex are able to extend the customer experience one step further, delivering an unparalleled, engaging experience to our customers." (Web Site) www.cineplex.com
______________________________________________________________________________________________________
News America Marketing And Thinaire Deliver Engaging Shopping Experience With Bertolli Olive Oil
Building on the success of their first mobile marketing campaign partnership that utilized SmartSource with NFC, News America Marketing and Thinaire are helping Bertolli Olive Oil once again serve rich interactive content directly to consumers in the shopping aisle. As shoppers visit the olive oil aisle, a tap of their NFC-enabled mobile devices to specially tagged SmartSource ShelfTalk signs will instantly bring them to "This Week's Recipe" from Bertolli. The recipe includes a shopping list that details all the necessary ingredients for a delicious meal so everything can be purchased during a single store visit. Additional content includes videos starring Chef Fabio which range from how to prepare this week's recipe to an educational "Olive Oil 101," discussing specific uses for Bertolli Extra Virgin, Classico and Extra Light blends. "Mobile marketing allows us to engage with shoppers on-the-go by helping them plan their next meal directly at the point-of-purchase," said Maggie Rogers, Brand Director, Bertolli Olive Oil. "We're looking forward to continuing our collaboration with News America Marketing and Thinaire to create additional campaigns that simplify and streamline the consumer's shopping experience while incorporating an element of entertainment."
"SmartSource with NFC is helping brands like Bertolli capture consumer imaginations while delivering information," said Mark Goodstadt, CEO of Thinaire. "In addition to offering rich content, campaigns like this help brands like Bertolli analyze point-of-purchase information to better understand the ongoing evolution of shopper behavior." "Seeing a leading brand like Bertolli add a mobile element to its marketing strategy is a testament to the results mobile marketing engagement can deliver," said Marty Garofalo, President, News America Marketing. "These types of on-the-go messages bring together brands and consumers wherever they are, personalizing the shopping experience and delivering a meaningful connection." (Web Site) www.thinaire.net
______________________________________________________________________________________________________
NVE: The Experience Agency Expands To New York City
NVE: The Experience Agency, a Los Angeles-based brand experience and event design firm, has expanded to New York City. Derrin Woodhouse has been named Executive Director, and will lead the New York City office. "We are very excited to have Derrin Woodhouse leading our New York City office. I believe that Derrin's multidimensional background in the entertainment industry represents the perfect intersection of entertainment marketing and brand strategy that would contribute to the growth of NVE: The Experience Agency," said Brett Hyman, President of NVE: The Experience Agency. (Web Site) www.experiencenve.com
______________________________________________________________________________________________________
The Beverage Industry Employs Qliktag's In-Store Mobile Merchandising Platform
Qliktag Software, an innovator of mobile software solutions, has received overwhelmingly positive response from the beverage industry for its mobile merchandising software platform, Qliktag Q*Engine. Prominent brands such as C. Mondavi & Family, and Butchers Brewing, along with one of America's leading whiskey companies, are using the platform to design and deploy unique mobile experiences for individual products and product categories, giving customers the ability to use their smartphones to interact with these products in a meaningful way.
"There is strong interest across the retail industry as to how brands can bring a digital experience to the physical retail environment and make deeper connections with their smartphone-savvy customers," said Dilip Daswani, CEO at Qliktag Software. "One of the markets most open to trying new mobile technologies is the beverage industry. We are quite pleased with the response we've received from several brand name beverage companies that have used Qliktag Q*Engine to creatively and successfully deliver a mobile experience to their customers."
With a long history of producing exceptional wines, C. Mondavi & Family believes the product experience can be greatly enhanced through digital interaction with customers. To that end, C. Mondavi & Family has printed QR codes on many of their wine bottle labels, and used the Qliktag platform to design mobile-friendly product pages for their newest brand — The Divining Rod. Upon scanning a label, the customer can learn more about that particular wine with tasting notes, optimal serving temperatures, food pairings, etc. Additionally, customers who have scanned a bottle with their phones can place orders online with a few clicks on their mobile device, thereby connecting the offline experience with e-commerce sales. (Web Site) www.Qliktag.com
______________________________________________________________________________________________________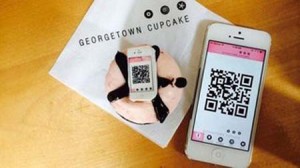 San Francisco Soup Company Selects Punchh's iBeacon-Enabled Mobile CRM Platform
San Francisco Soup Company (SF Soup), operator of 17 soup, salad and sandwich restaurants around the Bay Area, has selected Punchh to create a customized mobile-based guest rewards program. Using Punchh's Mobile CRM platform, which includes the restaurant industry's first iBeacon-enabled solution, the chain's customers can earn loyalty points, redeem rewards, find locations and receive news and offers through their mobile devices. In turn, SF Soup will gather highly actionable customer data to help it understand its fans better and precision-market to them directly.
The Punchh platform will enable SF Soup to: Engage customers on mobile devices when customers are near or in the stores (using iBeacon technology); Reward customers for loyalty, word of mouth, and referrals; Deliver daily soup notifications when customers' favorite soups are being served; Tailor offers to each customer based on spend, visits, and order preferences; and The platform employs the restaurant industry's first use of iBeacon, to automatically identify loyalty program members with Bluetooth-enabled smartphones as they come near to or enter a SF Soup restaurant. Knowing such customers are near the location allows SF Soup to send a personalized offer to that patron immediately. Once inside, the staff can offer even more personalized touches.
"Punchh's support for iBeacon technology within the Punchh Mobile CRM platform is the industry's first such solution. Using our platform, we want to help SF Soup transform their guests' experience, based on their proximity to the stores. SF Soup will be able to better understand each of their customers, and grow same-store sales and profitability via one-to-one offers," said Jitendra Gupta, CEO of Punchh. (Web Site) www.punchh.com
/punchh.com.
______________________________________________________________________________________________________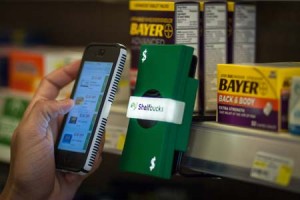 Shelfbucks, Bazaarvoice Incorporate Product Reviews, Ratings Into Smart Beacon-Based Mobile Solutions
Shelfbucks, the leading iBeacon promotion platform for retail stores, is collaborating with Bazaarvoice, to deliver a higher level of product information to shopper smartphones at the store shelf, enabling retailers and product companies to more effectively build sales, brand awareness and shopper loyalty. Working together, Shelfbucks will provide shoppers with timely product reviews and ratings from Bazaarvoice, in addition to real-time product deals and promotions, via Shelfbucks beacons installed on retail display shelves. "Online shoppers have easy access to ratings, reviews and product availability, yet research shows they still prefer to complete their purchases in brick-and-mortar stores," said Erik McMillan, CEO of Shelfbucks. "Our collaboration with Bazaarvoice levels the playing field for physical retailers, enabling them to provide the same level of qualified product reviews to shopper smartphones right at the store shelves when they are making purchase decisions." (Web Site) www.shelfbucks.com
______________________________________________________________________________________________________

_________________________________________________________________________________________________________

______________________________________________________________________________________________________

______________________________________________________________________________________________________

______________________________________________________________________________________________________
CLICK ON IMAGE TO VIEW DIGITAL EDITION
______________________________________________________________________________________________________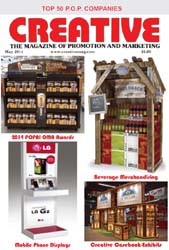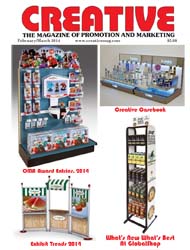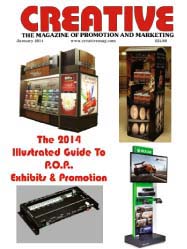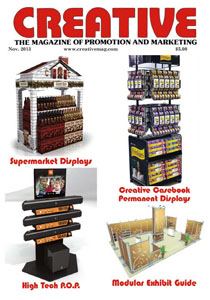 SEPTEMBER 2013 ISSUE
JULY 2013 ISSUE
MAY 2013 ISSUE
MARCH 2013 ISSUE
NOVEMBER 2012 ISSUE
SEPTEMBER 2012 ISSUE
JULY 2012 ISSUE
MAY 2012 ISSUE
JANUARY 2012 ISSUE