_________________________________________________________________________________________________________


_________________________________________________________________________________________________________

_________________________________________________________________________________________________________

_________________________________________________________________________________________________________

_________________________________________________________________________________________________________

_________________________________________________________________________________________________________

_________________________________________________________________________________________________________

_________________________________________________________________________________________________________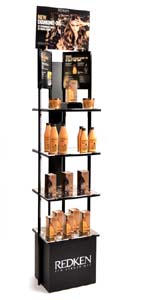 Redken's New Diamond Oil Collection Display Combines Storage, Information And Sensor Lights
Redken, the largest manufacturer in the professional industry, recently launched their new Diamond Oil Collection and needed an attractive way to feature the new brand in top Redken hair salons. Redken commissioned retail marketing solutions company Henschel-Steinau to create a display that would best display the premium Diamond Oil Collection.
"We wanted salon customers to be drawn immediately to the Diamond Oil Collection display upon entry to the salon," said Danielle Mancini, Assistant Vice President of Redken Retail Marketing. "We also wanted customers to stop and ask their stylists about Diamond Oil: what the product is, how it works, its benefits and why it would be good for them. We felt a compelling floor display with product information and navigational tools to showcase efficacy and use were critical. The display as a whole had to glorify the product while conveying its essence."
The Diamond Oil line features two Shatterproof Shine oils in Medium and Intense, which are the star products in the line's launch. These oils are silicone-free, a market differentiator, and are comprised of a combination of three different oils (camelina, coriander and apricot) that penetrate multiple layers of the hair shaft. "Diamond Oil is a premium range line for Redken and we wanted our display to convey that message to clients," explained Mancini.
The design features a permanent acrylic display with an elevated product glorifier on the top shelf that has a motion-sensor light to catch the passing customer's attention. There is prominent branding on the top as well as two side panels that can be switched out with generic collateral post-launch. The Redken Diamond Oil display was designed by Henschel-Steinau, a P.O.P. and retail marketing solutions provider located in Allendale, New Jersey; visit; (Web Site) www.hspop.com
_________________________________________________________________________________________________________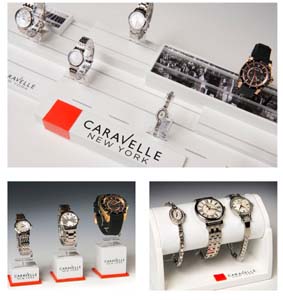 Bulova Captures Spirit Of NYC With Launch Of Caravelle New York Line
Bulova has launched its newest line, Caravelle New York, inspired by and rooted in the spirit of the fashion capital of the world-New York City. Caravelle New York will feature bold seasonal collections for both men and women geared towards style-aware consumers looking for fashionable timepieces at an attainable price point. A fully-integrated marketing campaign which will include advertising, social media, public relations programming and in store merchandising will support the launch. "The Caravelle New York line answers a clear marketplace demand for dynamically styled, affordably priced watches," said Gregory Thumm, Bulova Corporation President. "The initial reception from retailers has been quite remarkable, a true testament to the collection's design and composition." The Caravelle New York fall 2013 collection hits shelves in October, and will be widely available in major US department stores nationwide. (Web Site) www.CaravelleNY.com
________________________________________________________________________________________________________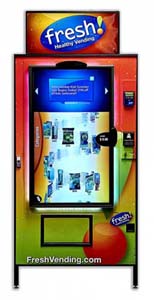 Fresh Healthy Vending Touch Machine Has Interactive Touchscreens, HD Video And Multimedia Displays
Fresh Healthy Vending International, the nation's largest healthy vending machine company, has launched the first-ever interactive-digital healthy vending machine, Fresh Healthy Vending Touch (http://thefreshtouch.com). The interactive fully customizable machine boasts a 46-inch 3D touchscreen. In addition to the features of the original Fresh Healthy Vending machine, (including refrigeration, credit card capability and remote wireless monitoring), the Fresh Healthy Vending Touch features a high-resolution digital camera, social media displays and touch-selection for product categories, 360-degree snack views and nutrition facts; all on its 1080p screen.
Fresh Healthy Vending International, Inc. Founder and VP of Corporate Operations Nick Yates, said, "Fresh Healthy Vending Touch is 'Vending 2.0′ with modern technology appealing to and engaging with the customer like never before. With a captivating, yet intuitive user experience, customers of any age are making healthy snacking decisions by choice."
While showcasing its line of fresh healthy snack options, all of which are vetted by Fresh Healthy Vending's team of product developers, the Fresh Healthy Vending Touch has the customizable capabilities to incorporate targeted advertising, promotional videos, detailed product images and educational tidbits and interactive games and applications tailored exclusively per location or audience. Each product in the machine has its own packaging design, 3D spin features, "buy me" animations and a detailed list of ingredients and product availability information. The fully customizable sidebar further breaks down each product into customizable categories, such as: Low Fat, Low Sugar, Low Sodium, Soy Free, Gluten Free, Kosher and Diabetic Friendly.
The state-of-the-art machines also feature anonymous facial recognition which allows the machines to capture sales patterns and trends through an understanding of the customers and purchasing histories. The Fresh Healthy Vending Touch machines accept cash, credit cards or NFC payments made on iPhones and Androids through Google Wallet.
"Healthy foods are becoming more prevalent in schools, workplaces and public and private facilities all over the world," noted Yates. "This machine also allows us the ability to educate the consumer on the benefits of health and wellness at the point of purchase, something that has never been achieved and something product manufacturers are very excited about." (Web Site) www.freshvending.com
_________________________________________________________________________________________________________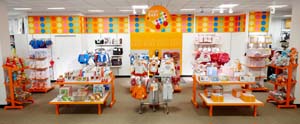 JCPenney Enhances Kids And Baby Department With New Brands And Designers
JCPenney has invigorated its kids and baby department with the launch of exclusive new brands and designer attractions. In addition to the recently announced Disney Shop inside JCPenney, the Company today is introducing giggleBABY, Wendy Bellissimo, baker by Ted Baker, Sally M by Sally Miller and Flowers by Zoe by Kourageous Kids in select stores. From stylish clothes to bath time fun to baby gear and accessories, these new collections will have everything kids need and moms want this fall.
Featuring iconic prints, geometric patterns and bright colors, giggleBABY's mix-and-match sensibility and great value makes it a simple choice for gift-givers and new parents alike. Through its exclusive partnership with JCPenney, giggleBABY is now able to expand its footprint across the U.S., introducing more parents to a curated collection of innovative and stylish baby products, including apparel up to 24 months, toys, bedding, furniture and accessories perfect for play, bath or bed time. Presented in a dedicated shopping environment, giggleBABY enables JCPenney to expand its in-store product offering to include categories such as strollers and baby gear that were only available at jcp.com. Classic and timeless, Wendy Bellissimo's signature style applies beautiful design and practicality to essential products for newborns to 24 months. As an accomplished family lifestyle designer and working mother of four, Wendy Bellissimo has become one of the premiere specialty designers in the baby business and is a sought-after creator of custom nurseries for celebrity moms.
Her unique collection, new to JCPenney, boasts elegant, chic designs with boutique-style quality, offering bedding, bath, special occasion apparel, footwear, gifts and accessories at attainable prices. The first U.S. children's line from London-based designer Ted Baker, baker by Ted Baker offers a fresh, fun and playful collection of top-quality clothing for boys and girls. Crafted with impeccable detail, the collection combines quality fabrics with distinct colors and quirky prints, providing sophisticated, special occasion looks for children and babies that are anything but ordinary. A favorite designer of today's child celebrities, Sally Miller's creations can often be seen on the red carpet. With Sally M, an exclusive collection for JCPenney, designer Sally Miller has created a collection of cool, trendy styles that allow girls sizes 6 – 16 to showcase their personality and celebrate their individuality. Flowers by Zoe has been a favorite high-end brand popular among young fashionistas everywhere. Flowers by Zoe by Kourageous Kids offers effortlessly stylish looks from fashion zip leggings to trendy sequined dresses, funky sweaters, skirts and bottoms at a great value.
_________________________________________________________________________________________________________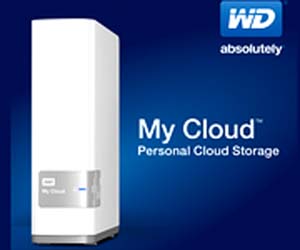 WD Displays My Cloud™ Solution
WD®, a Western Digital company and a world leader in storage solutions for the connected life, has introduced its new My Cloud™ family of personal cloud solutions. WD's My Cloud is a complete solution for users to organize, centralize and secure the digital content from all of their computers and mobile devices and access those files from any device, from anywhere in the world. By simply connecting a My Cloud personal cloud drive to the Internet, consumers get the anywhere, any-device access they can get from the public cloud, without having to pay monthly fees or giving up control of their personal data.
"We believe that there's no place like home for the cloud," said Jim Welsh, executive vice president and general manager of WD's branded products and consumer electronics groups. "Everyone is inundated with thousands of digital files scattered across multiple computers and mobile devices, and controlling that chaos is a challenge. WD's personal cloud is the easiest, most secure and most affordable way for customers to control that chaos, with access to all of their files anywhere, anytime." The 2 TB, 3 TB and 4 TB My Cloud will be on display at select U.S. retailers. (Web Site) www.wdc.com
_________________________________________________________________________________________________________
Resource Launches First Google Glass Application For A Major Consumer Brand
Resource, the largest independent digitally-led marketing agency in the country, is releasing the world's first Google Glass application for a major consumer brand. ColorSnap® Glass developed by Resource for Sherwin-Williams, North America's largest single-source supplier of high-quality paints, lets consumers instantaneously act on color inspiration by adding a digital layer right before their eyes. Resource developed ColorSnap Glass as part of Google's Explorer program; an exclusive group of innovators selected by the company to shape the future of Glass.
"Resource Lab is a technology accelerator that ideates and fast-tracks breakthrough consumer experiences using the latest digital technologies. We're enthusiastic about the possibilities that Google Glass gives our clients to connect with consumers in unobtrusive ways," said Dan Shust, VP of Innovation at Resource. "Wearable technology is the next frontier in mobile computing and ColorSnap Glass and other consumer-focused applications will play a large role in the acceptance and adoption of the new technology."
"We're committed to harnessing the latest in technology in order to create superior experiences for our customers," said Ellen Moreau, VP of Marketing Communications at Sherwin-Williams. "Cutting edge applications like ColorSnap Glass elevate our brand and keep us top of mind with consumers by bringing color inspiration to life in a fun and engaging way." (Web Site) www.resource.com
_________________________________________________________________________________________________________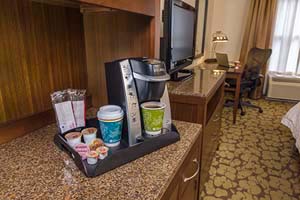 Hilton Garden Inn Partners With Keurig To Bring Great Tasting Coffee And Convenience To Busy Travelers
Hilton Garden Inn is partnering with Green Mountain Coffee Roasters, a leader in specialty coffee and single serve beverages with its innovative Keurig® brewing technology, to upgrade its in-room coffee and beverage offering. Guests in Hilton Garden Inn now have the option to brew their favorite coffee using a Keurig® K130 single cup brewing system. "Hilton Garden Inn believes that travel, whether for business or pleasure, should be an enjoyable experience – that's why we're constantly looking for ways to enhance our guestrooms, making them comfortable, convenient, and welcoming," said Adrian Kurre, global head, Hilton Garden Inn. "We heard from our guests that being able to easily make the perfect cup of coffee in their room was an important part of their morning routine to start a productive day, so partnering with GMCR to bring its Keurig single cup brewers to our guestrooms was the perfect solution." According to a survey of 500 high-frequency travelers conducted by Carbonview Research, among the amenities surveyed, in-room coffee is second in importance, behind only WiFi. Additionally, 78% of guests said in-room coffee was important, and single serve coffee is guests' number one in-room coffee preference.
_________________________________________________________________________________________________________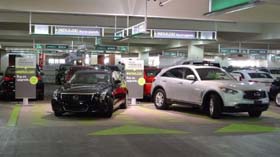 National Car Rental Launches 'Premier Selection' Luxury Vehicle Rental
At many of the nation's busiest airports, National Car Rental is introducing its "Premier Selection," a special section of the rental lot where customers can choose such upscale nameplates as the Cadillac Escalade, Lincoln Navigator or Lexus IS250. Initially piloted in the Phoenix, Minneapolis and Cleveland markets, Premier Selection is now rolling out nationwide and will be available by the year's end in approximately 25 National airport locations throughout the U.S. National, well known for its service to business travelers, prides itself on offering convenience and efficiency to its busy, on-the-go customers. Consistent with the brand's commitment to providing "speed, choice, and control," Premier Selection vehicles are clearly marked so customers can easily identify and upgrade their rental without ever visiting the rental counter.
"We've seen an increase in requests for high-end vehicles from our customers, and we're pleased to offer a range of vehicles that exceeds their expectations," said Rob Connors, assistant vice president of brand marketing, National Car Rental. "Whether closing a deal or entertaining clients, our customers occasionally need the extra prestige that comes along with these upscale vehicles."
_________________________________________________________________________________________________________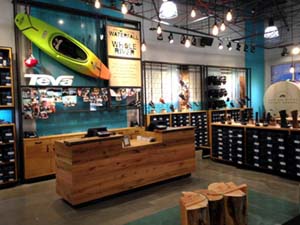 Teva Opens First Retail Store In Orlando
Teva, makers of the original sport sandal and outdoor footwear for the adventurous life, has opened its first retail store in Orlando, Florida. Located at the Orlando Premium Outlets at Vineland Avenue, the Teva store will showcase a complete selection of footwear for travel and everyday adventure, from sandals and trail shoes to sneakers, boots, and water shoes. Reflecting Teva's commitment to the outdoor lifestyle, the space blends modern design with natural materials to create an immersive experience with an outdoor aesthetic.
The store's interior will include real consumer and ambassador stories throughout the space to share inspiration from Teva's brand promise of "Live Better Stories", as well as interactive displays and areas dedicated to customer gatherings. Upcoming events will include video screenings, outdoor excursions, and workshops, all centered on the inspiration to find adventure in everyday life.
"Our goal is to have the store act as a platform for sharing the Teva lifestyle," said Jason Bertoli, retail marketing manager at Teva. "This includes having customers share their stories with us, but is also about using the retail store as a catalyst for outdoor adventure. This comes to life in-store with staff recommendations, suggested local activities, organized excursions, and other engaging events, all with the goal of making adventure as accessible as possible for the community and Teva fans that visit Orlando from around the world."
____________________________________________________________________________________________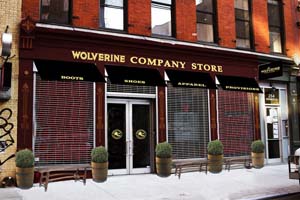 Wolverine Opens Permanent Company Store In New York's Nolita
Wolverine, the maker of dependably rugged boots since 1883, has opened a permanent store in New York's Nolita at 254 Elizabeth Street. The new location follows the successful New York pop-up venture in fall 2012, and will again offer a curated selection of goods that share Wolverine's commitment to quality, heritage and craftsmanship.
"The success of the Wolverine Company Store pop-up shop exceeded our expectations and made it an easy decision to open a permanent location," said Todd Yates, President- Wolverine Brand. "The store showcases our heritage, and through that story we've been able to make strong brand connections with so many people. We are excited to continue that momentum with the permanent location for many years to come."
BKLYN Dry Goods created the concept and design of the permanent location, keeping familiar pop-up store features like wooden beams that were part of Wolverine's original tannery dating back to the late 1800s and a wall of vintage shoe lasts. Alongside these distinct features are other new design elements, such as a more than 1,000-pound concrete sign from one of the company's original factory buildings, that bring Wolverine's long history to life.
"After the success of the Wolverine Company Store pop-up, we were excited and honored to continue our partnership with Wolverine," said Jahn Hall of BKLYN Dry Goods. "Taking inspiration from many of the elements that made the pop-up project a success, we're hoping to continue to inspire the look and feel of Wolverine retail and are excited to welcome Wolverine to New York City with a new, permanent home."
_________________________________________________________________________________________________________
SoloHealth & eHealth Offer Retail-Based Healthcare Kiosks To Educate Consumers On Their Health Insurance Options
SoloHealth®, a consumer-driven healthcare technology company, and eHealth, parent company of eHealthInsurance, have formed a strategic partnership to help expand consumer awareness and enrollment in individual, family and Medicare health insurance plans. The partnership makes eHealth's plan selection and comparison tools available, in selected geographies, to many of the more than 130,000 people who use the SoloHealth Stations every day across America. SoloHealth Station users will be able to easily explore their health insurance options via eHealthInsurance.com, the nation's first and largest private online health insurance exchange.
"We are excited to partner with eHealth to make insurance options more easily available and accessible to our consumers engaging daily with our SoloHealth Stations across the nation," said Bart Foster, CEO & Founder of SoloHealth.
"We're pleased to be partnering with SoloHealth whose convenient, easy-to-use kiosks engage with millions of consumers in a contextually relevant manner when healthcare is top of mind," said Bill Shaughnessy, President and Chief Operating Officer of eHealth. "The Affordable Care Act is expected to expand health insurance access to more Americans and consumers need to have simple and effective tools to better understand their options and enroll in the individual, family and Medicare plans that best meet their needs."
The SoloHealth Station, an FDA-cleared, HIPAA-compliant and patented technology, provides consumers with a digital, self-service healthcare platform that includes free health and wellness services, biometric screenings, health risk assessments and information. The SoloHealth Station is located in more than 3,200 retail locations nationwide.
________________________________________________________________________________________________________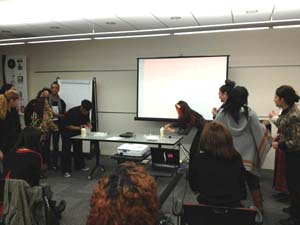 Sephora Introduces Complimentary In-Store Beauty Classes To Enhance Customer Experience
SEPHORA, one of the world's leading beauty retailers, has launched Sephora University Beauty Classes: an innovative new program designed to help beauty lovers of all ages and abilities master everything from building a skincare routine to creating the perfect smoky eye. Now available in over 60 stores throughout the United States, these complimentary classes for BEAUTY INSIDERS are the newest way Sephora is providing unbiased and exceptional client service to further enhance the client experience.
Held each Sunday, classes rotate to offer a new topic each week, and are updated regularly to reflect up-to-the-minute trends and the techniques most requested by Sephora clients. Each class' curriculum has been fashioned to replicate the training Sephora's own artists receive as part of the extensive Sephora University experience, and lets clients try the looks themselves and get coaching and advice from SEPHORA's experts, all in a fun and supportive group atmosphere. After each class, attendees are encouraged to pair up with a Sephora expert to receive personalized recommendations, or schedule a follow up appointment with one of Sephora's Personalized Beauty Advisors at the Sephora Beauty Studio for more one-on-one time.
"Our beauty classes are yet another example of our dedication to our client – her experience, exploration and education are at the core of our daily focus in-store," said Christie Jack, SVP of Sephora Retail. "Beauty Classes offers her an enhanced way to experience our services in a fun and informative environment, in addition to all our offerings both in-store and online."
_________________________________________________________________________________________________________
Nestlé Cafés To Open In 18 Rouse Malls
Rouse Properties, a national owner and operator of regional enclosed malls, has entered into a long-term partnership with Nestlé to open Nestle cafés in the center courts of 18 of its malls throughout the country. The cafés will feature Nestlé's high quality gourmet coffee, fresh baked cookies and pastries and a selection of premium sandwiches and paninis. This partnership will expand upon Rouse's ongoing effort to continue to create inviting and comfortable experience for our shoppers, and will be further complemented by installing customized soft seating areas and providing free Wi-Fi for consumers to enjoy throughout each mall.
"We are always looking for innovative ways to enhance the shopping experience and keep consumers coming back to our centers," said Brian Harper, Executive Vice President Leasing of Rouse Properties. "We are pleased to be at the forefront of our industry by partnering with one of the world's leading brands, such as Nestlé, to create such a unique experience for our customers. These cafés and additional amenities are designed to drive increased foot traffic and provide shoppers with a high quality social experience that will encourage more time being spent at each mall."
_________________________________________________________________________________________________________
Alliance For A Healthier Generation And McDonald's Partner To Promote Balanced Food And Beverage Choices
McDonald's is partnering with the Alliance for a Healthier Generation, founded by the Clinton Foundation and American Heart Association, to increase customers' access to fruit and vegetables and help families and children to make informed choices in keeping with balanced lifestyles. McDonald's worked with the Alliance for a Healthier Generation to develop a comprehensive plan for 20 of the restaurant chain's largest markets.
McDonald's specifically commits to: Provide customers a choice of a side salad, fruit or vegetable as a substitute for French fries in value meals. (Salad, fruit or vegetable option will vary per participating market.) The commitment also includes the following related to the promotion and advertising of Happy Meals: Promote and market only water, milk, and juice as the beverage in Happy Meals on menu boards and in-store and external advertising. Utilize Happy Meal and other packaging innovations and designs to generate excitement for fruit, vegetable, low/reduced-fat dairy, or water options for kids. Dedicate Happy Meal box or bag panels to communicate a fun nutrition or children's well-being message. Ensure 100 percent of all advertising directed to children to include a fun nutrition or children's well-being message.
"We've seen voluntary agreements with industry have profound impact — including our work with the beverage industry to limit the amount of calories shipped to schools. Those agreements resulted in a 90 percent reduction in total beverage calories shipped to schools between 2004 and 2010," said President Clinton. "If we want to curb the catastrophic economic and health implications of obesity across the world we need more companies to follow McDonald's lead and to step up to the plate and make meaningful changes. I applaud them for doing it."
_________________________________________________________________________________________________________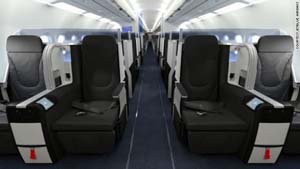 JetBlue Introduces Mint™ For Unparalleled In-Flight Experience
JetBlue Airways has shaken up the transcontinental premium market by introducing Mint, which will offer an unparalleled in-flight experience: the longest lie-flat beds in domestic business class and four private suites among the 16 Mint seats.
"Just as we revolutionized the core travel experience more than a decade ago with an elevated product and customer-focused culture, we intend to reinvent the lucrative coast-to-coast market with Mint," said JetBlue President and CEO Dave Barger. "Mint is JetBlue's refreshing take on a premium class product. It is stylish service minus all of the stuffiness often associated with the traditional front-of-the-cabin experience. JetBlue is truly all about serving the under-served, the customer who wants to enjoy first-rate service at an exceptional and affordable fare. We believe Mint is better than other airlines' first and business class service, and with fares that make it accessible to everyone, we think Mint will become the obvious choice for customers flying across the country."
Mint will feature a pre-departure drink, followed by a cocktail and amuse-bouche once airborne. JetBlue, New York's Hometown Airline™, has partnered with the popular New York City-based restaurant Saxon + Parole to curate the onboard menu. Mint travelers will customize their meal by choosing among five "comfort food with a twist" offerings, served tapas-style, followed by dessert. Fresh cappuccino and espresso made from the first purposely built cappuccino machine for a U.S. airline will be available throughout the flight. JetBlue will also be the only U.S. airline to offer customized men's and women's amenity kits from partner Birchbox, a global discovery retail company that offers consumers a personalized way to discover, learn about and purchase the best beauty and grooming products from prestigious brands. JetBlue chose to fully customize the Mint seat, featuring: Fully lie-flat beds up to 6'8″ (203cm), averaging the longest in the U.S. domestic business class market. The only private suites with closing doors in the American market, four on each flight. Seats up to 22.3″ wide, making them the widest seats on average in the U.S. domestic market. Air cushions with adjustable firmness, Massage function, 15-inch flat screen with up to 100 channels of DirecTV® programming and 100+ channels of SiriusXM® radio, Shoe storage, and Dual 110 volt power outlets with two USB ports.
_________________________________________________________________________________________________________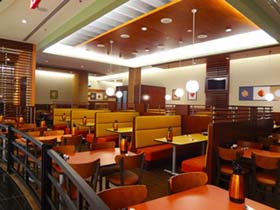 First IHOP Restaurant Airport Location Opens At Atlanta's Hartsfield Jackson International Airport
DineEquity, parent company of Applebee's Neighborhood Grill & Bar® and IHOP® Restaurants, is opening IHOP's first airport location at Hartsfield Jackson Atlanta International Airport in Georgia. The "IHOP Express" will be open twenty four hours a day, seven days a week and serve a wide variety of menu items, including the classic IHOP favorites. Located in the Main Terminal Food Court before the security checkpoints, the "IHOP Express" will be accessible to everyone. "IHOP Express" is approximately 3,000 square feet with a seating capacity for 120 guests. In addition to sit down service, the "IHOP Express" features a "Grab and Go" section, where guests can purchase some of their favorite IHOP menu items to enjoy during their flight. This location will also serve a selection of beer and wine, as well as provide a place for guests to store their luggage while they dine.
"This 'IHOP Express' marks an important step in our continued expansion into non-traditional venues like airports and colleges," said Julia Stewart, Interim President of International House of Pancakes and CEO of its parent company, DineEquity Inc. "While we are starting at the top with the world's busiest airport, we hope this will be the first of many airport locations to come, throughout the country and around the world."
"We are delighted to have this opportunity to bring one of the world's most recognizable and beloved brands to this airport and to provide all our guests the great service, value and classic menu items that have made IHOP famous for more than 55 years," said Terry Harps, President, Global Concessions, Inc. "Together, we designed a modern, yet very comfortable and accessible restaurant, one that we're sure will serve as a gathering place for friends and associates meeting before they depart or when they arrive from their flight, as well as a gathering place for airport workers and the local community."
_________________________________________________________________________________________________________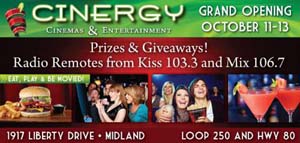 Cinergy Midland Theater And Entertainment Complex Opens In Texas
Cinergy Cinemas has opened an all-digital movie theatre and amusement complex in Midland, TX featuring 11 auditoriums, a game floor with over 60 games, redemption store, chef-prepared American favorites, beer and wine, movie must-haves, a multi-level Laser Tag arena, Sky Walker (a gravity-defying, black light overhead ropes course), and Atomic Rush (a quick response, immersive game experience). Auditoriums will showcase large wall-to-wall screens, enhanced JBL sound, and plush leather seating. The theatre will feature a Cinergy EPIC ("Experience Perfection in Cinema") auditorium, and five of the auditoriums will be 3D-capable. "Cinergy Midland will be the first of its kind in West Texas. Guests can come out to catch the newest movie or to just win big on the game floor," said Jamie Benson, Cinergy's owner and Vice President. "This will be the perfect location for West Texas to Eat, Play & be Movied!"
The Midland location will include: Wall-to-wall screens with Christie digital projection and enhanced JBL sound system; Plush leather seating and exclusive plush recliners for the front row; Stadium-style seating arrangement designed with super-sized 22 ½" risers and 'Texas-sized' leg room of 50″ between rows; Full kitchen with chef-prepared favorites, cooked to order and delivered to the theatre; Beer, wine, and frozen drinks; Over 60 arcade and video games; 58 vest, multi-level Lasertron laser tag arena; Sky Walker (a gravity-defying, black light overhead ropes course); Atomic Rush (a quick response, immersive game experience); Corporate Events, Group Events, and Birthday Parties; and Cinergy EPIC auditorium. Cinergy is committed to having the best entertainment experience. In order to make the movie outing stress free, Cinergy Midland will feature Reserved Seating in all auditoriums. Reserved Seating allows guests the ability to enjoy the game floor, grab a game of laser tag, or just hang out with their friends and family before the movie starts. Seat selections can be made, at any time, at the concession stand, a kiosk, or online at cinergycinemas.com.
________________________________________________________________________________________________________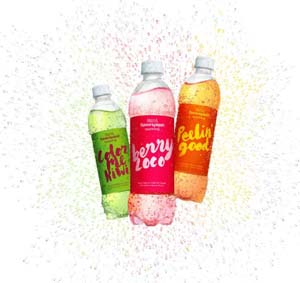 Aquafina FlavorSplash Launches New Line Of Sparkling Water Beverages And Liquid Water Enhancers
Aquafina® FlavorSplash® has launched an entirely new line of sparkling water beverages and liquid water enhancers, offering a portfolio of zero calorie hydration options that meet the desire of teen consumers for a cool, great tasting beverage and the needs of parents for a fun, 'better for you' product they can feel good about providing to their families.
"In looking at the beverage landscape, we realized there weren't a lot of better-for-you options designed for- and- by teens," said Rebecca Granne, Sr. Director, Aquafina. "With our new Aquafina FlavorSplash products, we hope to inspire creativity and bring out the individuality of consumers all across the country, by encouraging them to mix and match the products to customize their own flavors and have fun while doing it."
Available in squeezable packages, each with 24 servings, FlavorSplash® flavors include: So Strawberry, a wild strawberry flavor, World Peach, a peach mango flavor and Berry On, a mixed berry flavor. Available in three sparkling options, each Aquafina FlavorSplash sparkling water beverage contains B Vitamins and has zero calories per 16.9 ounce serving. Flavors include: Color Me Kiwi, a kiwi strawberry flavor, Peelin' Good, an orange citrus flavor, and Berry Loco, a four berry blend flavor.
_________________________________________________________________________________________________________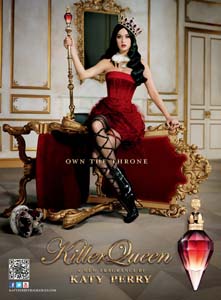 Killer Queen, A New Fragrance By Katy Perry Launches
COTY has launched Killer Queen, a new fragrance by Katy Perry. Playful and daring, Katy Perry's unbridled artistic vision bends the rules and breaks the mold with a vivaciously original spark. The new, strikingly gorgeous fragrance captures Katy Perry's rebellious spirit, throwing convention to the wind. Created by Laurent Le Guernec of IFF, Killer Queen is an addictive fragrance that bewitches, indulges and demands to be noticed. Inspired by a queen's scepter, the distinct jewel-shaped bottle in shades of royal red and gold portrays sexy sophistication and lawless luxury.The regality of the bottle is enhanced with a rich gold crown showcasing a custom crest capturing Katy Perry's playful essence-regal cats, a music clef, hearts and dagger.
"Artistic, creative and a consummate professional, Katy Perry has been an amazing partner to Coty," said Steve Mormoris, Coty Senior Vice President of Global Marketing. "Together with director Jonas Akerlund and photographer Tim Walker, Katy Perry helped us to create an incredible film and iconic visuals that will launch this fall when Killer Queen hits stores all over the world. We are thrilled to bring to consumers such an innovative campaign and fragrance."
_________________________________________________________________________________________________________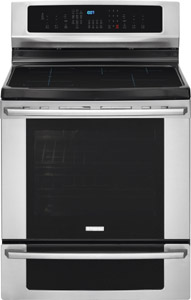 Electrolux Introduces New Induction Free Standing Range
Electrolux's new Induction Free Standing Range features the latest in induction technology and time-saving capabilities that deliver the results of a professional kitchen at home. "Induction meets consumers' desire to achieve top chef results at home," said John Weinstock, Vice President Marketing for Electrolux Major Appliances in North America. "We are excited to take this technology, incorporate it into a free standing range with a new, innovative self-cleaning oven system and deliver it to the marketplace at an amazing price point." Common in professional kitchens across Europe's culinary capitals, induction cooking offers greater temperature control, more even cooking and better energy efficiency in comparison to gas or electric options. With induction cooking, heat is generated directly in the cookware, adjusting instantly to pots and pans of different sizes. The range's oven is outfitted with Perfect Convect3®, a convection technology that produces consistently even results, delivers up to 30 percent faster cooking times, and provides even more baking options via a third convection element.
_________________________________________________________________________________________________________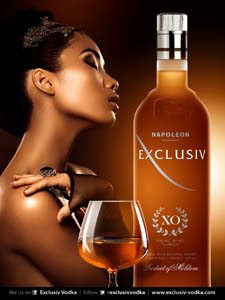 Exclusiv Vodka Launches XO Napoleon
Exclusiv Vodka, one of the fastest-growing vodka brands on the market, has launched the world's first brandy flavored vodka, Exclusiv XO Napoleon. According to Serge Chistov, president of Serge Imports LLC, U.S. importers of Exclusiv Vodkas, "This is the first vodka of its kind, which uses 5-18 year old brandies to create an authentic XO flavor. Our goal in creating this product was to give our brown spirit drinkers an affordable taste alternative."
Imported from Moldova, a country in Eastern Europe located between Romania and Ukraine, Exclusiv Vodka is produced using only the best "winter wheat," the first wheat of the year that can be taken from the ground. The result is a natural sweetness that has developed under the cover of snow, untouched by the elements. Additionally, Exclusiv uses the purest, most naturally filtrated water that passes through the limestone mountains of Central Europe. While not a brandy, its taste is reminiscent of the finest brandy with a deep, woodsy nose, a smooth texture and a warm finish. Eminently mixable, it is 70 proof, 35 percent alcohol by volume. The consistency of the true brandy color is obtained through the traditional French method of including caramelized sugar. Exclusiv XO Napoleon Vodka is the tenth product in the company's expanding portfolio.
_________________________________________________________________________________________________________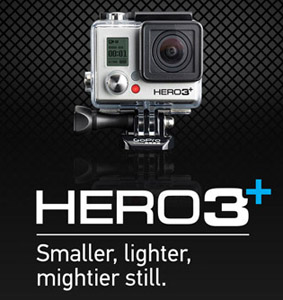 GoPro Launches HERO3+® A Smaller, Lighter Camera
GoPro is offering its new HERO3+ line of cameras, featuring a 20% smaller and lighter design and 30% better battery life than previous models. These upgrades, combined with an improved lens and convenient new video capture modes, to produce the most advanced and easy-to-use GoPro, yet. In addition, GoPro announced several new mounting accessories that further enable immersive content capture during any activity. The HERO3+ line of cameras and accessories are now available at select retailers worldwide.
_________________________________________________________________________________________________________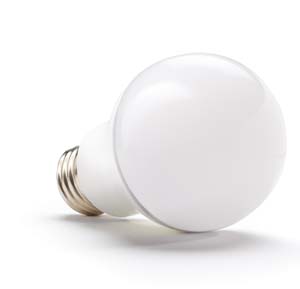 GE Develops High Performance, Affordable LED Bulbs To Advance Mainstream Adoption
GE Lighting is working with major retailers to introduce new LED product lines, providing a variety of high-quality, practical LED lighting solutions at an affordable price point to boost mainstream adoption. GE plans to introduce six new LED light bulbs including two low-cost, 40- and 60-watt replacement LED bulbs with dimming capabilities, providing the same warm, soft white light consumers are used to with traditional incandescent light bulbs; a wireless dimming LED indoor floodlight, offering more consumers with accessibility to dimming capabilities for sockets that are not connected to dimmer switches, great for those who do not want to rewire a space; and three GE's reveal® LED bulbs, available in 40- and 60-watt replacement and floodlight bulbs, combining two of its most innovative lighting technologies-GE's reveal® and LED-into one bulb.
_________________________________________________________________________________________________________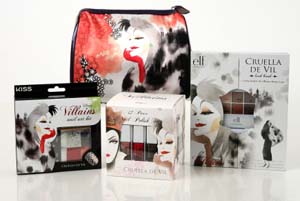 New Disney Villains Beauty Collection Debuts At Walgreens Nationwide
The new Disney Villains Beauty Collection comprises cosmetics, eyelashes, nail polish, nail art kits and hair accessories, inspired by memorable Disney Villains characters, for creating a devilishly divine look.The new collection embodies beloved characteristics of the wickedly beautiful Disney villains: Cruella De Vil, Evil Queen, Maleficent and Ursula. From beauty look books, nail polish to nail art, hair accessories, eyelashes and cosmetic bags, this enticing Disney Villains collection is available exclusively at Walgreens locations nationwide.
________________________________________________________________________________________________________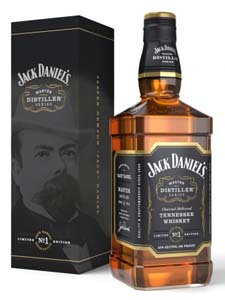 Jack Daniel's Rolls Out Master Distiller #1 Bottle Across The U.S.
The Jack Daniel Distillery has made its limited, one-of-a-kind Master Distiller #1 bottle honoring the company's founder available nationwide this fall at retail locations across the United States. Previously available at only duty-free shops and in Tennessee, the 86-proof, 750ml bottles are currently hitting shelves around the country. The Master Distiller #1 package – in tribute to the distillery's founder and first distiller, Jasper Newton "Jack" Daniel" – is the first in a new limited edition series that will recognize the seven men who have served in the position since the distillery began making whiskey nearly 150 years ago. The collection comes in a gift box bearing the likeness of the master distiller being honored, and each bottle will be sequentially numbered on the back label with the chronological ranking of the designated individual being recognized prominently on the front label. In addition, each package will include a QR Code where consumers can download a video tribute for each distiller.
_________________________________________________________________________________________________________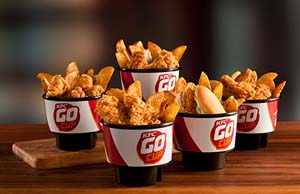 KFC Upgrades Snacking for On-The-Go Consumers With Introduction Of Go Cup
KFC has introduced the Go Cup featuring a handy (and patented) container that fits in a vehicle cup holder, and includes a choice of the brand's signature chicken along with Seasoned Potato Wedges. Customers can choose any of these tasty options to customize their Go Cups: a piece of Original Recipe® Boneless chicken, a Chicken Little® sandwich, two Extra Crispy™ Tenders, three Hot Wings™ or four Original Recipe Bites.
"Today's on-the-go snackers are going to love the Go Cup because it features awesome taste and great value, and in the ultimate portable package," said Jason Marker, Chief Marketing Officer for KFC U.S. "With the arrival of the extraordinary Go Cup, there's no reason to settle for an 'ordinary' snack anymore."
While it's what's inside the Go Cup that will appeal to the taste buds, the Go Cup itself will be popular with consumers' practical side. The design of the package takes convenience to the next level as the chicken and Potato Wedges are kept separate by a divider, and the cup is sized to fit perfectly in most cup holders. The Go Cup is designed to allow most of the food to sit above the rim of the cup, allowing easy access.
A recent KFC survey revealed that 53 percent of car owners age 18-32 would be more likely to eat in their cars if the food container would fit in a cupholder. And 35 percent of Americans describe themselves as "One Hander" eaters in the car – with one hand on their food while keeping the other hand on the wheel.
_________________________________________________________________________________________________________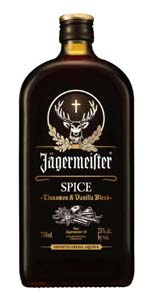 Jagermeister Spice Available In Limited Quantities
Jagermeister, the 7th largest premium spirit brand in the world and the number one selling imported liqueur in the United States, has introduced Jagermeister Spice. This new innovation uniquely combines vanilla and cinnamon spices with the legendary ingredients found in the original Jagermeister recipe. Jagermeister Spice is the iconic brand's first-ever product extension in the United States and is available nationally in limited quantities. Staying true to its roots, Jagermeister Spice was inspired by the original Jagermeister recipe of 56 different herbs, blooms, roots and fruits, and also is held to the same quality standards. Both products boast a complex taste profile as a result of sourcing the finest ingredients from around the world, a lengthy maceration process and 383 quality checks. The original recipe is both inspired by and dedicated to the deep bonds that exist between huntsmen and their craft. Jagermeister Spice builds on this legendary history by offering a new, modern take on the iconic brand.
"As our first major product extension in the United States in more than forty years, the launch of Jagermeister Spice signals an exciting moment in the company's history. Although Spice is certainly a unique take on our signature recipe, it also stays true to the original blend of Jagermeister, recognized as one of the most iconic spirits brands in the world," said Michael Volke, Member, Executive Board, Mast-Jagermeister SE.
_________________________________________________________________________________________________________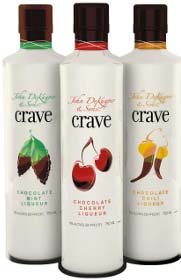 John DeKuyper & Sons™ Introduces Crave Chocolate Truffle Liqueur
John DeKuyper & Sons™ Crave Chocolate Liqueurs, a premium line of chocolate cordials, has launched JDK&Sons™ Crave Chocolate Truffle Liqueur. The latest flavor to join the existing JDK&Sons™ Crave portfolio, which includes Chocolate Mint, Chocolate Cherry, and Chocolate Chili, this new liqueur flavor offers chocolate lovers a unique way to enjoy a decadent chocolate treat as an indulgent cocktail. JDK&Sons™ Crave Chocolate Truffle Liqueur provides the smooth, rich taste of chocolate truffles complemented with a touch of vanilla and slight hint of caramel. With only 95 calories per 1.5 ounce serving, this premium liqueur is a welcome addition to a variety of cocktails that delivers a complete, guilt-free chocolate indulgence with each sip.
"The addition of JDK&Sons™ Crave Chocolate Truffle Liqueur to our already tempting portfolio allows us to provide cocktail lovers with a new chocolate experience — the rich, classic taste of pure chocolate truffle," said Brendan Lynch, Senior Director of Cordials and Rums for Beam Inc.
_________________________________________________________________________________________________________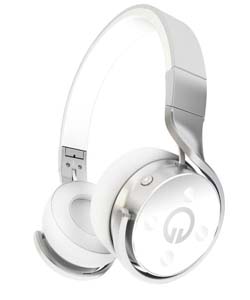 muzik Introduces SmartHeadPhone Exclusively With Best Buy
muzik, a pioneering company that is changing the way music is experienced, shared and discovered, has debuted the world's first smart on-ear headphone, exclusively at Best Buy. All of the products in muzik's lineup seamlessly connect hardware, software, and social media platforms to make music instantly discoverable and shareable. muzik will offer three products including: smart on-ear headphone; the company's marquee set of smart, on-ear wireless headphones, will feature a simple, sleek and elegant design and are available in black and white. smart in-ear headphone; this first of its kind smart in-ear headphone features 11mm drivers within the aluminum housing, and will also include passive noise cancellation. smart cable, the smart cable will be the first social smart cable designed to easily connect any headphone to a user's smartphone. The smart cable will include muzik's patented technology inside the cable.
_________________________________________________________________________________________________________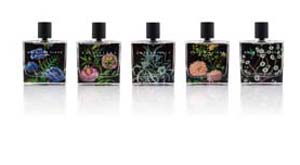 NEST Launches Fine Fragrances Collection At Sephora
NEST Fragrances, a leading designer and manufacturer of luxury scented products for the bath, body and home, has launched the NEST Fine Fragrances Collection at Sephora. The collection of five distinctive fragrances is available for purchase in 160 Sephora stores across the United States. Based on the original NEST Fine Fragrances Collection that debuted in the fall of 2012, which was inspired by the botanical artworks of 18th Century British artist Mrs. Mary Delany, the new collection was designed and developed exclusively for Sephora. Meticulously formulated by the world's most accomplished master perfumers, NEST Fine Fragrances is a sophisticated and elegant collection of extraordinary fine fragrances featuring three existing fragrances, Amazon Lily, Midnight Fleur and Passiflora, and two new Sephora-exclusive fragrances, Dahlia & Vines and White Sandalwood.
NEST Fine Fragrances creator Laura Slatkin, said, "While Mrs. Delany's work was highly regarded for its exacting and meticulous technique, what really moved me was the remarkable beauty of her botanicals. Her botanicals are beautiful works of art and they were the inspiration for me to create the NEST Fine Fragrances Collection."
_________________________________________________________________________________________________________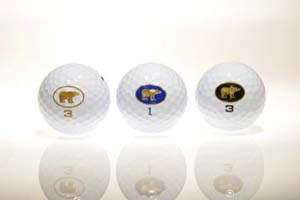 Jack Nicklaus Introduces His Own Golf Ball Line
Golf's greatest champion, ambassador and philanthropist, Jack Nicklaus, will be introducing a line of golf balls, with an emphasis on simplifying the game, as well as giving back to the game and to charity. Nicklaus is introducing three golf balls — Nicklaus Black, Nicklaus Blue, and Nicklaus White — to accommodate three skill levels of player, using the traditional tees from which they typically play. The balls, which will begin shipping in November, will initially be sold online and through golf/pro shops at the more than 200 Nicklaus Design courses nationwide. A percentage from every golf ball sold in those shops will be donated directly back to the Nicklaus Children's Health Care Foundation to support pediatric programs and hospitals nationwide, while visitors to Nicklaus.com will have the ability to support the Foundation with voluntary contributions.
_________________________________________________________________________________________________________

Progresso Launches Artisan Soups In East Coast Grocery Stores
Honoring its longstanding tradition of quality, Progresso® expands its soup offerings with the introduction of Artisan Soups. The line, featuring a new repertoire of ingredients, comes in five flavorful varieties and demonstrates the Progresso brand's commitment to celebrating authentic taste and exploring new flavors. It is also the first ready-to-serve soup line from Progresso available in a Tetra Pak carton. This packaging allows the soup to cook in a whole new way — one that lets the freshness and flavor of ingredients shine. With development led by Progresso culinary expert Heidi Teoh, the new Artisan Soup line offers a twist on classic soup varieties. The soups feature unique spice blends like Masala curry and coconut milk, and incorporate simple, high quality ingredients like kale, that are new to the Progresso ingredient repertoire.
_________________________________________________________________________________________________________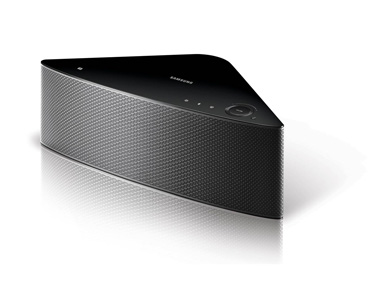 Samsung Introduces New Wireless Audio Multiroom Speaker System
Samsung Electronics America has introduced the Samsung Shape™ Wireless Audio Multiroom speaker system, enabling music lovers to enjoy tether-free entertainment in any room of the house, from various music sources. The flexible new speaker can be used alone or in combination with the Samsung Hub and additional M7 speakers to create a multi-room system. Easy plug and play installation makes set-up a breeze: simply connect the M7 or optional Samsung Hub to a router, plug in, and download the free app to effortlessly control multiple speakers and audio sources from a smartphone. "In today's homes, consumers are engaging with a multitude of devices for entertainment, including Smart TVs and smartphones," said Jim Kiczek, Director of Digital Audio and Video at Samsung Electronics America. "The Samsung Shape M7 was designed to fit and work perfectly in the Samsung family of home entertainment products, offering simplicity, versatility and incredible sound, all accessed with a touch of a smartphone."
_________________________________________________________________________________________________________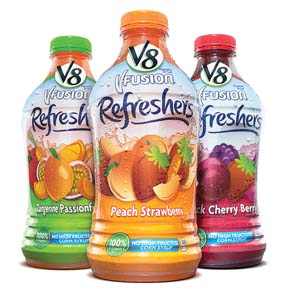 V8 V-Fusion® Refreshers Introduced
With the introduction of V8 V-Fusion® Refreshers, Campbell Soup Company equips moms with a great tasting juice drink the entire family will enjoy – and one that she can feel good about. V8 V-Fusion Refreshers are a light and crisp juice drink with a 20 – 25% blend of fruit and vegetable juices that come in four delicious and unique family pleasing flavors: Peach Strawberry, Black Cherry Berry, Cranberry Grape and Tangerine Passionfruit. The product is naturally sweetened and contains no high fructose corn syrup or artificial sweeteners, artificial colors, flavors or preservatives. At 100 calories per serving, each serving provides 100% of the daily value for vitamin C.
_________________________________________________________________________________________________________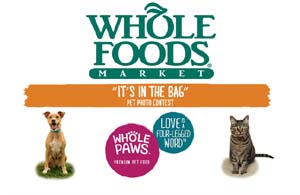 Whole Foods Market Launches Whole Paws Line Of Pet Food
Whole Foods Market is introducing Whole Paws, an exclusive line of premium value pet food, that features 24 products for dogs and cats. The line includes an assortment of items, ranging from grain-free adult dog food and training treats to indoor cat formula and litter with baking soda. "Premium pet food is the fastest growing segment in the pet food category," said Mitch Madoff, global exclusive brands coordinator at Whole Foods Market. "We know how much our customers care about what they feed their pets, so we're glad to offer a new line of products with premium ingredients at a value price." Made with chicken, salmon and other wholesome, nutrient-rich ingredients, Whole Paws contains no corn or soy, no animal by-products, no artificial colors, no artificial preservatives, and no added sugar- and the new line meets Whole Foods Market's strict quality standards.
_________________________________________________________________________________________________________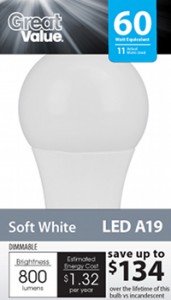 Walmart Launches Great Value LED Lightbulbs For Less Than $10 In All U.S. Stores
Walmart has launched a Great Value line of LED lightbulbs for less than $10 in all of its U.S. stores, with the goal of making LED lightbulbs more accessible and affordable for consumers. The new line will be available exclusively at Walmart stores nationwide. The energy-efficient LED, or light-emitting diode, technology provides the same quality and appearance of traditional lightbulbs, but LEDs are 80 percent more efficient, emit 40 percent less heat and last 25 times longer.
"Walmart makes purchasing LED a simple choice for consumers through the new low price and package design that is easy to understand. Consumers get excellent light output that is more reliable, convenient, better for the environment and saves money in the long run," said Steve Bratspies, executive vice president of general merchandise for Walmart.
_________________________________________________________________________________________________________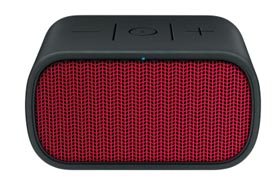 Ultimate Ears Delivers Huge Sound With New UE MINI BOOM Personal Bluetooth Speaker
Ultimate Ears has introduced a major upgrade to the popular Logitech UE Mobile Boombox with UE MINI BOOM, a surprisingly small speaker that delivers unexpectedly huge sound in stylish and vibrant color options. The UE MINI BOOM takes the Ultimate Ears expertise in filling small speakers with big sound to a new level, with a personal speaker with clear highs and deep bass, giving you great stereo sound wherever and whenever you want it. With a battery that lasts up to 10 hours, simple controls and Bluetooth® connectivity, the UE MINI BOOM is the perfect music companion, whether you're streaming music videos, hanging out with friends or traveling. "Ultimate Ears is setting the standard for audio solutions that fit today's mobile lifestyle," said Rory Dooley, general manager of Ultimate Ears. "Marrying incredible convenience with huge sound, the UE MINI BOOM is the latest mobile speaker in the Ultimate Ears lineup to deliver the best of both worlds."
_________________________________________________________________________________________________________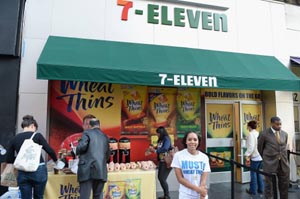 Wheat Thins Introduces Bold Chili Cheese Big Bag Flavor
Wheat Thins has added the new Wheat Thins Bold Chili Cheese Big Bag flavor to its line of Big Bag Bold Flavors, Zesty Salsa and Spicy Buffalo. For a limited time, the complete Wheat Thins Big Bag Bold Flavors line (Chili Cheese, Zesty Salsa and Spicy Buffalo) will be just two for $2 only at 7-Eleven stores.
_________________________________________________________________________________________________________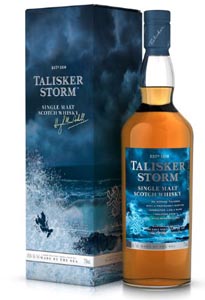 Talisker Storm™ Single Malt Arrives In U.S.
Talisker, the single malt made by the sea on the Isle of Skye, expands its offerings with the introduction of Talisker Storm. This October, the rugged new expression is a permanent addition to the current core range of Talisker single malt Scotch whiskies in the United States. Created to delight and intrigue adorers of the celebrated island whisky, Talisker Storm is more intense and smoky, with enhanced maritime notes that smoothly balance Talisker's signature warm sweetness.
"Talisker is the only distillery on the Isle of Skye. We were inspired to craft an expression as unique as the dramatic terrain of the island from where it hails," said Diageo Master Blender Jim Beveridge. "Without the constraints of an age statement, we've been able to blend a range of exceptional whiskies together in one vibrant dram."
"Talisker Storm is an exciting, bold expression of Talisker that captures the essence of the island where it was born," said Brian Radics, Director of Scotch Whisky, Diageo. "With growing consumer interest in the craft of brown spirits, we are proud to offer new innovations, like Talisker Storm, that push the envelope with intense flavors sure to exhilarate single malt fans."
_________________________________________________________________________________________________________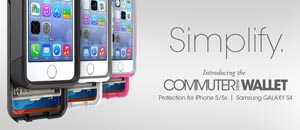 OtterBox Unveils New Commuter Series Wallet
OtterBox® has unveiled an evolution in smartphone protection to simplify the daily commute or a night on the town with the introduction of the Commuter Series® Wallet, a protective case with discrete storage and quick access to cash and important cards. The Commuter Series Wallet combines convenience, security and trusted OtterBox protection into pocket-friendly designs for the Apple® iPhone® 5/5s and Samsung GALAXY S®4.
_________________________________________________________________________________________________________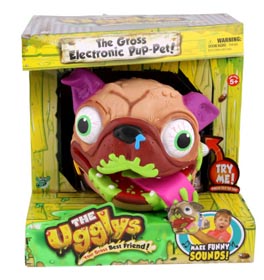 Moose Toys Introduces The Ugglys, Rude And Repulsive Electronic Pets
Moose Toys™, the Australian toy company known for The Trash Pack™, the disgustingly fun and popular line of garbage-inspired collectibles, has launched The Ugglys™, a new line of farting, burping and trouble-making electronic pets that will be available exclusively at Toys"R"Us® stores nationwide. Each interactive, electronic Ugglys pet makes over 30 rude and hilarious sounds, including farting and burping noises, which kids can warp using the tuning feature on The Ugglys' collar. Available this month in three Pug styles, The Ugglys are suitable for kids ages five and up.
"This year, we named The Ugglys to our 'Fabulous 15′ list because we expect that these funny and foul pups will be topping kids' wish lists," said Melody Young, vice president, general merchandising manager, Toys"R"Us, U.S. "The Ugglys are a perfect example of the kind of hilariously repulsive toys that ignite kids' imaginations, and we are pleased to be the only retailer in the U.S. to offer this one-of-a-kind toy to consumers this holiday season."
_________________________________________________________________________________________________________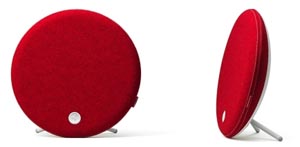 Libratone Unveils Most Versatile Speaker For Home Audio Entertainment
Libratone, the groundbreaking wireless speaker company, is pushing the boundaries of home audio once again with the introduction of Loop, which delivers breathtaking stereo sound and the convenience of wireless audio streaming. Libratone Loop is the most versatile speaker on the market, offering multiple placement and mounting options depending on the customer's taste and preferences. Loop can be either easily mounted to a wall or placed on a table or shelf thanks to its unique "kickstand" supports. Slim and elegant, the circular Loop replaces traditional, clunky "black box" speakers, making it incredibly easy to incorporate into modern décor. "Having listened to our customers, we know that versatility is essential in home audio: consumers want to be able to access the sounds they want, where they want them, and in a way that fits their life and style," said Gregg Stein, CEO of Libratone North America.
_________________________________________________________________________________________________________

Monster 500 Toys Launch In Toys"R"Us Stores Nationwide
Toys"R"Us has introduced Monster 500™, a new, exclusive line of toys, as part of the company's ever-growing assortment of differentiated merchandise offerings. Building on the company's expertise in product development, this collectible line was designed and created by Toys"R"Us in collaboration with Creata®, a kids marketing and toy company, and is inspired by kids' love for all things ghoulish and gross. This distinctive line features ten characters as small and large vehicles, as well as two fabulously freaky playsets. Plus, kids will fall in love with the interactive entertainment offered by the Monster 500 app, allowing fans to bring their favorite monster characters to life in an action-packed racing game.
"As a global toy retailer, we're always on the lookout for the latest trends destined to hit kids' toy boxes, and as little ones' affinity for all things gross and ghoulish continues to grow, we knew we wanted to create a creepy-cool brand – and characters – that our customers could fall in love with," said Ira Hernowitz, Executive Vice President, "R"Us Brands, Toys"R"Us, Inc.
_________________________________________________________________________________________________________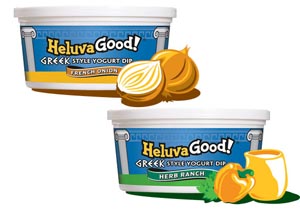 Heluva Good!® Greek Style Yogurt Dip Debuts
Heluva Good!®, recently introduced four new flavorful Greek Style Yogurt Dips, including French Onion, Herb Ranch, Southwestern Chipotle and Fire Roasted Vegetables. Combining the big, bold taste of Heluva Good! Dips with the richness and creaminess of Greek yogurt, Heluva Good! Greek Style Yogurt Dip delivers on its name in both flavor and guilt-free satisfaction.
_________________________________________________________________________________________________________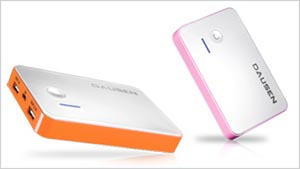 Dausen Mobile Accessories Now Available In U.S.
Global Trade & Technology Corp has partnered with Dausen to bring its complete line of mobile accessories to the U.S. Dausen's elegant yet affordable products are compatible with the latest and greatest mobile devices and tablets, including the iPhone 5S and the iPhone 5C, and the Samsung Galaxy line. Some highlights from the product line include: PureDecibel Bluetooth speakers, one of the most compact minimalist Bluetooth speakers available with Siri support; Power Bank 5000 mAh D1 series in many lively colors; iPhone 5S DTI Flip case with stand in multiple colors; iPhone 5C Air Shell cases; Galaxy S3/S4 Air Shell cases; Slim Case for iPad mini; and Smart Headphone Splitter with dual volume control.
_____________________________________________________________________________________________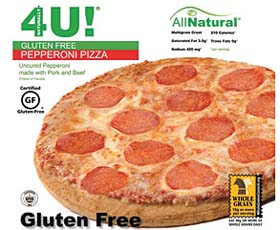 Better4U Foods Introduces Gluten Free Personal Pizzas
The Better4U Foods brand is introducing gluten-free consumers to the new personal version of their frozen Multigrain Gluten Free Pizzas. Better4U Foods will offer a personal-sized 7″ version of each of the brand's full-sized Multigrain Gluten Free Pizzas. Now available in personal sized frozen pizza are the following: Gluten Free Four Cheese, Gluten Free Roasted Vegetable, Gluten Free Pepperoni, Gluten Free Mediterranean and Dairy Free Gluten Free Roasted Vegetable (100% Vegan). Each personal-sized Multigrain Gluten Free Pizza contains 15 grams of whole grains and is lower in calories, fat, saturated fat and sodium (per serving) than competing frozen pizzas. Like other Better4U products, the new personal pizzas are produced in the company-owned Certified Gluten-Free facility.
_________________________________________________________________________________________________________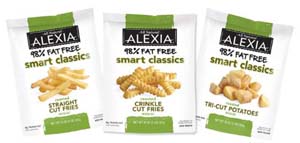 Alexia Smart Classics Introduces 98 Percent Fat-Free Fries
With Alexia's new Smart Classics Fries and Potatoes, consumers can now enjoy 98 percent fat-free fries with 100 calories per serving, straight out of their oven. New Alexia Smart Classics are roasted-never fried-and are made with U.S.-grown Yukon Select Potatoes for a taste consumers will love, without the guilt. They're available in three varieties: straight-cut fries, crinkle-cut fries and skillet-style, tri-cut potatoes, in frozen food aisles nationwide. Jason Allen, senior brand manager, Alexia, said, "With our newest entry into the frozen french fry category, consumers can satisfy their craving for a great tasting fry with a lower-calorie, lower-fat option when compared to what's available elsewhere."
_________________________________________________________________________________________________________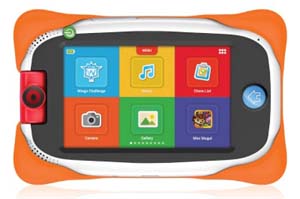 Fuhu Launches nabi 2 Nickelodeon Special Edition Tablet
Nickelodeon and Fuhu have launched the nabi® 2 Nickelodeon Special Edition tablet and tablet accessories, following the success of nabi Jr. Nick Jr. tablet launched earlier this year. Available exclusively at Walmart, the nabi 2 Nickelodeon Special Edition tablet is filled with apps, games, ebooks and full-length episodes from Nickelodeon's most popular animated and live-action series including Teenage Mutant Ninja Turtles, SpongeBob SquarePants, Sanjay & Craig, iCarly, Victorious and The Legend of Korra.
Additionally, an extended line of tablet accessories are available including nabi FX™ Frames, decorative character-themed vinyl stickers where kids can customize their nabi; and nabi FX™ Headphone Wraps, customizable wraps to personalize their nabi headphones. Both are available in Dora the Explorer, Teenage Mutant Ninja Turtles and SpongeBob SquarePants designs.
_________________________________________________________________________________________________________
Patagonia Names Joy Howard VP Marketing
Patagonia, the outdoor apparel company, has added Joy Howard to its senior management team as vice president of marketing. In her new role, Howard will lead the development and execution of global marketing across all sales channels and communication platforms for Patagonia, as well as for the wider portfolio of Patagonia initiatives in food and media, and new brand extensions. Previously, Howard was Nike's vice president of marketing for Converse All Star. Prior to Converse, Howard was based in Zurich, Switzerland, as global marketing director for The Coca-Cola Company's joint venture with Nestle. She began her career in marketing at Johnson & Johnson Consumer Products Company.
_________________________________________________________________________________________________________
NOOK Media Appoints Doug Carlson EVP Digital Content And Marketing
NOOK Media LLC, a subsidiary of Barnes & Noble, has appointed Doug Carlson Executive Vice President of Digital Content and Marketing. In his new role, Carlson will lead and oversee Digital Content, NOOK Press™, NOOK Marketing, as well as NOOK Media Creative Services. Most recently, he was Executive Chairman and Managing Director for Zinio, the world's largest digital magazine newsstand for six years. Prior to Zinio, Carlson was the Co-founder and Chief Executive Officer of FIJI Water, which became the second highest-selling imported bottled water in the U.S. during his nine-year tenure.
_________________________________________________________________________________________________________
Lands' End Names Michele Donnan-Martin New EVP, Chief Merchandising Design Officer
Lands' End has named Michele Donnan-Martin as Executive Vice President, Chief Merchandising Design officer. Donnan-Martin will lead all aspects of merchandising and design for the brand to ensure alignment of product development, price point strategies and design aesthetic to embrace and further build upon Lands' End's rich heritage. Most recently, she was the sr. vice president/general merchandising manager for Coldwater Creek and prior to that she was the brand president, retail & direct, for Delia's Inc.
_________________________________________________________________________________________________________
SPC Retail Display Group Names Manny Mulas As Account Executive
SPC Retail Display Group, based in Chino, CA, has named Manny Mulas as an Account Executive based on the East Coast. Since 2002, Mulas has developed new business, and served major retailers and brand marketers, bringing SPC valuable experience that blends perfectly into SPC's evolution as one of the nation's most complete and capable manufacturers of standard and custom store fixtures and POP displays.
_________________________________________________________________________________________________________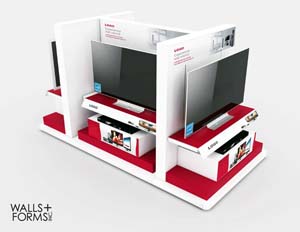 Walls + Forms Introduces New Slim Line Gondola
Walls + Forms has introduced a new slim line gondola designed and built for "live" electronic devices, home goods, miscellaneous retail items, heavy-duty products, and "starter" and "adder" pieces for multi configurations. All panel surfaces are constructed for ease of replacement and color combination. In addition to slim profile design, it offers integrated wire management throughout, modular design with minimal parts, and lightweight metal construction. It also offers tapered end caps, easy construction with quick setup, and adjustable levelers throughout the base deck. With aesthetics top of mind, panels have the ability to be switched out for multiple colors/laminate options or replaced with slatwall. The slim line gondola was designed for chord management. Unlike standard gondolas, this unique design allows for chords to pass through each post making it flexible for displaying and merchandising "live" products. Each metal upright is constructed to allow for chord access throughout the system. This eliminates common, unsightly wires typically found in traditional gondolas. The slim line gondola is value engineered for easy and quick assembly while maintaining strength and durability. There are no complicated parts or hours of assembly time. For more information,visit (Web Site) www.wallsforms.com
________________________________________________________________________________________________________

Trumari™ Introduces Lama Foldable Display System
Trumari™, a premier U.S. manufacturer and distributing source of floor and countertop displays, has introduced the Lama®, an eye-catching, three-dimensional instant foldable display system. Produced sustainably through patented structural technology, the foldable Lama displays are made of 100 percent recyclable materials that are so remarkably compact and lightweight, most can be shipped in a container roughly the size of an extra large pizza box. The portable displays also deploy with little to no assembly required, as users simply take the Lama out of the box, hold the top and unfold it-with the display easily springing into place and standing upright effortlessly and ready for viewing in a matter of seconds. Available in hundreds of shapes, sizes and unique combinations, the Lama is also highly customizable-offering unparalleled creativity and a "wow" factor that breaks through the clutter-making the first impression the best and brightest. Lama displays can also be used universally across hundreds of market sectors to inform consumers and provide brand support at the point of purchase. For more information, visit (Web Site) www.trumari.com
_________________________________________________________________________________________________________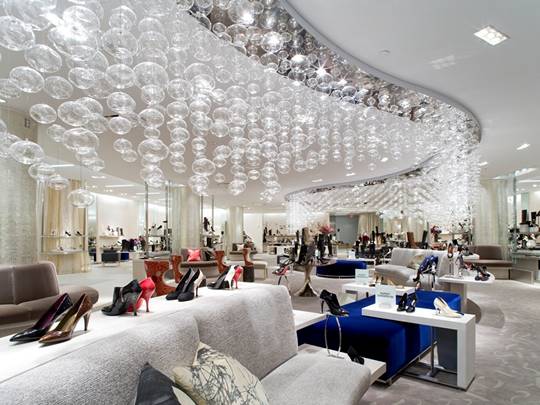 Tyco Retail Solutions Offers RFID Inventory Display Execution application
As part of its Inventory Intelligence solution, Tyco Retail Solutions, a leading global provider of retail performance and security solutions, has unveiled a new RFID-enabled application. The TrueVUE Inventory Display Execution application allows retailers to count display items quickly and easily to ensure that all models and styles in stock are represented on the sales floor. By harnessing the power of RFID, retailers gain process efficiency, improved inventory visibility and increased display compliance. While the new Display Execution application is ideal for department stores and specialty footwear retailers, it is also beneficial to the broader retail market, including high-end accessories and consumer electronics. For more information, visit (Web Site) www.tycoretailsolutions.com
_________________________________________________________________________________________________________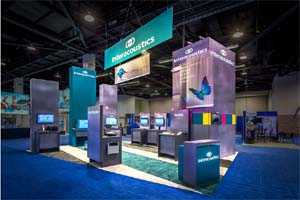 MC2 Design Creates Interacoustics Exhibit At The AAO-HNS in Vancouver
Interacoustics recently exhibited at the AAO-HNS (American Academy of Otolaryngology-Head and Neck Surgery) annual meeting and expo in Vancouver. Interacoustics, a manufacturer of hearing equipment, wanted an elegant translation of the new look for their brand. MC2 Chicago produced an exhibit that interpreted the look with simple shapes reminiscent of the sound bars on an audio device and calm tertiary colors. The space was imbued with a sense of stillness and quiet. The result transcended mere interpretation to capture the essence of the Interacoustics' brand. Interacoustics' 20×20 version of their exhibit won Best in Show for island booth meeting the criteria of appearance, education and activities. The exhibit showed excellence in its overall appearance including use of signs, pictures, demonstration models, video and general eye appeal. The Interacoustics exhibit was designed and produced by MC2, a recognized leader in the exhibit and event marketing industry. (Web Site) www.mc-2.com
_________________________________________________________________________________________________________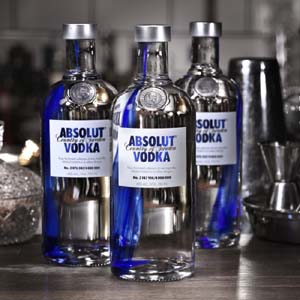 Absolut Originality Sets New Standard For Limited Editions
Following its long-standing tradition of introducing cutting edge designs, Absolut has produced Absolut Originality, an elegant, limited collection, which features four million individually designed bottles, each made into a one-of-a-kind work of art with a drop of cobalt blue infused into the molten glass during production. Following last year's spectacular launch of Absolut Unique, the journey continued in order to find a daring new concept for the next limited edition. The ambition was to capture the soul of Absolut, expressing creativity and quality as its cornerstones – and the experiments paid off.
"Absolut Originality presents our iconic bottle in its most classy form to date," said Mathias Westphal, Global Brand Director at Absolut. "We took inspiration from traditional Swedish glass craft, and made it available to the world. When we watched a drop of cobalt sink into the hot glass the first time, we didn't know what it would look like. But the very first bottle looked amazing, and what started as a playful experiment ended up as four million one-of-a-kind pieces of art."
Releasing a drop of cobalt blue into the glass only takes a millisecond. It's added just as the molten glass goes into the mould at 1100°C. At that temperature, the cobalt is invisible, but as the glass cools off, a beautiful and unique blue infusion appears inside the glass of each bottle. "The streak of cobalt forms a sophisticated contrast to the crystal clear glass, and the blue colour makes each bottle unmistakably Absolut. This classy remake celebrates the original thinking that has always been the Absolut creed and pays tribute to the world's most iconic vodka," Westphal said.
_________________________________________________________________________________________________________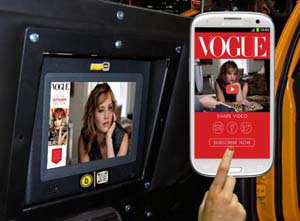 Blue Bite And Creative Mobile Technologies Promote National Rollout Of mTAGs® In Taxis
Blue Bite, the mobile standard in Out-of-Home™, and Creative Mobile Technologies, LLC (CMT), one of the nation's largest Out-of-Home digital networks and premier technology and payment processing solutions provider for the taxicab market, have enabled thousands of taxi media screens with Blue Bite's mTAG® technology. This is part of a national rollout that will be available in taxicabs in cities including Boston, Chicago, San Francisco, Philadelphia and Anaheim.
This groundbreaking technology was piloted in New York City taxis this summer with Vogue and will allow for interaction with local content and advertising campaigns this Fall. The Vogue campaign pushed the boundaries of mobile advertising and produced encouraging results for integrated mobile campaigns. Upon viewing a clip of the video Editor's Letter from Vogue's September issue on screens in taxis, users were directed to "tap" or "scan" the screen for additional exclusive content. Utilizing NFC and QR technology, users were instantly able to view exclusive mobile content, share Vogue's video with friends via social media (Twitter and Facebook), and subscribe to the magazine's digital edition with a special offer. More than 21% of people who interacted, shared the campaign with their friends through social media and via email.
"Blue Bite's maiden campaign within taxis showed the capacity of the mobile market and the heightened user interest in interaction, especially with an iconic brand like Vogue," said Mikhail Damiani, CEO and Co-Founder of Blue Bite. "We are very encouraged by the results and feedback and look forward to seeing similar campaigns spread across the streets of New York City and the country." The campaign was the first of Blue Bite's integrated mobile campaigns incorporating NFC (Near-Field Communication) and Quick Response (QR) code technology in taxis in the U.S. (Web Site) www.bluebite.com
_________________________________________________________________________________________________________
Donper America Targets Convenience Stores With New Frozen Yogurt Kiosks
Donper America, an industry-leading manufacturer of soft serve equipment, has introduced its new Turnkey Frozen Yogurt Kiosks. This solution was created for convenience store owners and operators to increase their profitability by incorporating frozen yogurt. The offering includes a completely customized kiosk, Donper America machines, digital signage, frozen yogurt mix, toppings dispensers and cup dispensers.
"We're thrilled to finally have the chance to introduce our Turnkey Frozen Yogurt Kiosks to the convenience store market," said Ben Gaskill, director of sales at Donper America. "Our kiosks were created to easily bring frozen yogurt to C-stores by not only attracting attention to the product, but by streamlining the startup process through a plug and play package."
Donper America is leading the way with innovations to jumpstart the growth of frozen yogurt within C-stores. In the past two years, the frozen yogurt industry as a whole has seen an incredible 74% increase in sales. This increased popularity is no surprise considering that reduced fat, reduced sugar, and reduced calorie count are very important to those looking for a frozen treat. With the Turnkey Frozen Yogurt Kiosks, it will be a seamless transition to bring the success of frozen yogurt to the convenience store market. (Web Site) www.donperamerica.com
_________________________________________________________________________________________________________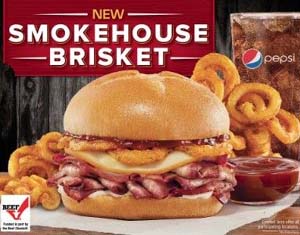 Arby's Promotes Introduction Of The Smokehouse Brisket Sandwich
Arby's Restaurant Group has debuted its new Smokehouse Brisket sandwich – hickory smoked for at least 13 hours. To celebrate the launch of the new sandwich and the restaurant's passion for great tasting, freshly sliced meats, Arby's has created the ultimate League of Brisket to honor fellow brisket fanatics everywhere. Fans can be inducted into the League by entering the online sweepstakes, with one lucky member winning the grand prize of two tickets to a professional football game.
Arby's® new Smokehouse Brisket sandwich features sliced smoked beef brisket, topped with smoked Gouda cheese, crispy onions and smoky BBQ sauce and mayo, served on a toasted, bakery-style bun. Hickory smoked for at least 13 hours, the juicy, tender brisket is sure to make this sandwich irresistible to everyone from the BBQ novice to the pit master professional. "Most people don't have the time it takes to make a quality, tender brisket, which is why we use brisket that's smoked for at least 13 hours, so our guests don't have to," said Len Van Popering, SVP, Product Development & Innovation, Arby's Restaurant Group, Inc. "We're excited to offer this slow-smoked favorite to our fans and to launch the League of Brisket in celebration of all those who take brisket as seriously as we do."
_________________________________________________________________________________________________________
Papa John's Promotes Launch Of Papa's Mega-Sized Chocolate Chip Cookie
Papa John's is introducing Papa's new Chocolate Chip Cookie. Mega-sized, filled with rich chocolate chips, baked fresh and cut into eight slices and served warm, Papa's family sized Chocolate Chip Cookie is just $5 with any pizza purchase, for a limited time. "We are excited to offer this new dessert product," said John Schnatter, Papa John's founder, chairman and CEO. "Papa's Chocolate Chip Cookie is an outstanding dessert option that will satisfy the sweet-tooth of all cookie lovers. This is another delicious, quality product our customers have come to expect from Papa John's."
_________________________________________________________________________________________________________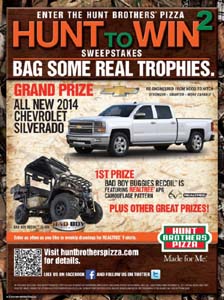 Hunt Brothers® Pizza Conducts Hunt To Win Sweepstakes
Hunt Brothers® Pizza is once again helping hunters reload their collection of camouflage hunting gear with the launch of the Hunt to Win 2 Sweepstakes. Now through December 31, hunting enthusiasts across the country can enter to win more than $65,000 in prizes, including the grand prize of an All-New 2014 Chevrolet® Silverado 1500 pickup truck valued at $40,000.
"The first Hunt to Win was one of the most successful sweepstakes in our company's history, and we're excited to bring it back with even bigger and better prizes this time around," said Keith Solsvig, vice president of marketing for Hunt Brothers Pizza. "We've added Chevrolet® to our list of partners, which includes Realtree® and Bad Boy® Buggies. Together, we have some of the biggest and most well-respected names in the automotive, outdoor and hunting industries."
In addition to the grand prize of a Chevy Silverado, consumers can also enter to win a first prize Bad Boy Buggies Recoil IS 4×4 hunting ATV with Realtree APG camouflage design valued at $15,000. "With nearly 14 million licensed hunters across the country, most living in the same areas where Hunt Brothers Pizza is sold, this partnership is a great way to get the hunting community involved in trying our products while rewarding our loyal consumers," said Solsvig. (Web Site) www.HuntBrothersPizza.com
_________________________________________________________________________________________________________
Quri Agile Offers New Breakthrough Retail Analytics Solution
Retail brands invest more than $600 billion annually on in-store promotions, merchandising and shopper marketing, but are losing billions in potential revenue from out-of-stock items, poorly executed displays and incorrect pricing. Quri Inc., a retail analytics and intelligence company for consumer brands and retailers, has responded to this problem by releasing Quri Agile™, a new solution that helps brands find and correct the execution problems that significantly limit in-store sales and ROI.
Justin Behar, CEO and Co-founder of Quri, said, "With the release of Quri Agile, brands can significantly reduce these problems early in a promotion's selling cycle, recovering significant lost revenue."According to an in-depth research study by Quri of execution quality in mass and grocery channels from July 2012 to June 2013, out-of-stocks occurred 15 percent of the time, missing promotional pricing 22 percent of the time and missing merchandising displays 49 percent of the time.
Quri Agile is the first solution to apply the agile principle of "continuous improvement cycles" to drive immediate sales gains and quick-follow execution improvements. The solution comprises three components: Measure – Using its crowdsourced, geographically-distributed workforce of mobile consumers, Quri measures store-by-store execution performance at retail stores across the country, including photographic support of the reported data. Correct – Quri immediately verifies the information and sends store-by-store correction alerts to a brand's field execution team with "punch lists" of the required fixes at each store. Learn – In parallel, all execution measurements are analyzed in Quri's analytics dashboard – by store, region, banner and retailer – which provides organization and process diagnostics for how the brand can improve execution performance going forward. (Web Site) www.quri.com
_________________________________________________________________________________________________________
Rita's Italian Ice Promotes New Caramel Delights Dulce de Leche Cream Ice And Caramel Milkshake
Rita's Italian Ice, the nation's largest Italian Ice concept with over 600 outlets in 21 states, is promoting its newest Cream Ice flavor, Dulce de Leche, which is now available for a limited time at all open Rita's outlets. Rita's new Dulce de Leche is named after the popular South American dessert prepared by slowly heating sweetened milk to create a product that derives its taste from the caramelization of the product, changing flavor and color. Complementing Dulce de Leche Cream Ice is another caramel delight, the Caramel Milkshake, which is Rita's new Milkshake of the Month for October. "Rita's is proud to introduce our newest caramel creation, Dulce de Leche Cream Ice," said Jeff Moody, CEO, Rita's. "The amazing creamy caramel flavor of Dulce de Leche and our new Caramel Milkshake are out of this world!"
_________________________________________________________________________________________________________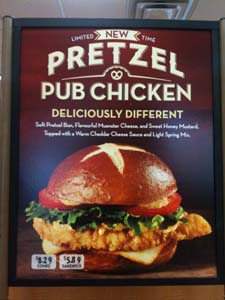 Wendy's Promotes New Pretzel Pub Chicken
Available for a limited time, Wendy's Pretzel Pub Chicken offers the big flavor of chicken sandwiches found at upscale pubs. The Pretzel Pub Chicken starts with an all-white meat breast fillet, slightly breaded, and is topped with a fresh spring mix and freshly sliced red tomato. A slice of creamy Muenster cheese adds a rich flavor, along with warm cheddar cheese sauce and sweet and savory honey mustard – all enclosed in the artisan-baked, authentic pretzel bun. "Chicken sandwich lovers told us at the front counter, the drive-thru and especially in 140 character tweets why they deserved the pretzel treatment – and we're responding in a big way," said Liz Geraghty, Wendy's VP of Brand Marketing. "If your neighborhood upscale pub teamed up with Wendy's to create a chicken sandwich, the Pretzel Pub Chicken would be it." The Pretzel Pub Chicken is being promoted
in Wendy's P.O.S. signage.
_________________________________________________________________________________________________________
Theory House Appoints Jordan Stevens Designer
Charlotte, NC-based Theory House, the leading shopper marketing agency for North America's next great retail brands, has appointed Jordan Stevens as designer. Stevens brings more than five years of creative experience, including most recently with Erwin Penland in Greenville, SC. (Web Site) www.TheoryHouse.com
_________________________________________________________________________________________________________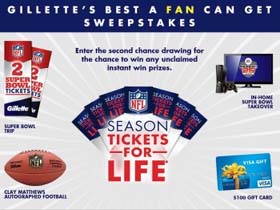 Gillette Delivers 'The Best A FAN Can Get Sweepstakes' By Awarding NFL Season Tickets For Life
Gillette is launching its "Best a FAN Can Get Sweepstakes" where fans across the country will have the opportunity to win NFL prizes, including one grand-prize winner who will receive a pair of season tickets to their favorite NFL Team – for the rest of their life. Five runners-up winners will also receive an all-inclusive package to Super Bowl XLVIII for two and additional prizes include the ultimate at-home Super Bowl takeover, footballs autographed by Clay Matthews, Visa® gift cards, NFL Shop discounts and free Gillette products. For a chance to win instantly, fans can look for a game piece inside specially-marked Gillette Fusion ProGlide cartridge packs from October 1, 2013 through February 1, 2014, or while supplies last.
This season, Gillette has also teamed up with four star NFL players – Green Bay Packers linebacker Clay Matthews, New York Giants wide receiver Victor Cruz, New England Patriots wide receiver Danny Amendola and Tampa Bay Buccaneers running back Doug Martin, to bring fans closer to the NFL's peak performers and showcase a critical factor in making it to Super Bowl XLVIII – precision.
"Whether it's on the field or off, some of life's most important and impactful moments are determined by the precision with which they are performed," said Greg Via, Gillette's director of global sports marketing. "The difference between good and great is in the details, and no one knows that more than Gillette. When it comes to shaving, we have spent the last 110 years carefully engineering and refining our razors to give every man the advantage of Gillette's precision."
_________________________________________________________________________________________________________
Pro Motion Adds Industry Veterans
Pro Motion, a recognized leader in the Experiential Marketing and Event Marketing industries, is expanding its staff with three new hires. Brian Randazzo has been named project manager for Pro Motion's client, Stanley Security Solutions. Pro Motion has added Maria Nisbet as the company's Director of Communications. Nisbet is responsible for all sales and outbound marketing activity for the company nationwide. Pro Motion has also named Kevin Bedwell as the new Marketing and Business Development Manager. In this position, Bedwell is responsible for overseeing a wide realm of marketing initiatives for the company in addition to managing the business development process. (Web Site) www.promotion1.com
_________________________________________________________________________________________________________

_________________________________________________________________________________________________________

_________________________________________________________________________________________________________

_________________________________________________________________________________________________________

_________________________________________________________________________________________________________
CLICK ON IMAGE TO VIEW DIGITAL EDITION
_________________________________________________________________________________________________________
SEPTEMBER 2013 ISSUE
JULY 2013 ISSUE
MAY 2013 ISSUE
MARCH 2013 ISSUE
NOVEMBER 2012 ISSUE
SEPTEMBER 2012 ISSUE
JULY 2012 ISSUE
MAY 2012 ISSUE
JANUARY 2012 ISSUE