______________________________________________________________________________________________________


______________________________________________________________________________________________________

______________________________________________________________________________________________________


______________________________________________________________________________________________________


______________________________________________________________________________________________________

______________________________________________________________________________________________________


______________________________________________________________________________________________________

______________________________________________________________________________________________________


______________________________________________________________________________________________________

______________________________________________________________________________________________________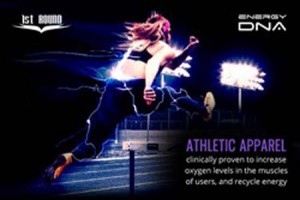 1st Round Athletics Displays Kickstarter Performance-Enhancing Athletic Apparel Line
California-based company 1st Round Athletics is introducing its performance-enhancing technology, EnergyDNA®, to the world of athletic apparel with a Kickstarter campaign launch. EnergyDNA®, the technology that differentiates 1st Round's comprehensive apparel line from others on the market, converts heat emitted from the body into reusable infrared energy. This recycled energy is then channeled back to the body, expanding the capillaries to allow for increased blood flow. The technology in 1st Round apparel essentially offers athletes a renewable energy resource.
"We've assembled an awesome team, including scientists and designers from around the country, to create our line of apparel," said Sterling Brewster, President of 1st Round Athletics. "We've got a great product, and a few of the world's top athletes are using it already. With this Kickstarter campaign, we're bringing 1st Round to the masses." 1st Round will hit the market with a broad range of men's and women's pieces, as well as lines for different sports including football, soccer, basketball, running, yoga and cross training. Their men's line will initially include an array of pants, shorts, shirts and other compression garments. The women's clothing includes a variety of sports bras, tight and loose fitting shirts, shorts, capris and full length leggings. Other gear and accessories, including products such as wrist bands, head bands and socks, are available for both sexes. (Web Site) www.1stround.com
______________________________________________________________________________________________________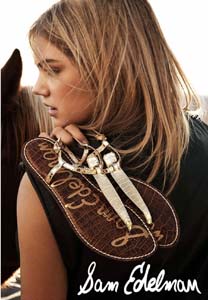 Sam Edelman Stars Kate Upton In Spring 2014 Campaign
For the second year, Kate Upton will be the face of Sam Edelman's spring advertising campaign. The campaign was shot by photographer Craig McDean on a private beach in California. The images from the shoot will appear in print ads in Vogue, Harper's Bazaar, InStyle and Women's Wear Daily, billboards, online as well as in Sam Edelman retail stores. "Kate is the model of the moment, and I'm thrilled to have her as the face of the brand again," said Sam Edelman, founder of Sam Edelman Shoes and division president for the Sam Edelman Division of Brown Shoe Company. "The Sam Girl is aspirational and knows all the latest trends, whether it's fashion, the newest workout or hottest models. They all want to look like Kate." The Sam Edelman spring collection is a mixture of boy-meets-girl looks inspired by the 50s St. Tropez beach towns style of dressing and combined with the more masculine London street styles. Nude palettes and natural leathers with touches of camo are used throughout.
______________________________________________________________________________________________________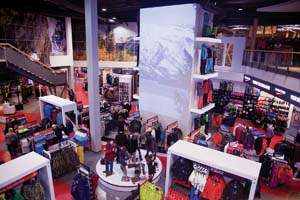 Sport Chek's First Flagship Store Introduces New Digital Era In Experiential Retail
Sport Chek (@SportChek) opened its 80,000 square foot Sport Chek/Atmosphere store that provides consumers with access to world leading digital technology, an unparalleled array of leading brands and products, and a personalized shopping experience that connects consumers to the sports they are passionate about. The Sport Chek flagship store features: 800 screens populated by 220 channels that display product images and deals, store-wide anthems, and community walls filled with local sports information; 470 individual screens; 250 computers; 25 large format tabs; 80 tablets; and over 1,200 square feet of digital projection. Staff will use digital installations, interactive technology and product displays featuring the best brands to provide detailed and personalized service to customers.
"Our new flagship store in West Edmonton Mall is the most digitally advanced and personalized retail experience in the world," said Michael Medline, President of Canadian Tire Corporation. "We have created an energy filled experience for anyone who is passionate about a great customer experience and shopping for an unparalleled array of sporting goods." "We are very excited to be working with Sport Chek on their first flagship store. As the provider of their content management system, we understand the innovation and hard work that goes into tackling many in-store technological 'firsts'", said Chris Riegel, CEO, STRATACACHE. "Digital is the next step for retail. Sport Chek understands this and with the opening of the flagship store has proven they can lead it." (Web Site) www.sportchek.ca
______________________________________________________________________________________________________
Tanqueray Imported Dry Gin On Display In Large Liquor Stores
This display was created to provide a retail showcase for the Tanqueray lines of imported dry gin, highlighting the product while reinforcing the brand's "Tonight We Tanqueray" messaging and high-end position. The display was designed to increase sales of Tanqueray imported dry gin at participating liquor stores; Establish a highly visible secondary merchandising location off shelf; Translate raw agency concept into a cost-effective, retail-friendly display that fit a tight budget; and Successfully showcase the a changing variety of Tanqueray product to the brand's target demographic of 30-55 year-old males.
The budget restrictions to create a high-end, durable, permanent merchandising display required some innovative design and production solutions, including the choice of black high impact styrene and a steel tubular frame to create a solid, indestructible core yet showcased the product with a glamorous and sleek profile. Additionally, a 12-gauge sheet metal base and 18-gauge sheet metal shelves were chosen to maximize the displays strength and stability, both critical functional requirements given the nature of the product being merchandised. The display's curved shape and rich, black color complements the product exceptionally well and ensures the unit can be placed in the widest variety of in-store locations. The unit's exceptional manufacturing quality and well-conceived design translates into a longer life and easy set-up for retailers. The Tanqueray display was designed and produced by United Displaycraft, a Des Plaines, IL-based point-of-purchase display firm. (Web Site) www.uniteddisplaycraft.com
______________________________________________________________________________________________________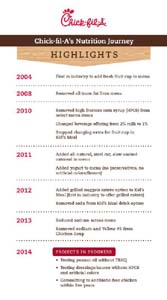 Chick-fil-A To Serve Antibiotic-Free Chicken In All Restaurants Within Five Years
Chick-fil-A plans to serve chicken raised without antibiotics in all Chick-fil-A restaurants nationwide within five years. This move marks the first time a quick service restaurant has committed to a 100 percent "raised without antibiotics" standard for poultry. "Since our family business began 67 years ago, we have focused on our customers. It's why we insist upon using the highest quality ingredients," said Dan Cathy, president and chief executive officer of Chick-fil-A. "We want to continue that heritage, and offering antibiotic-free chicken is the next step."
Chick-fil-A consumer research indicates an interest in how food is made and where it is sourced, with particular interest in the use of antibiotics. As a result, the company is partnering with its national and regional poultry suppliers to build the necessary supply of chickens raised without antibiotics to match the chain's sales volume. The company is asking suppliers to work with the USDA to verify that no antibiotics are administered at any point. The change comes on the heels of Chick-fil-A's late-2013 announcement that the company removed yellow dye from its chicken soup, and is testing the removal of high fructose corn syrup from all of its dressings and sauces, artificial ingredients from its bun, and TBHQ from its peanut oil. The chain previously removed trans fat from all of its menu items and condiments in 2008. Chick-fil-A chicken is 100% pure breast meat with no fillers, additives, hormones and steroids. No artificial or added hormones are used in the production of any poultry in the United States. "Transparency in our food is important to our customers, and it's important to us too," said Cathy.
______________________________________________________________________________________________________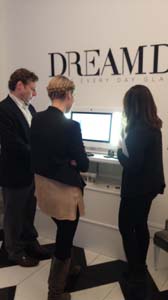 Lancome And FaceCake Bring Jason Wu Makeup Looks To Consumers Digitally At DreamDry's Flagship NYC Salon
Lancome continues to move forward in the world of digital beauty innovation with the launch of a new interactive program that allows consumers to 'get the beauty look' straight from the runway of Jason Wu 2014 Collection. Lancome also provides a variety of cosmetics to virtually 'try' in real time.
As the latest creative endeavor in its coveted collaboration with celebrated designer Jason Wu, Lancome sponsored its third exclusive makeup look for Wu's highly anticipated 2014 Mercedes Benz Fashion Week show recently. To celebrate Lancome and Wu's continued inspired partnership, and popular glamour salon DreamDry's One Year anniversary, Lancome has aligned with interactive marketing leader FaceCake Marketing Technologies, Inc. to bring a revolutionary cosmetics Try-On platform to DreamDry's New York Flatiron location. Classic Lancome favorites and the exciting new makeup look direct from Wu's fashion-forward show are available to virtually try on using FaceCake's Swivel Close-Up platform for a limited time. Swivel Close-Up provides consumers the opportunity to try on makeup in a zero-to-two foot environment, literally mirroring the in-store experience. Beauty lovers are invited to visit the blowdry hotspot to get a first-look at this game-changing technology that bridges the gap between the virtual world and traditional stores. Visitors will be able to virtually try on Lancome looks, get real-time advice, shop their favorite products, and share their virtual makeover pictures on social media-all through a simple touch screen.
"As a digital leader in the prestige beauty world, Lancome is always looking to offer an even more interactive and immersive experience for consumers," said Stacy Mackler, Lancome Vice President, PR and Communications. "With this virtual makeover technology, we're thrilled to have found another way to bring the best in effortless chic luxury to our consumers."
______________________________________________________________________________________________________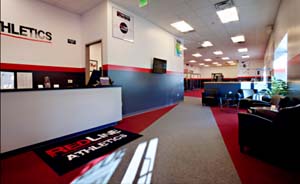 John Leonesio To Spearhead RedLine Athletics Franchises
John Leonesio, who has over 40 years in the health club industry, is now focused on his latest franchise model: RedLine Athletics. A revolutionary concept in sports specific training, RedLine Athletics has custom-designed training models, which enables young athletes to further develop skills in their chosen sport, ranging from baseball to basketball to football and beyond. Every athlete thrives under the guided instruction of RedLine's professional trainers, many of whom were collegiate athletes or played pro ball. Founded by former National League baseball player Lyndsey Simmons, RedLine Athletics and its unique sports training concept has quickly revolutionized the industry. By offering a wide variety of sport-specific training sessions, RedLine Athletics is a cost-efficient and convenient sports training facility that offers its athletes evaluation, testing and sports development opportunities, with an emphasis on enhancing the athletic achievements of the junior player, ages 8-18. From major sports to recreational activities, RedLine Athletics has vastly improved the quality of its athletes and their performance. The first RedLine Athletics franchise will open in Scottsdale, Arizona in February 2014. "Most of the trainers at RedLine Athletics have all competed at the highest levels in their sport," said Leonesio. "They not only know what it takes to get you to the top, but to keep you playing at the very highest level possible day in and day out. Our training regimen is unique, comprehensive and produces results."
Leonesio is a recognized expert in the health and wellness franchise industry, with more than 40 years experience. In the 1970s, Leonesio co-founded Scandinavian Health Spa's, growing it from one club to 40 clubs before selling to Bally Health and Fitness in 1985. In 1990, he co-founded The Q, the Sports Club, growing it from one unit to 20 units in five years, before selling to 24 Hour Fitness. In 2002, Leonesio founded Massage Envy. In just six years, he took it from concept to a $300 million operation with more than 800 licenses awarded. The Joint…the chiropractic place has awarded nearly 500 licenses since Leonesio became CEO in February 2010. He now serves as Chairman of the Board.
______________________________________________________________________________________________________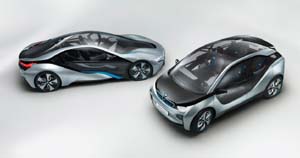 BMW Debuts BMW i Brand All-Electric Vehicles
BMW of North America has introduced the BMW i brand including the BMW i3, the first all-electric vehicle made primarily of carbon fiber and the BMW i8, a plug-in hybrid, high-performance electric vehicle. The BMW i3 and BMW i8 go on-sale in the U.S. in the second quarter of 2014.
______________________________________________________________________________________________________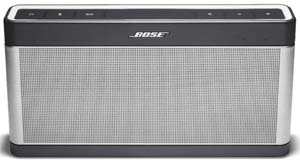 Bose Debuts Bose® SoundLink® Bluetooth® Speaker III
Bose has introduced the SoundLink® Bluetooth® speaker III, the latest in its acclaimed SoundLink® product line. The SoundLink® Bluetooth® speaker III is Bose's best-performing Bluetooth speaker yet, delivering a new level of audio performance, an all-new design, longer battery life, and accessory covers in five colors. It connects wirelessly to your smartphone, tablet or other Bluetooth device, instantly allowing you to share your favorite music out loud, wherever you are and wherever you go. The new SoundLink® III integrates Bose proprietary technologies to reproduce music with fullness, clarity and depth. Four neodymium transducers and dual-opposing passive radiators combine with a new digital signal processing algorithm and improved electronics to play louder than its predecessor, while maintaining balanced and natural sound at higher listening levels. The SoundLink® III is beautifully crafted and engineered for durability and grab-and-go use. The SoundLink® III weighs just 3 pounds, and measures about 5 inches high, 10 inches wide and only 2 inches deep. It includes a rechargeable lithium-ion battery that provides up to 14 hours of listening, so the speaker will play all day long without the need to recharge.
______________________________________________________________________________________________________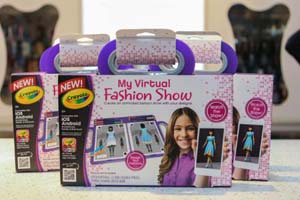 Crayola Launches My Virtual Fashion Show
Crayola has launched My Virtual Fashion Show, a new product that lets kids design their own fashions and bring them to life on a virtual runway, just like professional designers. My Virtual Fashion Show sparks the creative vision of the next generation of fashion designers and style icons by inspiring kids to create unique, colorful fashion designs in their Crayola sketchbook. When the designs are ready, kids can showcase their creations in a virtual fashion show on their device and share designs via email, directly from the app. "We know kids love fashion and design so giving them a way to express their unique style both offline and online seemed like a perfect fit," said Kip Olmstead, Executive Vice President of Global Product Development and Chief Marketing Officer at Crayola. "My Virtual Fashion Show is the first and only product of its kind that allows a seamless transition between their real life fashion creations and the virtual experience and we are so excited for it to help kids everywhere unleash their original vision."
______________________________________________________________________________________________________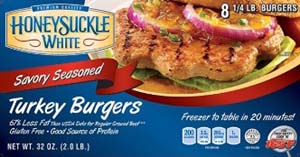 Cargill Introduces Premium Turkey Burger Line Supported By Consumer Marketing Campaign
To meet consumer demand in the growing turkey burger category, Cargill's Honeysuckle White and Shady Brook Farms brands are introducing six varieties of premium frozen turkey burgers that are currently rolling out nationwide. This line of turkey burgers will be supported by a consumer marketing program during the important 2014 U.S. grilling season from Memorial Day through Labor Day. Under development for more than a year, and supported by extensive consumer research, the Honeysuckle White and Shady Brook Farms product development team focused on consumers' desire for a premium quality, branded, frozen turkey burger available in a variety of flavors. The new line of turkey burgers includes familiar flavor favorites including Seasoned; Ready-to-Season; Seasoned White Meat; in addition to unique flavors such as Swiss/Bacon/Onion; Cheddar/Jalapeno; Swiss/Mushroom. Cargill's integrated frozen turkey burger marketing campaign begins in April 2014 and will include print, digital and television elements, as well as a consumer sweepstakes, online coupons and in-store retail promotion.
______________________________________________________________________________________________________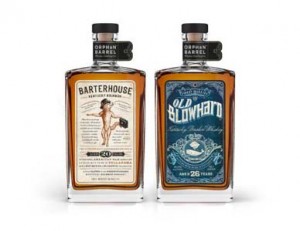 DIAGEO Launches Orphan Barrel Whiskey Distilling Company To Share Rare Spirits
DIAGEO has launched the Orphan Barrel Whiskey Distilling Company, created to locate lost and forgotten barrels of whiskey from around the world and share them with discerning adult fans. The first two variants to be released from the company will include the 20-year-old Barterhouse Whiskey and the 26-year-aged Old Blowhard Whiskey. Both brands are expected to begin appearing on select shelves throughout the U.S. in March 2014 under strict allocation due to limited supply. Barterhouse Whiskey stocks were discovered in old warehouses at the Stitzel-Weller facility in Louisville, Ky.
Old Blowhard Whiskey was also found at Stitzel-Weller and is hand bottled in Tullahoma. The Orphan Barrel Whiskey Distilling Company is headquartered in Tullahoma, Tenn. where the whiskies are bottled and owned and operated by DIAGEO.
"The whiskey warehouses and rickhouses these spirits come from are special places filled with the incredible smells of seasoned oak, rough textures of weathered wood and amazing tastes of precious liquid," said Ewan Morgan, Master of Whiskey for DIAGEO. "It's every worker's dream of finding that forgotten barrel of delicious whiskey and sharing it with their friends. That's exactly what we're doing."
______________________________________________________________________________________________________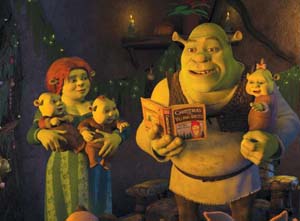 DreamWorks Animation Launches Dreamworks Press
DreamWorks Animation is launching DreamWorks Press, an in-house operation which will publish digital and print books inspired by the studio's vast IP library. The newly formed division will also join with The Perseus Books Group for the sale and distribution of its digital and print books through Perseus' Publishers Group West distribution unit. DreamWorks Press signals the studio's first-ever, year-round publishing program to establish permanent shelf space across top retailers as well as deliver content through a diverse range of formats and price points.
______________________________________________________________________________________________________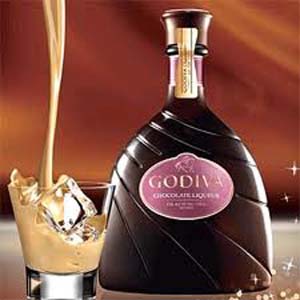 GODIVA Introduces New Dark Chocolate Liqueur
GODIVA Liqueur Company introduces new GODIVA® Dark Chocolate Liqueur. Combining the renowned GODIVA chocolate tradition with spirited innovation, this liqueur is the delicious embodiment of liquid dark chocolate. The enticing GODIVA Dark Chocolate Liqueur was inspired by GODIVA's rich dark chocolate and pleases the palate with a blend of flavors including deep, unsweetened dark chocolate, bright black cherry, candied sweet orange peel with a hint of cold-brewed coffee peeking through. It will be available nationwide wherever fine spirits-based beverages are sold and joins GODIVA Chocolate Liqueur and White Chocolate Liqueur. "We're excited to provide chocolate lovers with the latest addition to the GODIVA Liqueur family," said Stephanie Jacoby, Director of Liqueurs. "GODIVA Dark Chocolate Liqueur is a delicious full-flavored indulgence with less guilt."
______________________________________________________________________________________________________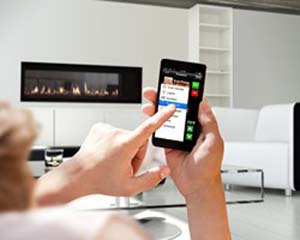 Heat & Glo Launches IntelliFire Touch Controls
Heat & Glo®, a leader in fireplace design and innovative technology, is transforming how consumers interact with fireplaces with the introduction of IntelliFire™ Touch Controls. The controls make it possible for homeowners to interact with fireplaces via a smartphone from virtually anywhere inside or outside the home. The IntelliFire Touch smartphone app is simple, smart, and safe. With this app, consumers can now enjoy the simple convenience of turning on their gas fireplace from a distance so they can arrive home to a comfortable, pre-heated space. The IntelliFire Touch app will be available for both iOs and Android smartphones and tablets, and is estimated to be available third quarter 2014 on select products.
"We live in a digital age and smartphones are becoming an important hub for controlling devices within the home," said Bob Ballard, senior vice president of Marketing at Heat & Glo. "Our new IntelliFire Touch Controls bring added convenience, intelligent information, and peace of mind to consumers when they interact with their gas fireplace."
______________________________________________________________________________________________________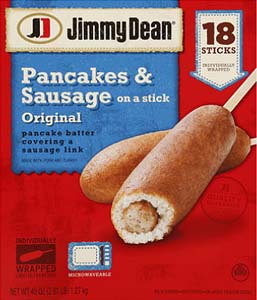 Jimmy Dean Brand Introduces Two New Jimmy Dean Pancakes & Sausage On A Stick Varieties
The Jimmy Dean® brand, America's favorite traditional breakfast sausage brand*, is helping families everywhere start their morning off right with fun, new satisfying and tasty breakfast options. Joining the brand's popular Pancakes & Sausage on a Stick product portfolio are two new sweet and savory flavor varieties including, Apple Cinnamon Pancakes & Sausage on a Stick and Very Berry Pancakes & Sausage on a Stick, each available for the first time in convenient five-count packages. The new Pancakes & Sausage on a Stick combine the savory taste of perfectly-seasoned Jimmy Dean sausage wrapped in a sweet, fruity pancake, offering consumers the ability to enjoy new and exciting flavor combinations with the same satisfaction and great taste they've come to expect from the Jimmy Dean brand. Perfect for kids and adults alike, the new offerings can be found in the frozen aisle of the grocery store and are ready from the microwave in minutes, making it easy for families to enjoy a hassle-free protein breakfast or anytime snack, either at home or on the go.
______________________________________________________________________________________________________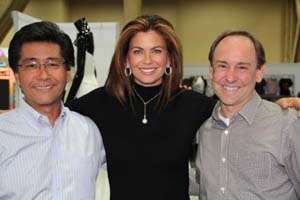 kathy ireland Worldwide To Produce Line Of Mobile Technology Accessories
E-filliate has entered into a licensing agreement with kathy ireland Worldwide (kiWW) to produce a line of mobile technology accessories. The products include smart phone cases, earphones, mobile phone car and wall chargers, tech cleaning products, connection cables, styluses, Bluetooth devices and more. Products will be marketed under the brand name "kathy ireland Connect." E-filliate is working closely with Kathy Ireland, CEO and Chief Designer of kiWW and the kiWW design team to offer an original licensed line of contemporary mobile tech solutions using the brand's innovative Style Guides™ as supported by the brand aesthetic and fashion credibility that kathy ireland Worldwide is known for.
______________________________________________________________________________________________________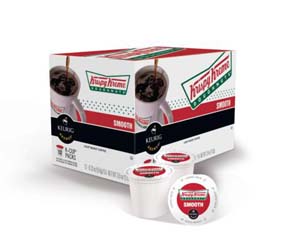 Krispy Kreme Coffee Comes To Keurig K-Cup Packs
Green Mountain Coffee Roasters and Krispy Kreme, a global retailer of premium-quality sweet treats, have reached a multiyear agreement to bring Krispy Kreme® signature coffee to K-Cup® packs for the Keurig® brewing system. The companies plan to launch Krispy Kreme coffees, Smooth and Decaf, in K-Cup® packs for Keurig® brewers by the end of 2014. The new Krispy Kreme K-Cup® packs will be available at Keurig.com, KrispyKreme.com, as well as participating Krispy Kreme shops, grocery, retail, and away-from-home channels throughout the United States.
______________________________________________________________________________________________________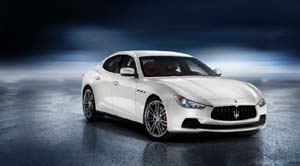 Maserati's Ghibli Debuts As Company's First Mid-Size Luxury Sports Sedan
As 2014 marks Maserati's 100th year of craftsmanship, the company is celebrating its newest product entry, Ghibli, the company's first-ever mid-size four-door luxury sports sedan vehicle. Ghibli is available with all-wheel-drive, powered by a Ferrari-built twin-turbo V6 engine capable of more than 400 horsepower. Ghibli's interior cabin offers rich Italian leathers, woods and other high quality materials that are at the heart of the Maserati brand. The vehicle's advanced suspension, Brembo brakes and extensive use of aluminum, create a very strong value proposition.
According to Peter Grady, President and CEO of Maserati North America, Ghibli upholds the tradition, luxury and performance that have distinguished the brand for a century, while at a more accessible price point broadening Maserati's cache to a whole new set of buyers. "We've worked hard at both design and engineering to bring the first and finest Italian entry to a competitive segment," said Grady. "Our stellar reputation for performance and luxury, infused with the heritage which only a Maserati can provide, makes Ghibli a new and intriguing option."
______________________________________________________________________________________________________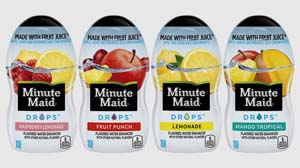 Minute Maid Drops Liquid Water Enhancer Debuts
Consumers can now add a splash of flavor to their water with new Minute Maid Drops available in four flavors made with real fruit juice. Conveniently packaged, Minute Maid Drops are perfect for the on-the-go lifestyle. Each bottle makes approximately 28 servings for delicious refreshment anytime, anywhere. Minute Maid Drops Lemonade, Fruit Punch, Mango Tropical and Raspberry Lemonade are now available at grocery stores and mass merchant retailers nationwide in easy-to-use 1.9 fl oz. squeezable bottles with a flip-top closure. "Adding Minute Maid Drops to our diverse portfolio of juices and juice drinks demonstrates our continued commitment to providing innovation and choice," said Charles Torrey, Vice President of Minute Maid Marketing. "With real fruit juice, Minute Maid Drops offer a more flavorful way to stay hydrated all day long."
______________________________________________________________________________________________________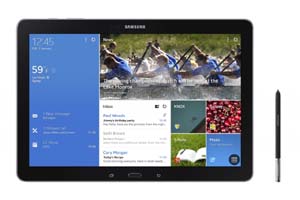 Samsung Launches 12.2-inch Widescreen Tablets In U.S.
Samsung Electronics America, has made available the Wi-Fi enabled Galaxy Note® Pro 12.2 and Samsung Galaxy Tab Pro 12.2. Samsung's new Galaxy Note Pro and Tab Pro series includes four models – Note Pro 12.2 and Tab Pro 12.2, 10.1 and 8.4. The new tablet lineup features premium materials, a suite of applications and services, unparalleled displays, a unique interface designed to simplify access and discovery of content, and many new productivity tools.
"The Galaxy Note Pro and Tab Pro series deliver an unparalleled tablet experience," said Travis Merrill, vice president of tablet marketing at Samsung Electronics America. "As mobile usage habits have evolved, so have our tablet offerings. This Pro series is designed to meet the distinctive needs of today's mobile consumer, whether at home, on-the-go or at work."
_____________________________________________________________________________________________________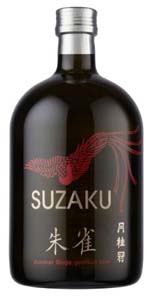 The House Of Gekkeikan Introduces Suzaku Sake
Sidney Frank Importing Co., a leader in ultra premium spirits, is introducing Suzaku premium sake to the House of Gekkeikan. Suzaku, meaning "guardian of the South," refers to the mythological Japanese name for the Vermillion bird and is the first-ever Junmai Ginjo-Shu or "Ginjo" to be introduced to Gekkeikan's portfolio in the U.S. Founded in 1637 by the Okura family, The House of Gekkeikan produces the world's finest sake with nearly 400 years and 14 generations of sake brewing, making it one of the oldest family-operated businesses in the world and one of the most respected names in sake. "We are extremely excited to add Suzaku to The House of Gekkeikan," said Yoshi Yumoto, Vice President and Gekkeikan National Sales Manager at Sidney Frank Importing Company, Inc. "The House of Gekkeikan's portfolio is extensive with at least one offering in each of the four main sake categories, comprised of an array of 15 top quality sakes and plum wines that appeal to sake novices and sake aficionados alike."
______________________________________________________________________________________________________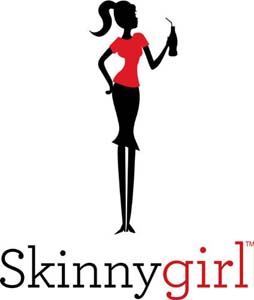 Skinnygirl And SodaStream Partner To Create New Line Of Naturally-Sweetened Flavors
SodaStream International, the leading manufacturer of home beverage carbonation systems, has partnered with Skinnygirl, the sassy, solutions based, lifestyle brand created by Bethenny Frankel, to co-develop a family of better-for-you flavors designed with women's taste in mind, exclusively for the SodaStream home beverage carbonation system. "I am so excited to join the SodaStream family, a perfect home for my unique Skinnygirl brand," said Bethenny Frankel, founder of Skinnygirl. "Both companies share a passion for creating delicious, low calorie beverages that are fun, convenient and easy to enjoy in the comfort of your own home."
______________________________________________________________________________________________________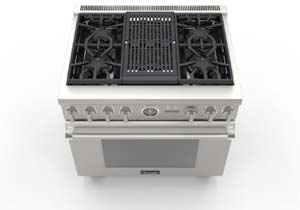 Thermador Unveils Professional Grill
Thermador, the American luxury kitchen appliance brand that offers real innovations for real cooks, is introducing the next generation of surface cooking for the Professional Rangetop, Pro Harmony and Pro Grand Ranges with the introduction of the Professional Grill. This surface cooking feature boasts industry-leading design, featuring lava rocks and grill plates that fully cover the heating elements to offer exceptional grilling performance and genuine smoky flavor without the flare-ups. The Professional Grill features a wide variety of low to high temperature control for better taste, texture and quality — something not commonly offered on other indoor grilling products. The grill can easily be disassembled, with removable grill plates that are dishwasher safe and hinged heating elements that fold up so the lava rock basket can be removed for easy cleaning of the grease tray — a truly exceptional cleaning feature that is unmatched in the industry. The Professional Grill is designed as an alternative to the existing Thermador electric grill and griddle plate currently featured on the Professional Rangetops, Pro Harmony and Pro Grand ranges. With its introduction, cooks now have more choices than ever when selecting their ideal cooking surface.
______________________________________________________________________________________________________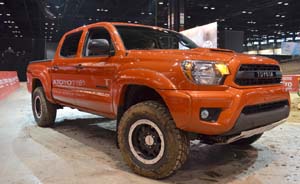 Toyota Debuts TRD Pro Series Of Off-Road Vehicles
Toyota is introducing the TRD Pro Series of off-road vehicles. Already favorites among serious off-roaders, the 2015 Toyota Tundra, Tacoma and 4Runner will get even more capable with these new, aggressive off-road packages designed by the experts at Toyota Racing Development (TRD). The TRD Pro Series arises from Toyota's storied off-road racing heritage, with numerous victories in the grueling Baja 500 and 1000 endurance races. Born from this experience in the desert, Toyota's terrain-conquering vehicles will help serious off-roaders go places they never dreamed possible. The new factory-installed TRD Pro Series is aimed squarely at extreme off-roading enthusiasts who push their trucks and SUVs to the limit.
______________________________________________________________________________________________________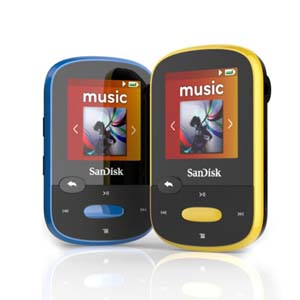 SanDisk Launches New MP3 Player Designed For Athletes & Fitness Fans
SanDisk Corporation, a global leader in flash storage solutions, has introduced the SanDisk Clip Sport MP3 player, designed with a lightweight build and a clip that enables it to securely attach to clothes. The SanDisk Clip Sport MP3 player lets users enjoy their music, audiobooks or favorite radio station during workouts and outdoor activities. "The Clip Sport MP3 is the newest addition to our line of MP3 players, and its sleek form factor, lightweight design, attached clip and long battery life make it the perfect companion for runners, fitness buffs and anyone on-the-go," said Hugh Cooney, senior director, Strategic Business Development, SanDisk. "The Clip Sport also comes in six different colors, and the matching headphones provide excellent sound to keep users motivated."
______________________________________________________________________________________________________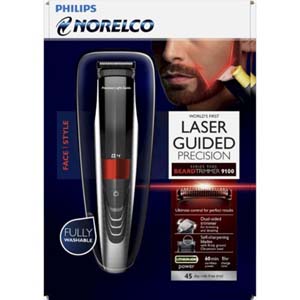 Philips Norelco BeardTrimmer 9100 Introduced
Philips Norelco has introduced the Philips Norelco BeardTrimmer 9100, the world's first beard trimmer with a laser guide. The laser guide, which projects a visible red line of light on the cheek, jawline and neck, shows exactly where the hairs will be cut by the dual-sided precision trimmer.
______________________________________________________________________________________________________
Premium Probiotics Line, ProBioCare, Now Available At The Vitamin Shoppe
ProBioCare™, a new, premium line of probiotic supplements, is now exclusively available at the Vitamin Shoppe. ProBioCare contains "friendly" bacteria that help support digestion and a healthy immune system by inhibiting the growth of harmful bacteria and promoting a healthy balance in the intestines. "So many of our customers have been searching for a probiotic that is non-GMO, allergen-free, and does not need to be refrigerated, to help with their digestive concerns," said Doug Jones, Senior Vice President, Merchandising. "ProBioCare meets these needs by promising to be allergen-free, acid-resistant and stable at room temperature, so our customers can have confidence in these supplements."
______________________________________________________________________________________________________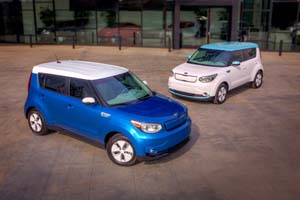 Kia's First Mass Market Electric Vehicle Debuts
Kia Motors America is unveiling the 2015 Soul EV, Kia's first all-electric, zero-emissions car sold in the U.S. The Soul EV will initially be sold in California and Oregon in the West and several Eastern states including New York, New Jersey and Maryland, the regions with the largest EV markets and infrastructure. A top concern for EV buyers has commonly been range anxiety. The Soul EV addresses this issue by utilizing a highly energy-dense lithium-ion polymer battery. Located beneath the floor, the 27kWh, air-cooled, 200 watt-hour/kg battery is expected to yield a range of approximately 80-100 miles of real-world driving on a full charge, with internal testing and evaluation results exceeding 100 miles in some instances. The 360 volt 96-cell lithium-ion polymer battery has been engineered for high capacity, thermal stability and safety. The Soul EV makes charging easy by plugging into any standard 120v outlet or a conventional 240v EV charger.
______________________________________________________________________________________________________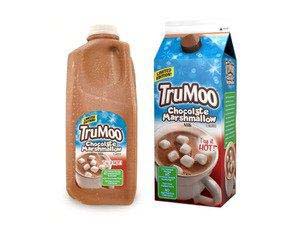 TruMoo Introduces Chocolate Marshmallow Milk Nationwide
TruMoo, the nation's leading ready-to-serve flavored milks made with milk sourced from local dairies, introduces its newest seasonal flavor – Chocolate Marshmallow. Whether it's served hot or cold, moms can be assured that TruMoo Chocolate Marshmallow Milk has the same nutritional benefits as original TruMoo including no high fructose corn syrup and no artificial growth hormones. "TruMoo's success is built on the fact that moms can feel good about serving their kids delicious flavored milk without compromising on the quality and nutritional benefits of white milk," said Greg Schwarz, Vice President of Marketing, Dean Foods. "Because of this, we can have fun introducing new flavors like Chocolate Marshmallow for kids and adults to enjoy."
______________________________________________________________________________________________________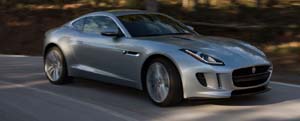 Jaguar To Launch F-TYPE Coupe This Spring
Jaguar North America is introducing the Jaguar F-TYPE Coupe, on sale this spring. "Jaguar is a fast growing luxury brand with an interesting new position as a British challenger brand and a new lineup of dynamic sports cars and sports sedans," said Jeff Curry Brand Vice President, Jaguar North America. "Launching the F-TYPE Coupe campaign with a Super Bowl advertisement gave us a huge platform to share our vision of British sophistication and charm to our target audience, and introduce America to the modern Jaguar brand and the all new F-TYPE Coupe."
______________________________________________________________________________________________________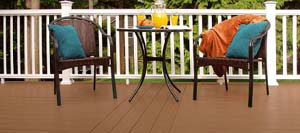 New Fiberon Good Life™ Decking Line Launches
Fiberon®, a leading manufacturer of wood-alternative decking, railing and fencing products, introduces its new Fiberon Good Life™ decking line that will provide more homeowners the benefits of low-maintenance decking-stain, fade and rot resistance, durability, splinter-free use, a long life, and never the need to preserve or paint-at a price closer to wood. It is prefinished in three rich, solid colors that never require staining or painting: Cabin (brown), Cottage (gray) and Villa (cedar).
"The new Good Life line delivers exceptional performance and value, making it an economically viable alternative to a whole new segment of the home-owning population," said Doug Mancosh, president of Fiberon. "Our Fiberon channel partners will see a new wood-alternative customer walk through their doors now that a high-performance decking option is available at such a great price."
______________________________________________________________________________________________________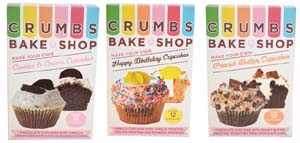 Crumbs Bake Shop Partners With Pelican Bay
Crumbs Bake Shop, the nation's largest cupcake specialty retail store, is partnering with Pelican Bay Ltd., a gourmet bake mix and gift purveyor, to create a line of Crumbs Bake Shop premium cupcake mixes, hot chocolate kits, cupcake-in-a-mug kits and the first ever colossal cupcake kit. The line will be sold at mass merchants, mid-tier merchants, club stores, craft stores and specialty stores across the country. Produced and distributed by Pelican Bay Ltd., a family-owned specialty foods manufacturer, the cupcake mixes and cupcake-in-a-mug kits will transport the flavors of Crumbs' iconic cupcakes into the kitchens of home bakers everywhere. The easy to bake mixes come in six flavors – Happy Birthday, Blackout, Peanut Butter Cup, Red Velvet, Cookies n' Cream and Cookie Dough. The cupcake-in-a-mug kits, which come with a reusable Crumbs Bake Shop mug, come in four flavors – Happy Birthday, Red Velvet, Peanut Butter Cup and Blackout. With nothing more than an egg, butter and a microwave, these kits make moist and delicious single serve cakes in less than five minutes. The colossal cupcake kit, packaged with a silicone spatula, makes an impressively large cupcake that's big enough to serve 6-8 people. "We're so excited to bring some of our favorite recipes to our customers' kitchens," said Lisa Hess-Marks, Chief Cupcake Officer at Crumbs Bake Shop, Inc. "We worked hand in hand with our partners at Pelican Bay Ltd. to ensure that the cupcakes match the Crumbs Bake Shop experience as closely as possible."
______________________________________________________________________________________________________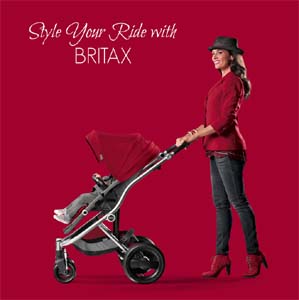 New BRITAX Affinity Stroller Offers 18 Customizable Combinations
The new BRITAX Affinity stroller allows parents to select from 18 brilliant fabric and frame color combinations to customize a premium fashion statement. Engineered to stroll and designed to strut, the Affinity combines the innovative design synonymous with the BRITAX name with panache and style that will turn heads. Each of the six versatile color packs – offered in polished tones like "Cool Berry" purple, "Blue Sky," "Cactus Green," "Red Pepper," "Fossil Brown" and "Black" – includes a canopy, shoulder and buckle pads, basket liner and machine-washable padded seat liner. These premium fabrics are tailored to the clean lines of the Affinity's modern, streamlined frame, available in three chic hues – black, silver and white. "The Affinity's refined design combines exceptional comfort and durability with thoughtful details and sophisticated flair to reflect personal taste," said Brandon Miller, Senior Product Manager at BRITAX. "Parents can mix and match to create a stroller that is both elegant and enviable. And with the six stroller color pack options and three frame styles, they can customize again and again – for a second child, for a changing season or just for fun."
______________________________________________________________________________________________________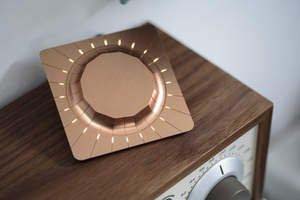 Beep Launched To Stream Music Anywhere In Your Home
Beep has been introduced to connect music to every room in your home over your existing Wi-Fi. With Beep's technology and open platform, connecting streaming music to every room in your home is easy. Beep is a small copper dial that can be placed anywhere in your home and works with any speaker system with an aux-in port, connecting your speakers to your music over Wi-Fi. Beep sets up in minutes and works with any iOS or Android device, letting you take total control of your music anywhere in your home. Beep is also announced a Pandora integration, giving users immediate access to the leading personalized radio service.
______________________________________________________________________________________________________
Milani Cosmetics Names Mona Monaghan-Kelliher CMO
With aggressive plans to expand exponentially in both domestic and international markets in 2014, Milani Cosmetics, the destination brand for women who love color, love to experiment with new looks and shop for makeup in better drug stores and mass merchant retailers, has appointed Mona Monaghan-Kelliher Chief Marketing Officer. With over two decades of experience in senior level marketing and business management positions, Monaghan-Kelliher has a record of growing cosmetic businesses through creative and effective marketing. She previously held the positions of Managing Partner of the MMK Group, North America; Senior Vice President and General Manager of Sally Hansen; Vice President of Marketing at Estee Lauder; and senior marketing positions at Revlon both domestically and abroad.
______________________________________________________________________________________________________
REPUBLIC RECORDS Promotes Billy Zarro To Senior Vice President, Marketing
REPUBLIC RECORDS has promoted Billy Zarro to Senior Vice President, Marketing. Previously, Zarro held the position of VP, Marketing for the label. As part of the promotion, he will continue to envision, develop, and oversee marketing initiatives and strategies for a diverse array of artists on the roster.
______________________________________________________________________________________________________
Wingstop Names Flynn Dekker CMO
Wingstop Restaurants, has appointed Flynn Dekker as its Chief Marketing Officer to oversee the brand positioning, marketing strategy and advertising execution for the chain's 600+ domestic and international locations. Dekker brings more than 20 years of leadership experience to his new post and most recently served as the Chief Marketing Officer at Pizza Inn Holdings, directing the marketing for the award-winning Pie Five Pizza Co. and Pizza Inn restaurant brands. "As Wingstop celebrates its 20th year of business in 2014, the momentum is contagious for our brand partners to take the most delicious wings on the planet to more customers around the world than ever before. I look forward to taking that message to the next level," Dekker said.
______________________________________________________________________________________________________
Superior Farms Names New Anders Hemphill VP Of Marketing & Brands
Superior Farms has appointed Anders Hemphill as the Vice President of Marketing and Brand Strategy, a position recently created for the company. Hemphill brings more than 20 years of marketing and branding experience across multiple industries, including significant work in the meat industry with Smithfield Beef Group and JBS. "I'm tremendously excited about the opportunity to bring a brand marketing perspective to Superior Farms," Hemphill said. "The company is poised to provide a leadership role and drive growth for the entire lamb industry. With a new emphasis on developing meaningful brands we will be able to elevate the consumption of lamb both among existing and new consumers."
______________________________________________________________________________________________________
Smack Sportswear Names Tom Mercer CMO
Smack Sportswear (SMAK), the leading brand of custom designed athletic apparel (primarily focused on volleyball), has named Tom Mercer as President, Chief Marketing Officer and Vice President of Sales and Marketing. Mercer will focus on re-positioning Smack for rapid growth in the Team Sports market, with specific focus on launching innovative products and services, supply chain efficiency, and strategic planning to deliver greater sales, sustainable revenue growth, and customer loyalty.
______________________________________________________________________________________________________
Couples Resorts Names Dean Sullivan VP Of Sales & Marketing
Couples Resorts, a luxury all-inclusive resort in the Caribbean, has named Dean Sullivan as the new Vice President of Sales and Marketing. Sullivan brings 18 years of experience in the tourism and hospitality arenas to his new position. Prior to joining Couples Resorts, Sullivan served as Vice President of Sales and Digital Marketing at Atlantis Paradise Island Resorts.
______________________________________________________________________________________________________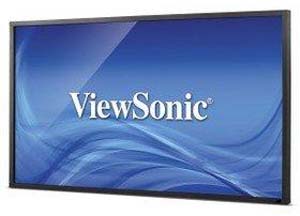 ViewSonic Introduces CDP Series
ViewSonic Corp., a leading global provider of computing, consumer electronics and communications solutions, has launched its new line of commercial LED displays, the CDP series. Designed with a slim bezel, LED energy saving panel technology and rich connectivity options, the CDP series is ideal for multi-display installations and video walls in retail, hospitality, corporate, government and education environments. Available in 42″ and 55″ sizes, the CDP4260-L and the CDP5560-L boast a slim bezel design and rich connectivity options including HDMI®, DisplayPort™, DVI, D-Sub, YPbPr and CVBS inputs for easy installation and control of a variety of high-definition devices. The narrow symmetrical bezel allows for multiple display tiling in portrait or landscape orientation. Featuring a lifespan of up to 50,000 hours, the CDP4260-L and the CDP5560-L are built for reliable, continuous 24/7 use. The CDP series is also ENERGY STAR® 6.0 certified, utilizing an energy-saving LED backlight that consumes 35 percent less power than conventional CCFL backlight displays. Combined with Full HD 1080 resolution and SuperClear® wide viewing angle technology, the CDP series is ideal for a range of commercial environments that demand the most from digital signage. The CDP4260-L and the CDP5560-L are available in North America and Latin America. For more information, visit (Web Site) www.ViewSonic.com
______________________________________________________________________________________________________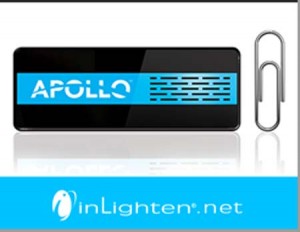 inLighten® Introduces Apollo™
inLighten, a recognized leader in the field of digital signage, interactive, self-service and audio solutions, has released Apollo™, an ultra-compact, full-featured, solid-state Android digital signage player for commercial applications. "Apollocast Manager is the most comprehensive suite of network management utilities available today," said Matt Welter, inLighten Director of Communications. "With Apollocast, everything you need to operate the most powerful digital signage network is now in the cloud and accessible from any computer, any time, day or night." Users receive inLighten's professional Studio™ design suite; unlimited access to an expansive Gallery of ready-to-edit campaigns and graphics in English, Spanish and French; utilities to display user-defined Twitter, YouTube, RSS and other live data feeds; access to inLighten's specialized news bureau to compose tailored programming using the world's leading sources; a complete scheduling module providing down to the moment playback; controls to optimize bandwidth and display usage; network monitoring as well as archiving of content and much more. (Web Site) www.inlighten.net
______________________________________________________________________________________________________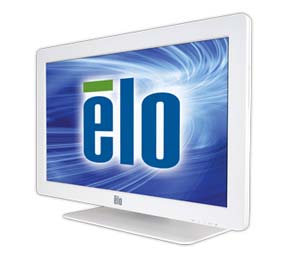 Elo Touch Solutions Introduces 55-inch Touchscreen
Elo Touch Solutions (Elo), the original inventor of touchscreen technology, has expanded its interactive digital signage (IDS) portfolio with the new 5501L 55-inch touchscreen. Designed for retail, hospitality, education, corporate meeting rooms, office lobbies and other commercial applications, the 5501L interactive touchscreen combines a big, bright, and energy-efficient LED High Definition display with optical multi-touch technology in a slim, integrated package. Optional integrated Intel® Core™ i3 or i5 computer modules running Microsoft Windows turn the touchscreen into a touchcomputer. The rugged design of the 5501L offers retail solutions providers a reliable, high-performance touchcomputing platform that is easy to deploy and maintain in public environments. Elo's new 55-inch IDS touch display is thin (less than 4 inches mounted), bright (700 lumens), and available with optical touch technology that enables up to six simultaneous touches for multi-user interaction by recognizing a touch with a finger, gloved hand, prosthetic, stylus, credit card, or pen. The new display features tempered pure glass to deliver industry-leading brightness while ensuring a long life of reliable performance in any public location. Two optional computer modules turn the 5501L into a completely integrated all-in-one touch computing solution without the need for any cables or additional mounting hardware. For more information, visit (Web site) www.elotouch.com. (Web Site) www.elotouch.com
______________________________________________________________________________________________________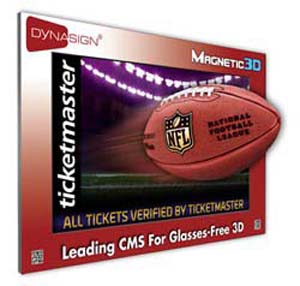 Magnetic 3D Offers 3D Display Solutions
Magnetic 3D, a leader in glasses-free 3D display solutions, in partnership and seamless integration with Dynasign, a leading content-management service platform, is debuting its networked glasses-free 3D digital signage capabilities. As the 3D hardware and software partner of Dynasign, Magnetic 3D provides various options for customers interested in implementing glasses-free 3D digital signage solutions, including direct-purchase of any of the company's industry leading solutions as well as rentals or leasing for events, point-of-sale, out-of-home and experiential marketing campaigns through its Magnetic 3D Connect division. "Dynasign's outstanding capabilities in combination with our glasses-free 3D technology provides retailers, exhibitors and advertisers with a more impactful medium to reach their target audience," said Tom Zerega, Founder and CEO of Magnetic 3D. "The system will showcase the value glasses-free 3D digital signage can deliver in terms of quantifiable ROI." For more information, visit Magnetic 3D at www.magnetic3d.com. (Web Site) www.magnetic3d.com
______________________________________________________________________________________________________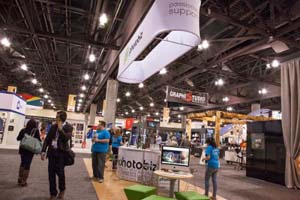 PhotoBiz Exhibits At Imaging USA
PhotoBiz, a managed website solutions company, recently exhibited at Imaging USA, held in Phoenix, AZ. Along with all new pricing, PhotoBiz set a new industry benchmark by having free in-person support and design sessions for their clients. PhotoBiz specializes in designing and hosting Websites, Ecommerce, and Blogs, – all expressly created with SEO in mind. (Web Site) www.photobiz.com
______________________________________________________________________________________________________
Freeman Aquires Audio Visual Management Group
Freeman, the leading global partner for integrated marketing solutions for live engagements, will acquire AVMG, an audio visual solutions provider for association trade shows, business meetings, and special events based in Richardson, Texas. AVMG will join other leading Freeman brands such as Encore Event Technologies, Stage Rigging and Alford Media, as part of Freeman Audio Visual. AVMG possesses unique insight and capabilities for industry-specific educational and business meetings such as its work in the medical events space. Freeman complements those capabilities by offering a broader suite of solutions and resources, expertise, scalability and on-the-ground support. (Web Site) www.freemanco.com
______________________________________________________________________________________________________

WomenHeart & Burlington Launch Nationwide Heart Of Style Tour To Raise Awareness
WomenHeart: The National Coalition for Women with Heart Disease and Burlington, a national off price retailer, have teamed up to launch the nationwide Heart of Style Tour. The mobile event will travel to select Burlington locations throughout the country to inform women coast to coast about heart disease as their leading health threat and empower them to take charge of their heart health. Customers across the country are invited to stop by the Heart of Style Tour vehicle to experience a fun and informative women's oasis, complete with plush comfortable seating and stylish décor. Experienced heart health professionals will be on board to provide complimentary heart health screenings, consisting of blood pressure and Body Mass Index tests, as well as a risk factor questionnaire. In addition, bi-lingual educational materials will be provided by WomenHeart Champions, heart disease survivors and community educators. (Web Site) www.womenheart.org
______________________________________________________________________________________________________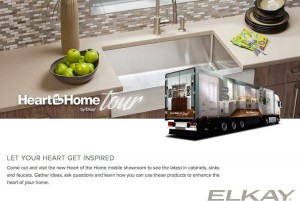 Elkay's 'Heart Of The Home' Tour Brings Showroom Experience To Local Markets
Elkay, a leading U.S. cabinetmaker and manufacturer of sinks and faucets, is launching a mobile showroom tour. Bringing a showroom experience to life at the local level, Elkay will take everything – including the kitchen sink – on the "Heart of the Home" mobile showroom tour, which will run through May, starting in the New Orleans, Louisiana market, then moving to the Miami, Florida area, and climbing the East coast. The 44-foot Heart of the Home showroom on wheels features seven displays, plus several iPads with additional product information, a variety of sample doors, and two flat screens looping some of the company's vast library of completed room images. The exterior of the Elkay mobile showroom is wrapped with 3D kitchen imagery. In every mobile showroom event city, Elkay cabinet and sink/faucet partners will host consumer and designer training events. "The Heart of the Home Tour is a great way for our business partners to showcase their relationship with our company and our brands," said Lou Katz, channel marketing manager, traditional cabinets. "We know that showrooms can't possibly feature all our products, so this is a way to create local enthusiasm and highlight the latest in door style, material and finish trends." (Web Site) www.elkay.com
______________________________________________________________________________________________________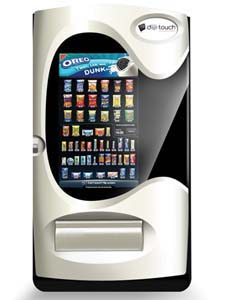 Mondelez Launches BroadSign's Diji-Touch Interactive Vending Network
One of the world's largest snack manufacturers, Mondelez International, has selected BroadSign International's ( www.BroadSign.com) digital signage content management platform for its diji-touch interactive vending machines. The initial deployment of diji-touch is part of a national rollout occurring within the next 18 to 24 months, with a goal of 1,500 machines deployed in the first year. The network will be situated in hospitals, colleges and universities, and high traffic location types such as museums and public transit. The diji-touch network will also increase the level of interaction achievable in Mondelez's multichannel campaigns. In promotion of Oreo, one of Mondelez's 9 billion-dollar brands, consumers are invited to draw a smile in the icing of an Oreo cookie on a diji-touch screen prior to purchase. "We became aware of BroadSign when our agency, Digitas, conducted an RFI and RFP to determine who offered the highest grade solutions for digital out-of-home ad serving," said Michael Miller, Director of Marketing Foodservice at Mondelez. "BroadSign software was selected as the best fit for our needs because it supports the development of interactive features allowing the diji-touch network to create unique connections with consumers as they purchase products." Please visit (Web Site) www.mondelezinternational.com
______________________________________________________________________________________________________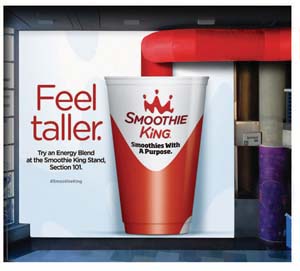 New Orleans Pelicans Arena Renamed Smoothie King Center
New Orleans Pelicans Owner Tom Benson and Smoothie King Owner Wan Kim announced a multi-year agreement reached between the Pelicans and Smoothie King to name the New Orleans Arena the "Smoothie King Center." "Smoothie King and the NBA are a perfect fit," said Wan Kim, CEO of Smoothie King which created the original nutritional smoothie in 1973. "Both organizations are global brands that continue to grow in status and stature. Smoothie King supports the NBA and the New Orleans Pelicans franchise, and we think this partnership reflects our joint interests in nutrition, health and athletics from an international to a local perspective."
Pelicans Owner/Vice Chairman of the Board Rita Benson LeBlanc said, "This is an exciting time for the franchise as we introduce the Smoothie King Center and prepare to host the 2014 NBA All-Star Game, where New Orleans will once again be an international stage to host the league's most exciting event of the season. As a venue, the Smoothie King Center will continue to be enhanced with custom, state-of-the-art improvements into next season."
The Smoothie King Center will also feature visuals that reinforce the brand's new purpose-driven positioning. Fans will see messages encouraging them to "Feel Taller" and "Get More Jump in Your Game" with Smoothie King's Energy and Fitness Blends.A new Smoothie King retail outlet will offer visitors numerous varieties of its signature purposeful smoothies to enjoy for sporting events and other entertainment offerings held at the Smoothie King Center.
______________________________________________________________________________________________________
Christopher Durham Named V.P. Of Retail Brands At Theory House
Branding and retail marketing agency, Theory House, has added Christopher Durham to its leadership team as Vice President of Retail Brands. Durham joins Theory House with more than 20 years of experience developing and managing brands both at the retail level and as a consultant, including work for Office Depot, Best Buy, Food Lion, Hannaford and Lowe's Home Improvement. (Web Site) www.TheoryHouse.com
______________________________________________________________________________________________________
Toyota Partners With ISC For DAYTONA Rising Project At Daytona International Speedway
International Speedway Corporation has formed a groundbreaking, multi-year partnership with Toyota Motor Sales that will make Toyota the first Founding Partner at Daytona International Speedway as part of its unprecedented $400 million DAYTONA Rising redevelopment project. DAYTONA Rising is ISC's complete reimagining of the fan and sponsor experience at its iconic Daytona International Speedway, a multi-year project encompassing the Speedway's nearly one-mile long frontstretch that, upon completion in January 2016, will create a world-class facility with premium amenities unmatched in the industry.
Beginning in 2015, the 11-year agreement will provide Toyota with naming rights for one of five fan injectors. The massive, new and redesigned entry statement includes over 20,000 square feet of Toyota engagement and fan experience that vertically spans four concourse levels. The Toyota brand will also have a presence in the new "World Center of Racing" zone, the central "neighborhood" overlooking Daytona's famed start/finish line inside the new frontstretch facility. Fans will be able to socialize and enjoy themselves in this area prior to, during and after a race. Ten additional neighborhoods, each the size of a football field, will be located throughout the new frontstretch with custom bar, retail and dining areas, as well as dozens of video screens to provide fans with non-stop views of on-track action while they mingle with friends. Toyota will also have branding rights to a neighborhood near the Toyota injector. Additionally, Toyota will serve as an official partner of "The Great American Race," the DAYTONA 500®, and will receive official pace car rights in 2015.
______________________________________________________________________________________________________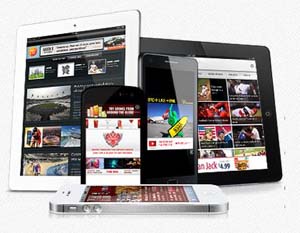 Verve Introduces Verve Mobile, An End-To-End Mobile Advertising Solution
Verve Mobile, the leader in location-based mobile advertising, has introduced a new mobile advertising solution that leverages Verve's unique location-based mobile ad targeting platform and its proprietary rich media creative suite along with Apple Inc.'s Passbook and iBeacon technologies, revealing the first-ever end-to-end solution for retailers that combines location based mobile advertising and in-store technologies.
With this new solution, Verve offers marketers a full range of tools that enhance their ability to see which offers and creative executions are most effective at driving foot traffic and sales. "We started with the ideal, the 'holy grail' of mobile advertising – to show a consumer an ad targeted to their location and context, invite the consumer to engage with the ad through a special offer, have the consumer engage with the offer and save it to their device and then re-engage with the consumer when they are in-store — and worked with retailers and CPG co's to make it happen," said Tom MacIsaac, CEO of Verve Mobile.
Apple, Inc.'s Passbook is a pre-installed application on iPhones that allows users to save marketing messages, coupons, store cards, and other items in a "virtual wallet". Apple's iBeacon technology works with Bluetooth Low Energy devices ('Beacons') that enable iOS devices to react with a marketing message in close proximity. Additionally for marketers, this solution enhances the already significant utility of Verve's proprietary "Foot Traffic Index" a method of measuring the amount of lift in foot traffic attributable to a specific campaign. In combining Bluetooth LE beacon technology with device location observations, Verve is extending FTI's usefulness to scenarios where location data are unavailable or imprecise, for example, indoor shopping malls or multi-story retail environments. Verve's unique combination of device location and beacon proximity intelligence makes FTI a much more effective tool for gauging a campaign's performance in more challenging and densely populated retail locations. Marketers working with Verve on this new solution may either deploy low-cost beacons supplied by Verve specifically for the campaign or leverage existing beacon programs. (Web Site) www.vervemobile.com
______________________________________________________________________________________________________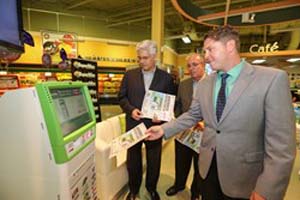 REMAG Kiosk Recycling Program Expands To New Markets And Retail Outlets
REMAG, a program that rewards consumers with coupons completed its three month pilot in Puerto Rico as planned. The pilot was a huge success, with over 290,000 coupons selected by customers as a reward for recycling magazines and newspapers at REMAG kiosks in just three SuperMax locations. Not only did the pilot successfully introduce and test REMAG in the marketplace, it also highlighted the benefits and solutions including: Consumer Packaged Goods Companies-An efficient way to engage customers in their shopping environment and thus motivating them to make a desired purchase decision. Retailers-Increased store traffic and ultimately loyalty through multiple customer drivers. Recycling-A real solution that uses infrastructure and operations already in place. Nonprofit Organizations-A new way to fundraise without extensive donor appeals, as communities and donors are engaged by "giving back, by doing good" while saving money. With the completion of the successful pilot, REMAG is now focused on improving the program and expanding into new markets, retailers, and service providers. REMAG is investing in improving their kiosks with a new customer interface, innovative scanning technology, and a focus on operations and efficiency. In addition, the coupon program will expand to services industries and other retail outlets as a new market channel. (Web Site) www.remag.org
______________________________________________________________________________________________________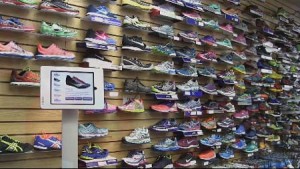 Proscape Technologies Extends Mobile App Platform To Retail And Event Environments
Proscape Technologies, a leading provider of mobile app creation software for sales and marketing, has expanded its Marketing App Cloud platform with the launch of StorePlayer and EventPlayer. The new offerings allow brands and creative agencies to build apps for retail and event environments, enabling brands to reach more customers through additional channels including stores, showrooms, tradeshows, and seminars. With StorePlayer, brands can better reach consumers and drive their behavior as buying decisions are being made with digital content that compares options, displays pricing information, and offers discounts. Additionally, StorePlayer apps collect valuable consumer usage data and track consumer beliefs for generating critical insights into shopper preferences and purchasing habits. Building on Proscape's enterprise-class software platform, brands and creative agencies can create and deploy apps with StorePlayer and EventPlayer in days, not months, by focusing on what matters most: designing great content and engaging mobile experiences. Like all apps created in The Marketing App Cloud, StorePlayer and EventPlayer apps run natively on iOS and Andriod devices and are automatically created out of graphics, videos, presentation files, and other documents in a cloud-based web portal. Content is stored in and synchronized from a central location, ensuring that apps are always up-to-date. (Web Site) www.proscape.com
______________________________________________________________________________________________________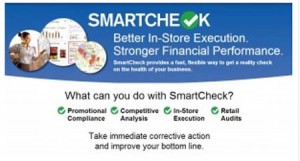 GroundCntrl Launches SmartCheck, Delivering Retail Intelligence In Real-Time
GroundCntrl, the mobile data and analytics platform provider for retail, CPG and fast food industries, has bundled its mobile platform and back-end analytics with on-the-ground resources to create the SmartCheck™ service. SmartCheck provides retailers and brands a way to easily acquire real-time, in-store intelligence about their products, promotions and competitors to make informed decisions that positively impact return on investment. SmartCheck delivers a searchable visual database that gives companies real-time visibility into their retail and promotional executions – and the ability for companies to modify the types of data being gathered by on-the-ground resources as a program happens – resulting in the most accurate insights of any in-store retail data solution in the market today. GroundCntrl powers the SmartCheck service via its proprietary mobile app that directs people and activities in the field, and uploads mobile data to the cloud-based solution. In three steps, the service can be activated on demand to give marketing executives immediate visibility into retail and promotional executions without having to rely upon an existing field staff, retail detailers, or store employees.
"One of the biggest pain points for brands is the information gap between the loading dock and the point of sale," said Daniel Rossignol, SmartCheck general manager. "SmartCheck bridges that gap by providing marketing teams' real-time, on-the-ground intelligence to know if their product message is getting used correctly, displayed at the right time, and in the right place. As our customers have seen, and people in retail understand, better in-store execution drives improved financial performance." (Web Site) www.groundcntrl.com
______________________________________________________________________________________________________
Exact Media Debuts Smart Sampling Network
Exact Media, is introducing the first smart sampling network that allows brands to finely target samples and then accurately measure their impact. Unlike other sampling methods which involve essentially giving samples to every person walking by (or blindly including them in every box being shipped by a retailer), Exact Media can target samples based on a broad range of selects including products being purchased, shopping basket size, gender and even clothing size. And because all consumers open their package from the retailers, brands enjoy a 100 percent open rate on their samples. Exact Media's three-step process: Using a rate-card model and selects based on depth of targeting (e.g., geography, age, shopping habits and more), Exact Media helps brands reach the right consumers using the right retail partners. Then it arranges for brand samples to be shipped to the retail partners' warehouses. Exact Media trains a retailer's logistics team to ensure the samples are distributed precisely as directed. After the samples are distributed, Exact Media administers surveys to recipients and provides real-time, anonymous customer insights back to brands on trial rates and intent to purchase. (Web Site) www.exactmedia.io
______________________________________________________________________________________________________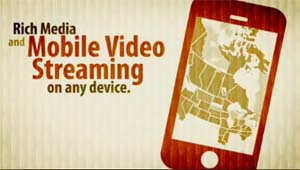 Areas S.A. Taps Samy To Roll Out Mobile Engagement Within Major Airports
Areas S.A., a leading global operator of food and retail services, has selected MobileBits' Samy™, a leading marketing and engagement network, as their mobile marketing and engagement solution partner. Areas serves 150 million customers annually and manages over 1,250 restaurants, cafes, retail shops, hotels and gas stations. Featured within this portfolio are some of the world's most well known brands including Burger King, Subway, Starbucks, Pizza Hut, Carl's Jr and Dunkin Donuts. The Samy network footprint has grown to almost 250 million consumers annually and ten's of thousands of bricks and mortar businesses comprising people who shop and set up shop at leading shopping centers, malls and airports. "We look forward to working with Areas and helping them connect and maintain a digital and mobile commerce relationship with their customers while building loyalty at the same time," said Kent Kirschner, VP Global Business Development at MobileBits. (Web Site) www.areas.es
______________________________________________________________________________________________________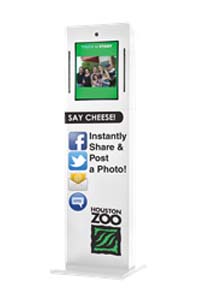 Social Shots' Social Media Photo Booths Provide New Marketing Solution
Social Shots, introduces its social media photo booths that are mobile and have plenty of features to get businesses and brands in front of more people. Each social media photo booth can be branded with vinyl graphics to match a particular business and location easily fitting in with the look and feel of any business. The best part however lies in the technology behind the photos. "Our new software allows for instant upload to social media sites such as Facebook and twitter as well as sharing via email and SMS text messaging," said Dennis Carrion, owner of Social Shots. "The kiosks will also automatically prompt users to like the business page of the kiosk owner. Now, the owner can send additional special coupon offers, discounts, deals, events and more for customers and their friends or followers right on Facebook and Twitter." (Web Site) www.socialshots.com
______________________________________________________________________________________________________
Theory House Promotes Lauren Harring To Senior Designer
Retail branding agency and shopper marketing expert, Theory House, has promoted Lauren Harring to senior designer. Harring has been part of the Theory House team since the agency opened its doors in 2013 and has expertise in developing and managing brands for the agency's retail clients including The Fresh market and Food Lion. (Web Site) www.TheoryHouse.com
______________________________________________________________________________________________________

_________________________________________________________________________________________________________

______________________________________________________________________________________________________

______________________________________________________________________________________________________

______________________________________________________________________________________________________
CLICK ON IMAGE TO VIEW DIGITAL EDITION
______________________________________________________________________________________________________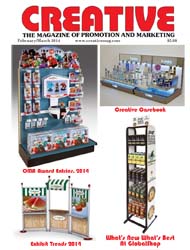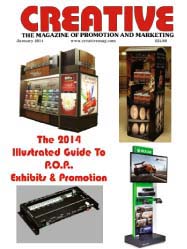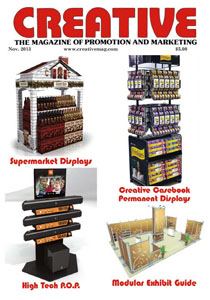 SEPTEMBER 2013 ISSUE
JULY 2013 ISSUE
MAY 2013 ISSUE
MARCH 2013 ISSUE
NOVEMBER 2012 ISSUE
SEPTEMBER 2012 ISSUE
JULY 2012 ISSUE
MAY 2012 ISSUE
JANUARY 2012 ISSUE